UPDATE: The Phantom Menace to Air on the Disney Channel in November. Has Disney Obtained the Rights to All 6 Star Wars Films?
With Disney having fired up the converters on the Star Wars franchise in a big way over the past two years, here has been much speculation as to whether or not they will finally be the ones to release the Original Trilogy in its unaltered, pre-1997 theatrical form. A new Italian television ad suggests that Disney may have taken a big step in this very direction. More after the jump…
Since Disney's 2012 acquisition of LucasFilm LTD and the Star Wars franchise, many Original Trilogy fans have been crossing their fingers in hopes that we might finally see a DVD/Blu-Ray release of the OT's original pre-Special Edition edit. One of the big roadblocks to this, of course, has been the fact that 20th Century Fox holds distribution rights to the original 1977 film in perpetuity, as well as theatrical and home distribution rights to the other five Star Wars movies until the year 2020.
Despite this fact, there has been a sharp uptick in recent months of rumors that Disney was, in fact, preparing to release the original edits of the OT films. While no firm confirmation of this has been forthcoming, Film Divider has uncovered a rather intriguing clue in the form of a new Italian TV ad.
In fact, scepticism about the possibility of a deal with Fox has been used regularly to criticise and undermine reports that Disney were looking to reissue the old Star Wars movies.

This new ad from Disney, however, makes it very clear that Disney do have such plans. There is absolutely, definitely a clip from Episode IV in this new ad for Disney's digital services. The studio is demonstrating that soon, you'll be able to see the film through a Disney digital release.
Note that the ad shows not only a clip from Episode IV, but also clips from Episodes II, III and V.
Mind you, this doesn't directly indicate anything about a planned release of the original edits of the Original Trilogy. It merely suggests that some sort of deal has been struck between Disney and Fox for the digital release of ANH and the rest of the Star Wars films.
However, one can't help but note that if such a deal has indeed been worked out between the two studios, the primary barrier to a digital release of the long-awaited OT original edit would seem to have been effectively removed.
An interesting development, to be sure.
UPDATE: 
It looks like Disney will begin airing the Star Wars movies (or at least Episode I) on The Disney Channel sometime in November:
http://www.disneychannel-asia.com/DisneyChannel/showinfo/programmes/DCMovies/starwars.html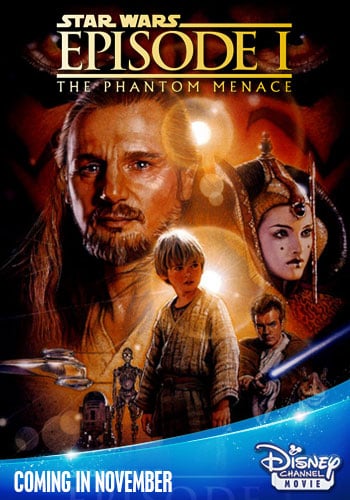 Although this ad comes from Disney Asia, it seems like we have pretty solid confirmation now that Disney owns the rights to the Prequel Trilogy at the very least.
Thanks to jjlb98 for the heads up.