*Image by Andrew Cox – uktripper.com
After the recent hubbub about the Greenham Common set being scrutinized by a variety of prying eyes, there's a bit of an unexpected report that comes from Total-Geeks: the crew of Star Wars Episode VII had stopped by in Wales, and while no filming was apparently done there, nobody was the wiser. Even more interesting is that the writer was able to figure out a few details regarding a scene that is important to the plot based on a few observations, and that key cast members were there.
From Total-Geeks:
…Welsh 'Star Wars' fans can now say that 'Star Wars VII' has rocked up on their doorstep. And while the multi-million dollar production is yet to film any scenes in our lovely Welsh valleys, they did pitch up tents in Celtic Manor Resort – a luxury, five-star hotel where they stayed for about a week while filming in the Forest of Dean.
The reporter from Total-Geeks, Ryan Leston, apparently got his information from a chat with good ol' J. J. Abrams. You can see them hanging out together here:
Abrams, true to form, was pretty tight-lipped about the project, but Leston was able to sleuth out a few details.
…For one thing, actors Daisy Ridley, John Boyega, Pip Andersen, and Adam Driver were all at the hotel, ready for the shoot. 

One thing I heard while sitting with some crew members was the sheer quantity of extras involved. We're talking thousands of extra hands on set. I currently have no idea whether this was in reference to the shoot at Puzzlewood, but I would suggest that's the probably the case. Mostly, because it seems that they were filming a rather large-scale battle sequence out in he woods. 

That's right folks – it looks as though 'Star Wars VII' will feature a battle scene with thousands of extras. But that's not all. I have it on good authority that the Puzzlewood shoot involved a full-scale battle which surrounded a pivotal fight scene with some of our main characters. 

The actors involved? None other than John Boyega, Daisy Ridley and Pip Andersen. I also have word that Adam Driver was on the scene (and spotted him skulking around the hotel) but I'm unable to establish his role in those scenes. And judging from the state of Ridley and Boyega's stunt doubles, they were in for quite a workout.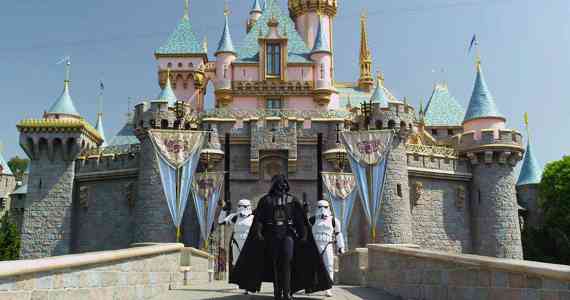 In addition, there were also plenty of details on the tone that Disney is going for and the approach they're making with the new movies and spin-offs.
There was a lot of business talk at the resort, and with Kathleen Kennedy also heading back and forth the set, it seems there was a lot to discuss. One thing I do know is that there was a bit of strategising when it comes to the tone of the upcoming sequel trilogy. 

It was mentioned that Lucasfilm is aiming to differentiate themselves from the Marvel and Pixar brands within the Disney umbrella. To that end, they're aiming for more of a unified, cohesive tone with the sequel movies… more so than Marvel's MCU efforts, which tend to mix and match different film styles to keep things fresh. 

One thing I would add – judging from the mood in the hotel, the actors are all having an absolute blast on set… and some just can't believe their luck. I briefly ran into Pip Andersen who was positively beaming as he arrived back at the hotel. It's unclear whether or not this was Pip's first scene in the movie. But it could well be the first that we know about. 

That aside, the atmosphere is electric and even Abrams himself is visibly excited. And I have a real good feeling about that. Whether or not 'Star Wars VII' will return to Wales in order to shoot some scenes remains unknown… but either way, it seems we've had a rare brush with the galaxy far, far away.
It's interesting to hear that, considering how so many people have been trying to break into the sets and spoil the entire movie, that we have only now just heard about this information, weeks after the events in question transpired. Score one for the Mystery Box.
Special thanks to the honorable MagnarTheGreat for pointing this lead out to us on The Cantina.