UPDATE 2! Pic of Daisy Ridley, J.J. Abrams & John Boyega. Is Edgar Wright Involved with Future Star Wars Project?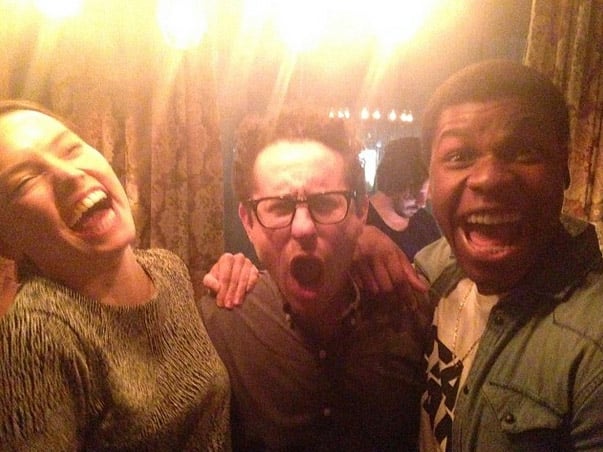 John Boyega's latest post on Instagram really doesn't need any commenting. It's simply tagged TEAM! In the background you can see director Edgar Wright who also made a very curious hint?
UPDATE!
It's curious that Scott Pilgrim writer-director Edgar Wright is visible in the background. And here's Wright's latest tweet: (via @sapienstellaris)
Star Wars spoiler. We are getting married. pic.twitter.com/vCoEcqVofH

— edgarwright (@edgarwright) August 19, 2014
Was that a hint or a joke? You might remember 2 years ago Abram and Wright were rumored to join forces for a secret project called "Collider". Abrams was expected to produce, and Mark Protosevich ("I Am Legend") was supposed to be writing the screenplay.  
Of course this was long time ago. Since then Abrams got the first Star Wars gig and Wright dropped from Marvel's Ant Man. Could Wright be directing one of the spin-off movies or maybe Episode IX? Edgar Wright is one of my favorite directors and his possible involvement with Star Wars would be great news indeed.  
UPDATE 2!  
Edgar Wright shared some more photos:  
Mr @JBoyega. pic.twitter.com/pzJTp6mRjE

— edgarwright (@edgarwright) August 19, 2014
Miss @ridley_daisy. pic.twitter.com/gKjJOmu37u

— edgarwright (@edgarwright) August 19, 2014