Star Wars Fan Bits: Vader Toy, Empire Strikes Back Documentary, Legoland and More.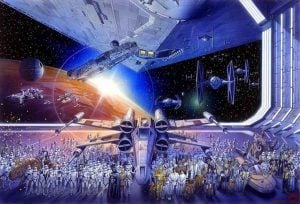 Check out the new Sideshow Collectibles Darth Vader toy, Empire Strikes back lost documentary excerpts and more…
First here's a great lost 1980 Michel Parbot documentary about the making of The Empire Strikes Back.
Next, here's Sideshow Collectibles' latest Star Wars toy – a 21" Darth Vader with removable helmet for $350.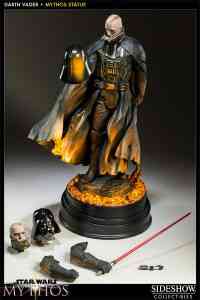 You can pre-order the toy from here: (release date September 2013)
Sideshowtoy.com
Next, if you're a lego fan then you should really visit this exhibition:



Star Wars fans are expected to converge on the Legoland Discovery Center soon to mark the opening of a new exhibit.
Builders are putting on the finishing touches of the Star Wars: Episode One the Phantom Menace Miniland. The new exhibit is constructed with about a half-million Lego bricks and 2,000 mini-figures. It's divided into pods depicting three scenes.
"One pod is the end of the movie," said Andrew Johnson, Legoland master model builder. "Anakin Skywalker is flying out on a Naboo star fighter. So he's flying out of the hangar on Naboo. Then we have a pod that is the Podracing scene. Anakin and Sebulba both of those would be down there. And our last pod is the Gungan droid battle that takes place also on Naboo."
Each of the pods is interactive. You can guide a Naboo starfighter out of the hangar, control a podracer speeding around the track and even shoot down droids.
"We're going to be installing all of the figures and all of the scenes and making it look like it jumped right out of the movie," said David Howard, Legoland senior model builder.
This is the first exhibit of its kind to open in the United States. Twenty-four-year-old master model builder Andrew Johnson is overseeing the installation. He says it's a result of "fan demand."
"We had a competition to see what the new exhibit would be and the Lego community decided," he said. "They chose star wars, so that's what's coming in."
The Schaumburg Legoland also houses a mini version of downtown Chicago with about 20 skyscrapers built to scale. It, too, will be decked out with a Star Wars theme.
"We're going to have the droids running around the city," Howard said. "We're going the have Gungans running around. We're going to have Naboo pilots. It's going to be a really nice display."
The exhibit opens next Saturday along with a lot of themed activities. They are expecting about 2,500 visitors to come through that day, many of whom will likely be dressed as their favorite Star Wars character.