The Resistance Broadcast – Episode 52 Part 1 – Remembering the life of Carrie Fisher
On today's episode of The Resistance Broadcast we sit down and reflect on the life of Carrie Fisher and talk about our favorite moments of her life and what she has done to touch each of us at SWNN on an individual level. We kept this portion of the show relatively short, but made sure not to leave anything out and to remember "our Princess" or "our General" for who she was and the real world things she did to make us all smile just a little bit more.
Host: Darth Lexor Kai
Guests: Ganon136, Pomojema, Trevor, Kaytlyn
We will have our Rogue One Review in Part 2 of this broadcast. We only expected to record the review the day we recorded this episode. Upon hearing of the loss of Carrie Fisher, we felt it necessary to talk about that as well in a special 2 part episode this week. Stay tuned as we bring you that review of the film.
As noted, here is an image of our very own Pomojema (left) with Carrie Fisher and Mark Hamill back at Celebration Anaheim 2015: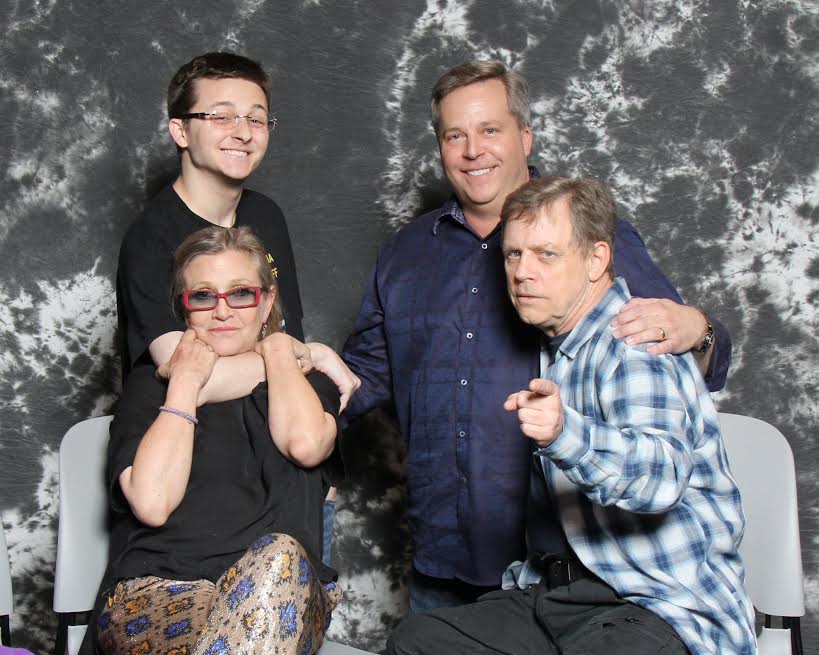 If you have any favorite memories of Carrie Fisher or if you had the chance to meet her, please leave those memories below. Thanks!
If you would like to submit questions for the show you can Tweet us @starwarsnewsnet using hashtag #starwarsnewsnet, #theresistancebroadcast, #trb, message us on the Cantina Forum in the questions and comments thread, or send an email to viralhide@gmail.com.
Thanks for listening, and if you like this episode, don't forget to hit the like button on SoundCloud and subscribe to us on iTunes!
You can subscribe on iTunes, SoundCloud and Stitcher! (SoundcloudRSS)