UPDATE 2! Carrie Fisher Talks Star Wars: Episode 7.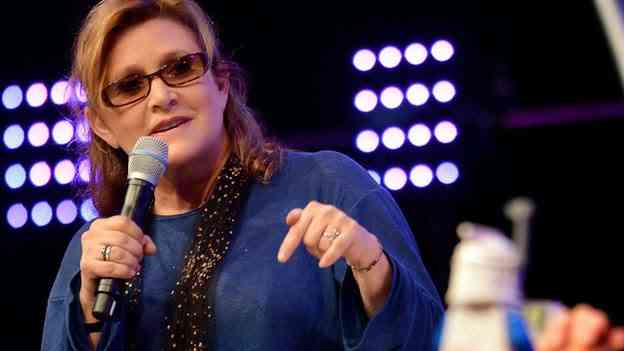 BBC Radio Wales' Wynne Evans spoke with Princess Leia herself – Carrie Fisher, who's at Hay. They talk about Leia's legendary outfits, her 'Star Wars' diet for the new film, and where she would like to see Leia go in Episode VII…


(May 23, 2014)

From BBC Radio Wales (via digital spy):
Fisher will reprise her role in JJ Abrams's forthcoming sequel, but admitted that she has "gotten into a lot of trouble" in interviews when discussing the super-secretive project.
"We're not supposed to talk about it. They've made it very secret, like bombing the beaches at Normandy. It felt kind of unnatural not to be able to talk about the film."

Although Fisher dismissed ever donning Leia's Return of the Jedi gold bikini again, she spoke more optimistically about revisiting the princess's memorable hairstyle.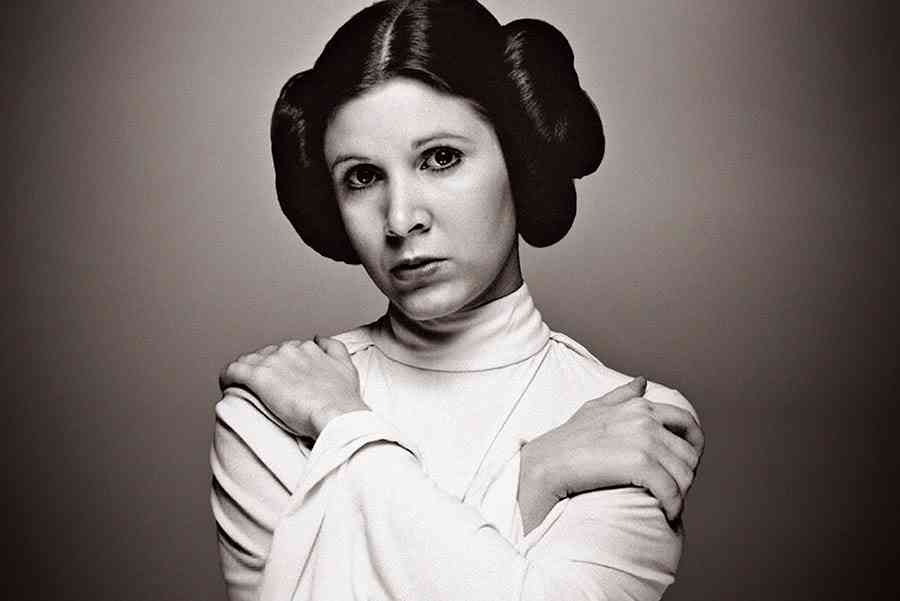 "I'm fighting for the buns, but that's always what I'm doing. I think they should make an appearance if I just walked by a rocket window and I was in buns," she said.
"I [originally] thought they were horrible, but I was 19 and I thought they made a mistake hiring me anyway. I thought if I kept very quiet they wouldn't notice. George did say to me, 'What do you think of them?' I said, 'I think it's fantastic' but I did think it was awful."

Asked what she would like to see Leia do in Episode VII, Fisher replied:
"I've always said where I want Princess Leia to go just briefly – the shopping planet. We've done all these male things with guns and lightsabers, now I think we should go and get our nails done."
UPDATE!
"We all look a little melted. It's good to see other melted people," Fisher told a packed audience at the Hay festival. "And it is good to have us all in a room because it's unique. I mean, I don't suppose they have reunions for the Gone With The Wind gang."
Fisher dropped out of drama school, aged 19, to play Princess Leia in 1977. "We are doing it over again so I can get Princess Leia right this time. I think less British. I looked a little pretentious faking the accent. It was sort of a viral accent – it came and went."
"I would rather have played Han Solo. When I first read the script I thought that's the part to be, always wry and sardonic. He's always that. I feel like a lot of the time Leia's either worried or pissed or, thank God, sort of snarky. But I'm much more worried and pissed than Han Solo ever was, and those aren't fun things to play."
Her best moment, she said, was killing the monstrous Jabba the Hutt. "I had a lot of fun killing Jabba the Hutt. They asked me on the day if I wanted to have a stunt double kill Jabba. No! That's the best time I ever had as an actor. And the only reason to go into acting is if you can kill a giant monster."
She refused to reveal any details of the new film – "I would get in trouble no matter how I answer that question" – but has some concerns about her hair: "That hairdo can never really be repeated without gales of laughter. I've begged them to put the hair back on in grey and just catch me cooking with the hair, like Granny Leia."
And did she, one audience questioner asked, still have that gold bikini? "Why would I keep a stupid outfit like that, so that years later I could say to you I have it? No, I wear it on special occasions. I've got it on underneath this. I wear it always, for luck."
UPDATE 2!
And a few more bits from one of

JediNews'

readers:
She has done script reading and costume fittings but hasn't been in front of the camera yet. Her filming for Episode VII will start in a few weeks.
She also avoided answering on how she felt about the prequel trilogy by saying she was in rehab at the time and the hospital was unable to show them.
As a script writer she was asked to evaluate the Episode VII scipt, which she couldn't comment on for fear of getting into trouble, but did respond with 'its been written by Lawrence Kasdan and J.J. Abrams- DO THE MATH.