Review: Sober Reflections on the Clone Wars in Marvel's Obi-Wan #3
The third issue of the Obi-Wan comic is out, and it brings us back to the Clone Wars! Each issue begins with a weary Obi-Wan, reflecting on transformative moments from his life as he waits out a brutal sandstorm on Tatooine. The Jedi Master's thoughts cut deep in these pages. We get a glimpse at the inner turmoil and sadness still seeping into Obi-Wan's soul. He even points out that if he dwells too long on some of these moments the pain of it all will overcome him. While this sadness swells it is met by an even superior force: Obi-Wan's resolve. Kenobi has experienced strife and despair in much of his life, but through it all, he has come out with a firm foundational trust in the Force, and stands firmly in the light.
Spoilers ahead….
I have absolutely adored these Obi-Wan comics with Obi-Wan serving as the narrator of our stories. I can hear the voice of Alec Guinness whispering to me through the pages as he describes his relationship with Owen, talks of the impending civil war, and how he is certain Luke is about to take his first steps into a larger world. With the news reaching him of the impending war, it draws him back to a time in his "battle-scarred past". He continues to question the role of a Jedi in war. The war forced these keepers of the peace to fight to preserve life yet also take it. In a cool image, we see Obi-Wan reflecting on the terror of war with his armor lying before him. I didn't know Obi-Wan still had his Clone War armor, so this was a neat image to include.
We are thrust right into the heart of the Clone War as Kenobi thinks fondly of his old friend Commander Cody of the 212th battalion. Funnily enough, Kenobi comments on how it seems to be an occupational hazard for his friends that they try to kill him. As Kenobi elaborates more on the meaning of war and how it correlates to his understanding of the Force, we get images of battles that were waged. We flash to Geonosis, then Christophsis, Dantooine, and finally Hypori. The battle of Hypori saw the slaughter of countless clones and several Jedi. It was here where General Grievous made a name for himself as a sinister foe.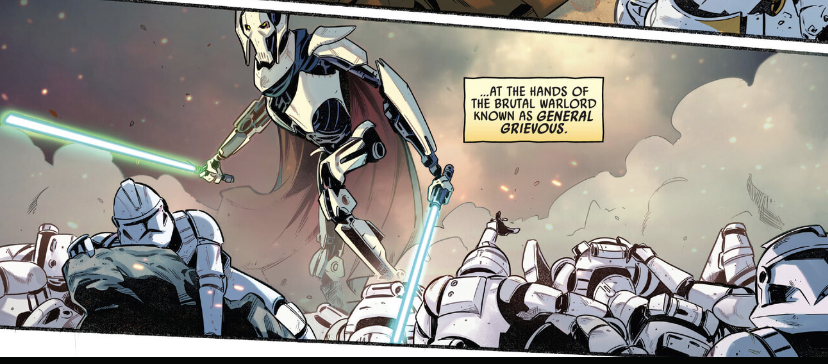 With faith being stretched and courage waning, General Kenobi attempted to bring forth some hope to his weary squad. He volunteered the 212th for a crucial mission on Abrion Major. There, the Separatists were designing a new model of ion canon capable of wiping out Republic forces on a scale unheard of before. The attack on Abrion would not be easy. General Yularen's rundown of the mission makes this clear. One path exists to capture the plans, and it means taking the sole supply bridge. The assault would need to come on two fronts — north and south — where a mountain of enemy defenses will surely await.
It was quite sobering to see this story through the eyes of the younger Obi-Wan, but have the story be told through the voice of an older Obi-Wan. While Kenobi is meeting new clones joining his battalion and reinforcing troops from Roon, present-day Obi-Wan cues us in on what he is thinking:
"Why must the Jedi way always dwell in so much violence and Death?"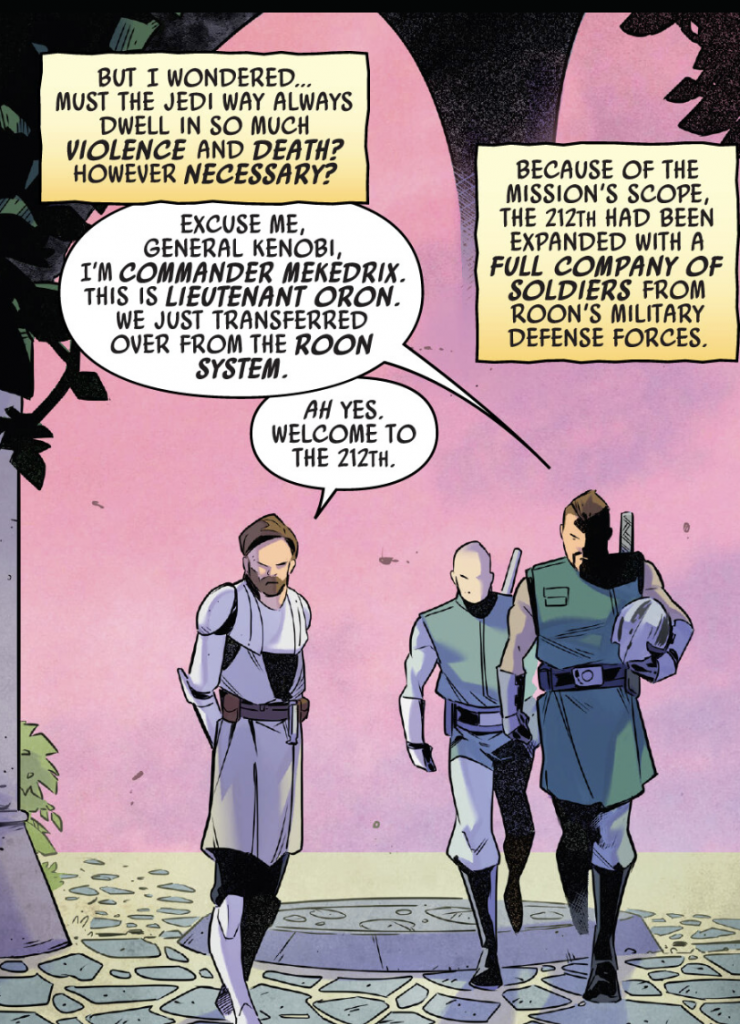 Once the assault on Abrion begins it is utter chaos. With death and destruction mounting everywhere, Obi-Wan continues to ask the question: "What is a Jedi's purpose in war?". This inner struggle to find the answer is the theme of the issue. We truly got a glimpse into Obi-Wan's personal struggle, and it was enlightening. With a thundering speech, Obi-Wan launched the 212th into the warzone. The casualties that ensued mounted faster than he could have imagined. As the reader, however, I am still wondering why this battle? What was it about this battle that stuck so singularly in Obi-Wan's memory that it continues to enter his mind?
It was here I began to see. As Obi-Wan reaches the bridge he sees the sunrise of Abrion. In the sunrise, he felt a fleeting moment of serenity as it was a marvelous sight to behold. At this moment he discovered for himself an important truth. He had no desire to be there, on Abrion. The present-day Obi-Wan asks himself if he was a coward for wanting the war to simply cease. I think not. What makes Obi-Wan such a great master is his belief to only fight when necessary.
As the battle rages, we are allowed an absolutely perfect Obi-Wan moment. With explosions all around and death everywhere, he takes a moment to make a personal connection with a clone under his command. A young clone named Airo, who just chose this name just last night. Airo didn't even have a weapon, only a banner of the Republic, and he wielded it proudly. With Obi-Wan leading the charge the troopers found themselves having accomplished their mission with the ion canon schematics in front of them.
However, this "victory" was not to be. Little did they know the other force attacking from the opposite side had been completely overrun. The mass entry of enemy droids wipes out most of the 212th in Obi-Wan's command, including Airo. The humanity of Obi-Wan is shown in this image of Airo dying in his arms. Kenobi could have avoided feeling the pain of searing loss, but he opens himself to it because of the love he has for those around him. He will always fight to preserve and protect life.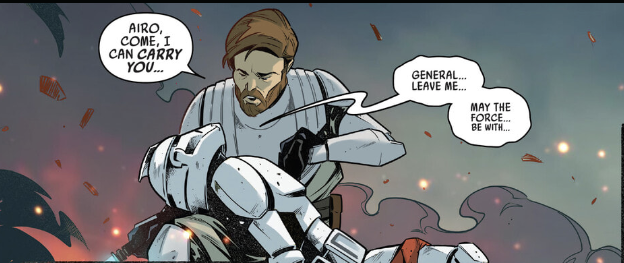 The closing pages see a nearly broken Obi-Wan sitting on the edge of the cliffs of Abrion. Clenching the banner young Airo held until his dying breath he earnestly awaits the sunrise. He describes it as a need. A need to know it could still rise. He needed to know that light could still prevail. Our final image is with present-day Obi-Wan with his eyes closed still clinging to the belief that light can still prevail.
Rating: 9.5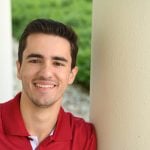 Finding ways to nonchalantly incorporate Star Wars quotes into 8th grade classroom, Tyler lives and breathes Star Wars. His morning tradition is sending the latest number in the countdown for different Star Wars projects and loves engaging in uplifting Star Wars dialogue. If you are passionate about Star Wars you can follow him on Twitter at TyBrad5.