Review: Chewbacca Attempts a Daring Rescue in Marvel's Han Solo and Chewbacca #4
The series is titled Han Solo AND Chewbacca. While Han is and should be the focal point, we have seen less of Chewie than I had hoped. This problem is no more as we get a Chewie-centered issue. It's not easy to write a compelling comic with the main character speaking a language no one in your audience will understand, but Guggenheim finds a way. Crafting a comic both action-packed and witty while weaving in a good story with a Wookiee-centric issue may be Guggenheim's most impressive work yet of the series.
The adventure with our favorite scoundrel and Wookiee continues! The last issue saw Han and his father, Ovan, find the urn containing the ashes of Jabba's arch-rival. Before the two could celebrate their victory, they were interrupted by the fearsome Black Krrsantan. This issue wastes no time in setting the tempo as it picks up right where the previous one set off.
Spoilers ahead.
The pace of episode begins at a roaring pace. Quite literally. It opens with Chewie roaring as he discovers Ovan has been stunned, and Han is being carried off by Krrsantan. Chewie's immediate response of anguish and rage shows how strong this friendship has become. Chewie is a deep feeler. While sometimes we focus more on his brute strength and flying skills, or even pass him off as Han's sidekick, it's important to note how deep a feeler Chewie is. He is as fierce a friend in the galaxy. I was reminded of his reaction in The Rise of Skywalker when he heard the news of Leia's death. A much different range of emotions here, but his passion comes out, nonetheless.
Our first taste of Wookiee vs. Wookiee action happens next as the two engage in a brief firefight. While Krrsantan succeeds in escaping with Han, Chewie successfully plants a tracker on board his ship. The firefight between these two was, for lack of a better phrase, pretty cool.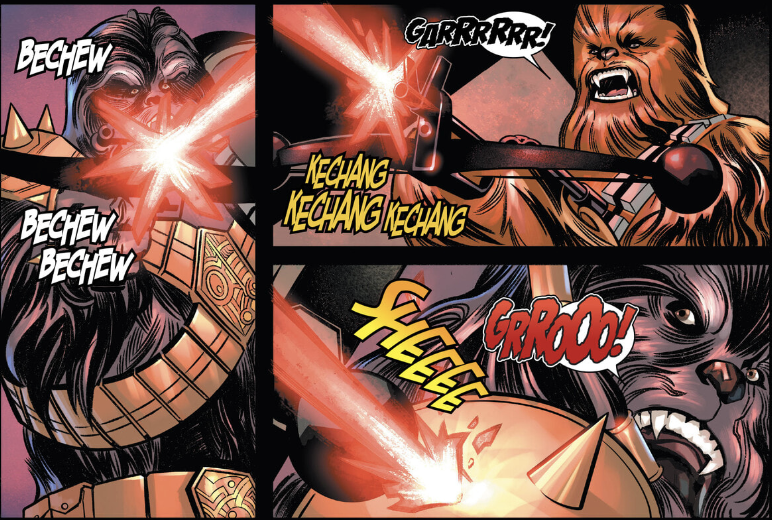 I included this next image because I was intrigued by Krrsantan's ship. It looks similar to a Razor Crest. I can't be sure from that image if it is or not, but it certainly looks to be of a similar model if nothing else—just a fun little thought for you all.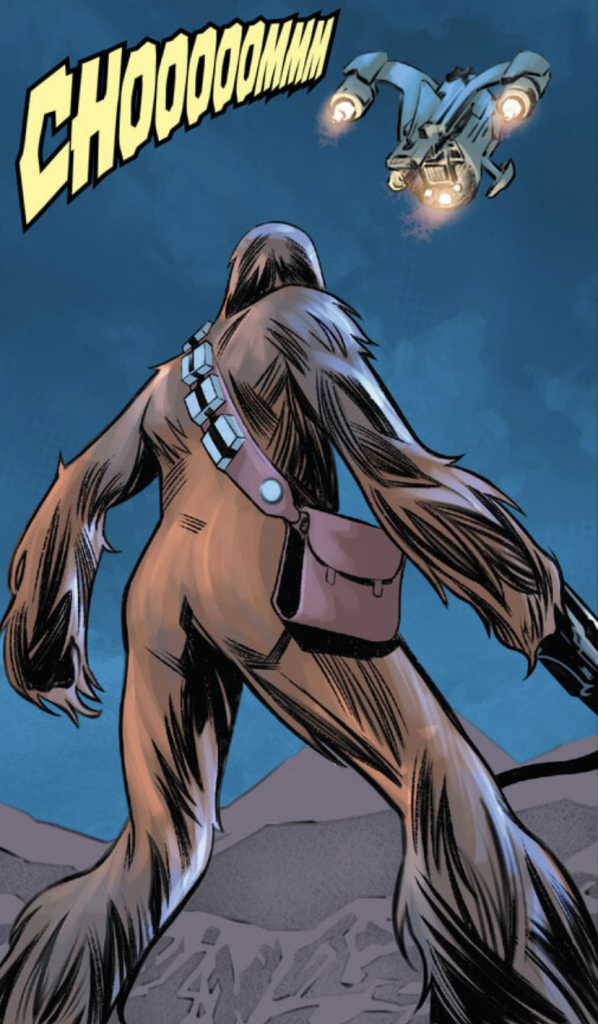 Once Chewie grabs a still stunned Ovan and brings him on board the Falcon, he begins setting a course to track the enemy vessel. Once Ovan wakes and attempts to get the scoop from Chewie, we get one of a few funny Shyriiwook exchanges. I couldn't help but include it below.
As it becomes clear their destination is the planetoid Mollo Tanka they realize it is Augustus Graves, the one whom they stole the urn from, who must've sent Krrsantan. Ovan is strongly affected by the stun blast he suffered earlier, and against his wishes is convinced by Chewie to stay on board the ship during the rescue. I couldn't help but get an eerie feeling as Chewie turns his back on a man we still don't know much about.
As Chewie begins his approach, Graves is attempting to have information on the urn beaten out of Han. Han still allows his wit and sarcasm to enter the room despite his bloody nose with now tattered clothes. What's funny is Han is telling them the truth about the urn during his beatdown. During this, Chewie is tossing around guards and making his way closer and closer to saving his friend.
Now, things get wild. Wookiee vs. Wookiee round two begins, and it's a bit unlike anything I've seen before. A Wookiee death-duel begins to unfold before our eyes as Krrsantan and Chewbacca are at each other's throats. The two match each other blow for blow in a ruthless battle of fiery fury. It's not every day you get to see two Wookiees have it out.
We know beforehand this "death-duel" won't end in either's demise, but that doesn't make it any less gripping to see. The battle ends as Chewie throws a thermal detonator, and in the wake of the explosion, the two of them make their escape.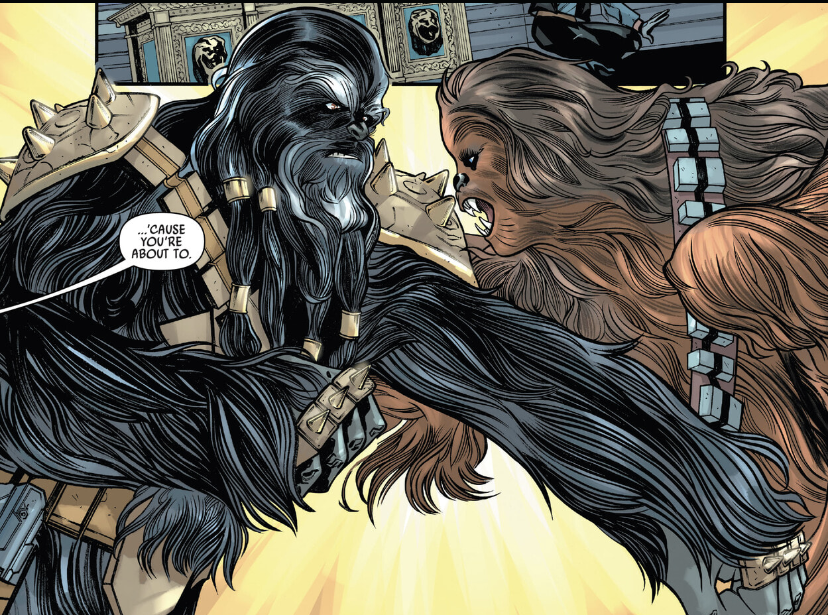 As the two make their getaway journey several funny moments happen as the duo face off in their usual back and forth. Some of the remarks from Han felt like they had a bit more of an Alden Ehrenreich flair to them. Han and Chewie's relationship throughout Star Wars is one of my favorites, and I love how even in their escape attempt they find a way to engage in some banter.
The final image we are left with is the two of them staring at a barren area where the Falcon is supposed to be. With no ship and Krrsantan and many of Graves' hired guns behind them, they appear to be in a world of hurt. While I did have an eerie feeling about Ovan being left behind on the Falcon, I don't think he abandoned them. More likely, Marshal Buck Vancto has probably entered the scene here. We know he is pursuing Solo, and having not made much of an impact thus far, stealing the Falcon would be a way to introduce himself to the series.
Rating: 6.5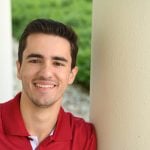 Finding ways to nonchalantly incorporate Star Wars quotes into 8th grade classroom, Tyler lives and breathes Star Wars. His morning tradition is sending the latest number in the countdown for different Star Wars projects and loves engaging in uplifting Star Wars dialogue. If you are passionate about Star Wars you can follow him on Twitter at TyBrad5.