Rupert Friend Will Not Reveal Whether the Grand Inquisitor Survived in 'Obi-Wan Kenobi'
The Grand Inquisitor himself, Rupert Friend, recently graced us with a visit to Jimmy Kimmel Live!, where the actor discussed the makeup process he had to go through every morning on set and hinted at his character's survival in Obi-Wan Kenobi. In this article, we condensed some of the highlights of the interview, which you can check out in full form at the bottom of the piece.
When asked if being part of Star Wars is a dream come true for him, Friend said:
"Yeah, I mean, when the call came I completely freaked out, because it's this huge universe… And then I read this amazing script and there was this description of this very enigmatic guy who loved the sound of his own voice and delivered this long rambling monologue before you got to the fun stuff… It was wild. And then finding yourself on the planet Tatooine, striding down the main street to the cantina… And you're seeing this cantina where, you know, I'd seen Han Solo and they'd played the music and… Deb Chow, our director, would play the music so you'd start to get into that, which is not very character appropriate for this particular guy… But yeah, it was a dream."
Friend also explained the makeup process he'd have to go through every morning on set, after Kimmel showed a picture of him on screen. "He hasn't seen the sun in a while", he joked, before adding:
"That was four hours to get it on. Basically they had to put all these pieces of stuff on, and contact lenses in, and teeth in, and earmuffs, so it was kind of like sensory depravation at times. And then by the end of the day of shooting, the whole thing, which is watertight glued, would fill with sweat and would slosh as I walked. So this [points to the picture] is accompanying this kind of sloshing sound… And then to get out of it, they'd get a pair of scissors and cut you out, and this torrent of sweaty glue would just fall down my face."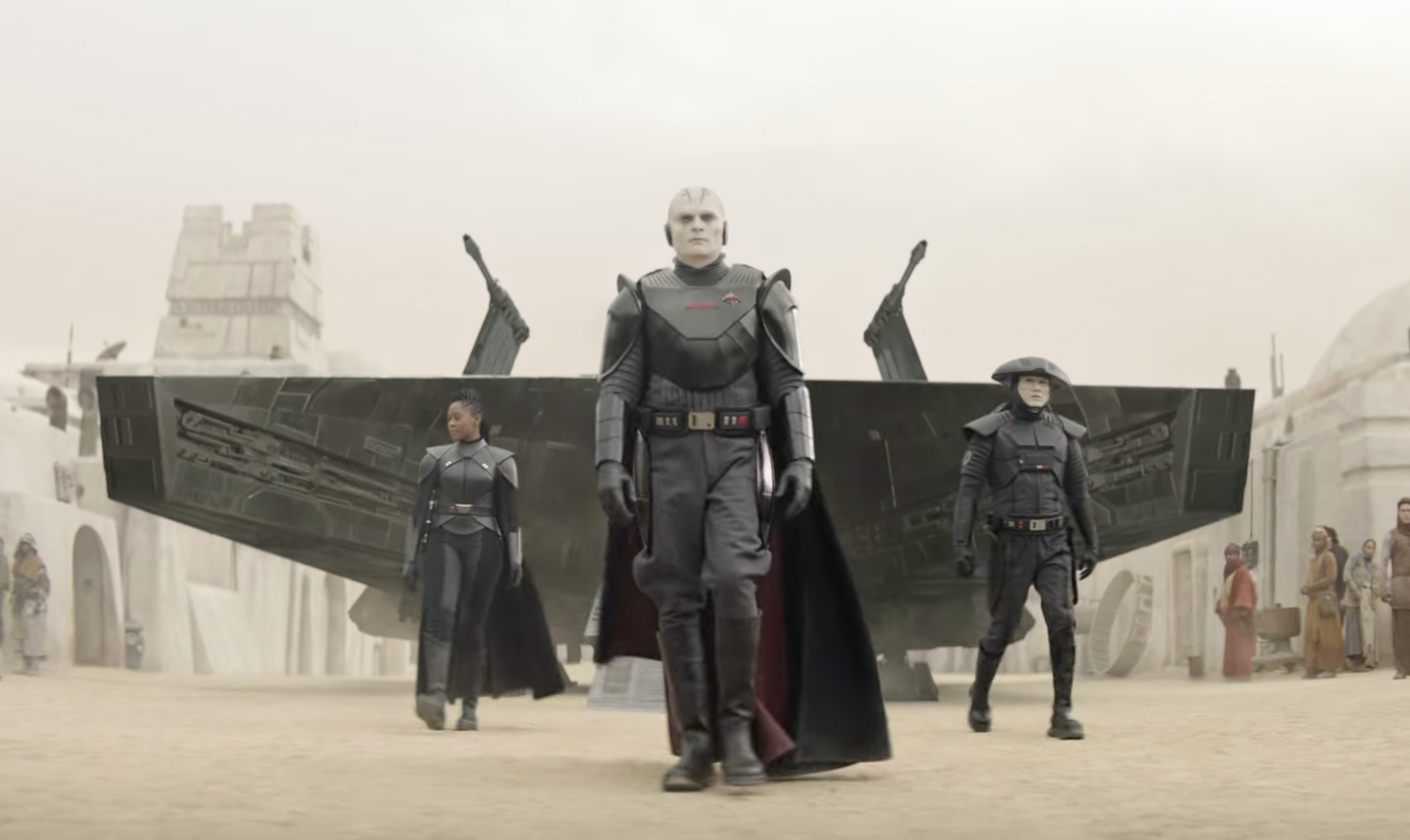 After briefly touching upon the Grand Inquisitor's lightsaber, which Friend said he didn't fully realize he'd be getting until they handed it out to him, Kimmel brought up the end of Part II. In the final moments of the second episode of Obi-Wan Kenobi, the character was stabbed in the stomach… or at least one of them. As explained in Daniel José Older's Last Shot, Pau'ans have two stomachs, which, as Kimmel said, has led to some speculation online that he might survive the wound. That prompted the following exchange between host and guest:
KIMMEL: And then your character got stabbed through the stomach…

FRIEND: One of them.

KIMMEL: One of the stomachs. Because your character has two stomachs, like a hippo or something. So that's what many of the Star Wars analysts-slash-nerds are saying is the reason you're able to survive this, is because you have another stomach.

FRIEND: You know that I survive this?

KIMMEL: Yes.

FRIEND: How?

KIMMEL: I don't know, I'm just throwing it out there to see how you react.

FRIEND: Good try, though.

KIMMEL: No, but I assume you do, otherwise why would you be here right now?
This might be the biggest hint yet that Rupert Friend will be appearing again in the series, or at least that the character is not dead. For one, Friend never really denied that he survives, and also, having two stomachs seems like a very specific detail about his character's species, something he normally wouldn't have to know. In fact, the actor then added the following:
"I can see the logic, and I also think you're making a valiant effort to get me to do a spoiler, which obviously I'm not gonna do."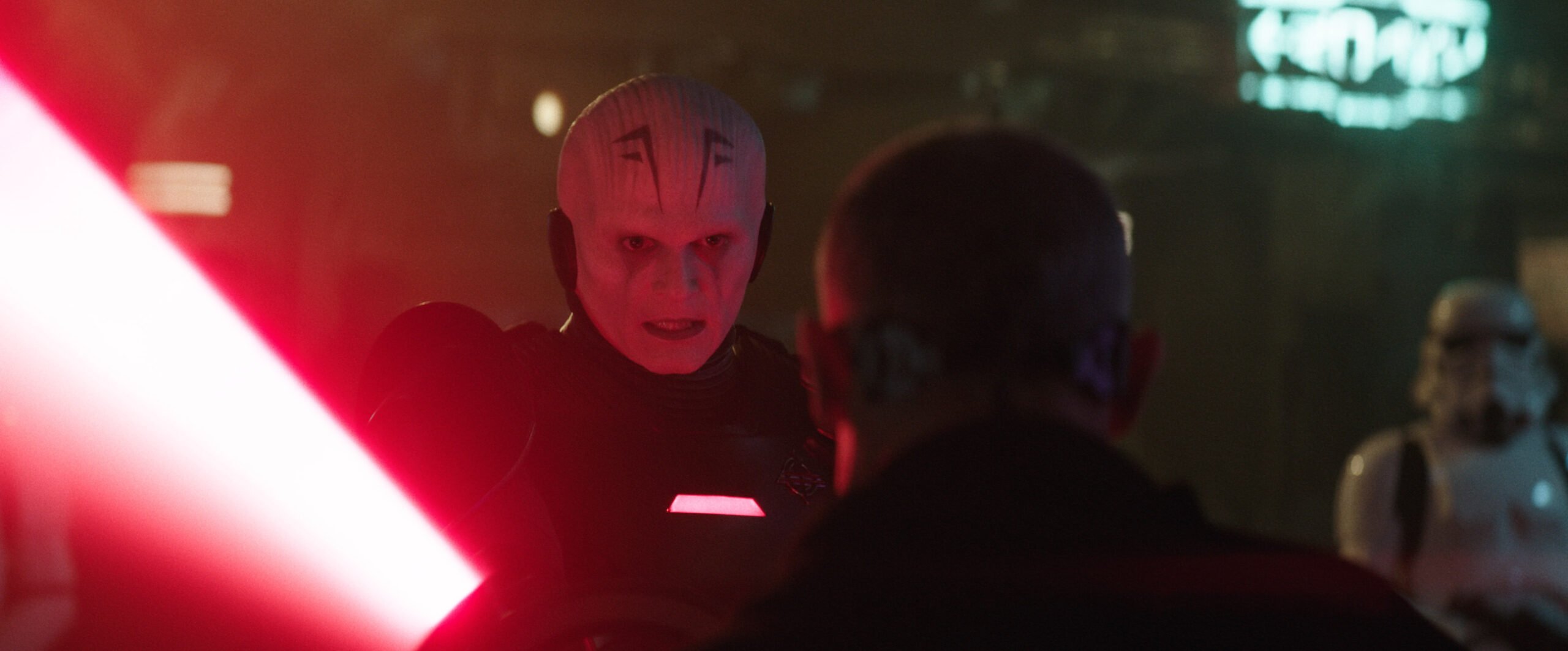 Of course, another big reason why we know the character survives is that he is very alive during the events of Star Wars: Rebels. Head writer Joby Harold has been asked about this multiple times over the past couple of weeks and has even addressed the theory that the character in the animated show might be a different Grand Inquisitor. However, he wouldn't confirm nor deny any of it. All he's said so far is that they would never break canon while writing Obi-Wan Kenobi.
Friend also explained in this interview that, because he grew up in a very small town in England, where they had no movie theaters. His family also didn't own a VCR until he was 16. So his first experience with Star Wars was not watching the movies, but rather hanging out with older friends that had seen them and were playing around, pretending to be some of the characters. You can check out the full video here:
Obi-Wan Kenobi will be back next Wednesday with the release of Part V on Disney Plus.
Miguel Fernández is a Spanish student that has movies as his second passion in life. His favorite movie of all time is The Lord of the Rings, but he is also a huge Star Wars fan. However, fantasy movies are not his only cup of tea, as movies from Scorsese, Fincher, Kubrick or Hitchcock have been an obsession for him since he started to understand the language of filmmaking. He is that guy who will watch a black and white movie, just because it is in black and white.