'Obi-Wan Kenobi' Writer Explains Decision to Have Kenobi Learn of Anakin's Survival 10 Years After Their Duel on Mustafar
The premiere two episodes of Obi-Wan Kenobi showcased that the title character did not know of Anakin Skywalker's survival until a decade after Revenge of the Sith. Writer Joby Harold explains the thought process behind showing Obi-Wan's reaction to learning the truth at the end of the first act of the six-part narrative.
In a recent interview with The Wrap, Harold noted that the decision to have Obi-Wan believe that he'd killed Anakin on Mustafar, only to learn the truth years after the fact, came from a place of finding the story as it was being told. Harold also noted that he made sure to consult with Lucasfilm's story team (and specifically Pablo Hidalgo, who is credited as a "special lore advisor" for the series) for various storytelling decisions:
"[Obi-Wan learning about Anakin] was actually not something I pitched originally; that was something I learned along the way, and sort of had to confirm with [Hidalgo] and really think, 'Hold on a second, what does he actually know? Does he know the moniker Vader? What would that mean? Can he associate the two? What was he cognizant of? How isolated is he? Where's Vader at that time? Where's his reputation and how well known is he?' and all those pieces of the puzzle."
The canonicity of when Obi-Wan learned the truth was not established in canon until this series, and while there are concerns of "retcons", the series is more consistent with existing canon than some give it credit for. Those familiar with Revenge of the Sith know that Obi-Wan knew of Anakin's "Darth Vader" moniker, as he heard Darth Sidious address him by that title when looking through security footage of the Jedi Temple Massacre. But contrary to popular belief, Darth Vader was not an omnipresent figure in the day-to-day operations of the galaxy far, far away until he took a more active and public role in fighting the Rebel Alliance after the destruction of the first Death Star. During the time when Obi-Wan Kenobi is set, Vader instead operated as a figure in the shadows unless called upon by the Galactic Empire.
Combine that with the fact that Tatooine was far removed from the goings-on of the Empire, being an Outer Rim planet left under the jurisdiction of the Hutt Cartels, and it's pretty understandable to as to why Obi-Wan wouldn't figure out the truth until after he reconnected with the Force and encountered adherents of the Dark Side. The only real inconsistency is how Obi-Wan hears Padmé's dying words that she believes that there is still good in her husband. Even still, given that he lived with the guilt of assuming that Anakin died on Mustafar for a decade of his life, it is likely that he didn't believe that his apprentice could have possibly survived their encounter, and he may have dismissed these words as a delirium from someone dying of grief (and, presumably, untreated internal injuries after Anakin choked her).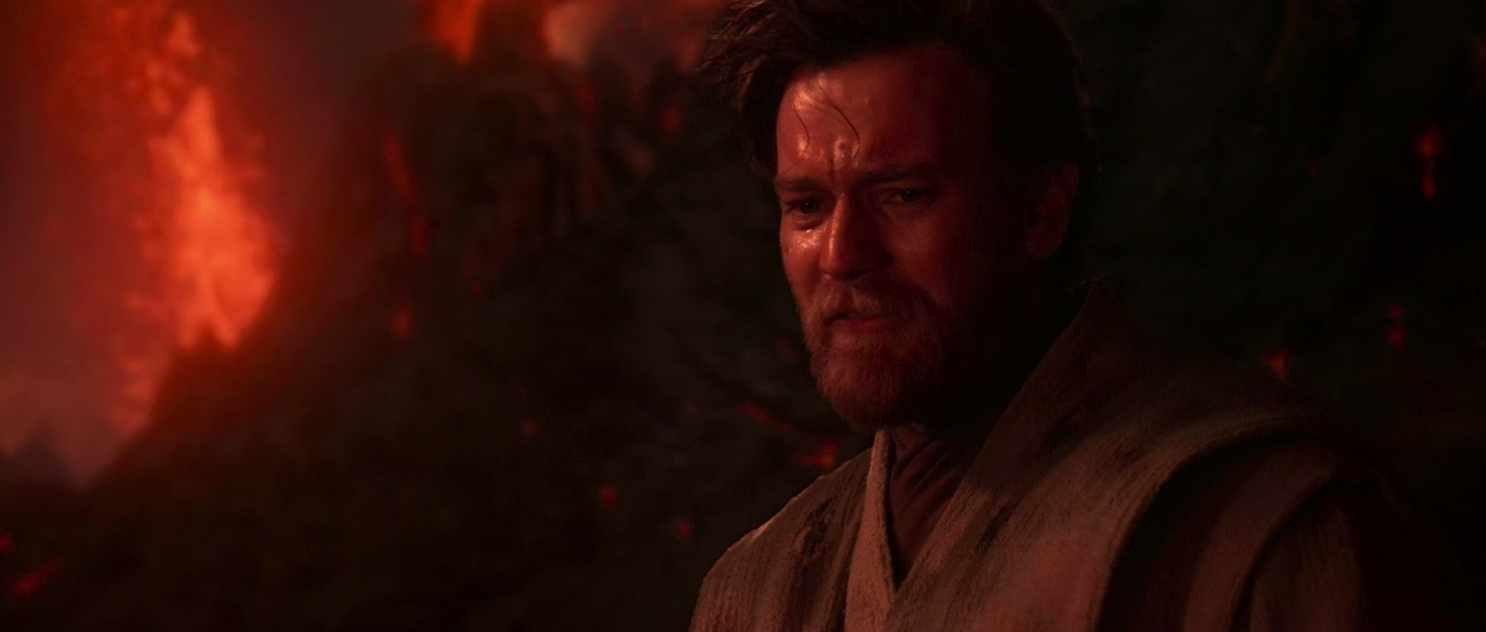 Canon musings aside, Harold noted that part of the reasoning to have Obi-Wan learn the truth onscreen was to give Ewan McGregor a dramatic scene to work with that would really put what the character believed in up until that point into question. Not only was Vader very much alive, but Obi-Wan's actions made him more dangerous and determined despite his grievous injuries, and his guilt over not putting his apprentice out of his misery has taken the place of the guilt over thinking that he had killed him.
"The great piece of storytelling you can use is getting to Ewan play the moment of realization that that which haunts him is still alive… It all comes down to, is it viable within canon to play that card? Which it was. Which is great, because that allows you, at the end of Episode 2 and the beginning of Episode 3, it gets you so much that feels essential to the fundamental story, which is Obi Wan, Vader, that which haunts you, facing the past, everything that comes to fruition in 3 and beyond."
Harold further praised Hidalgo's responsiveness to his questions and working as a story partner:
"In regards to canon and the things you can do and the things you can't do, very, very quickly you find out what's on the table and what isn't… You sort of have a big idea and you say, 'Hey, can I do this?' And someone goes, 'No' and you go, 'Okay fine' (laughs). Or they say, 'Yeah, you're allowed to do that,' and then we canoodle and see if it bears fruit. Pablo is this sort of mad genius, and he was incredibly helpful, and always available. And I'll be forever grateful for his help because you can hunt any idea if he can say, 'Yeah, if you want. You're OK there.'"
For more insight on the series so far from its writer, you can check our other articles covering his interviews here and here.
The first three episodes of Star Wars: Obi-Wan Kenobi are currently streaming on Disney Plus, with the remaining three set to air on Wednesday nights. There has not been official word about a follow-up to the limited series, though Ewan McGregor has stated that he is interested in further exploring the character, and Lucasfilm is said to be discussing options.
Grant has been a fan of Star Wars for as long as he can remember, having seen every movie on the big screen. When he's not hard at work with his college studies, he keeps himself busy by reporting on all kinds of Star Wars news for SWNN and general movie news on the sister site, Movie News Net. He served as a frequent commentator on SWNN's The Resistance Broadcast.