Indira Varma on How She Got the Part in 'Obi-Wan Kenobi', and Being On Set With Ewan McGregor
Part III of Obi-Wan Kenobi introduced Indira Varma as Captain Tala, an Imperial officer with a clear mind on what's right and what's wrong. Varma was the first actor, besides Ewan McGregor and Hayden Christensen, we learned would be joining Obi-Wan Kenobi, when Deadline reported it in March 2021. Now, in a new interview with Entertainment Weekly, Varma revealed how she got the job.
WARNING: This story contains spoilers for the first three episodes of Obi-Wan Kenobi.
Apparently, her manager contacted her, and she immediately said yes. The idea of working with Ewan McGregor and Deborah Chow, and doing it in the Star Wars galaxy really appealed to her, as she explained:
"My manager asked me, he said, 'Obi-Wan Kenobi's come up, would you be interested?' And I was like, 'Yeah, of course I would.' And even though I don't come from a place of being a massive fan, and I haven't watched it throughout its entire 45 years, I visited it over the years, and I thought, 'Well, I'm going to have to do a little bit of research here.' I knew it was Deborah Chow directing, so I wanted to watch The Mandalorian, and also because it had [Game of Thrones costar Pedro Pascal] in there.

I thought it was fantastic, and I was really engaged with it. I loved the humor in it. I loved the humanity in it. And I then I was really up for having a chat with her and I just felt that she's so easy to talk to. And she was obviously so engaged with and interested in us as actors and what we have to bring, and in emotional journeys and in relationships. Which is, of course, why I'm interested in acting. And I felt like, actually, there's a lot here that's going to be fun to do. Plus, who doesn't want to work with Ewan? And who doesn't want to be in the Star Wars world? So many boxes were ticked, I was really excited."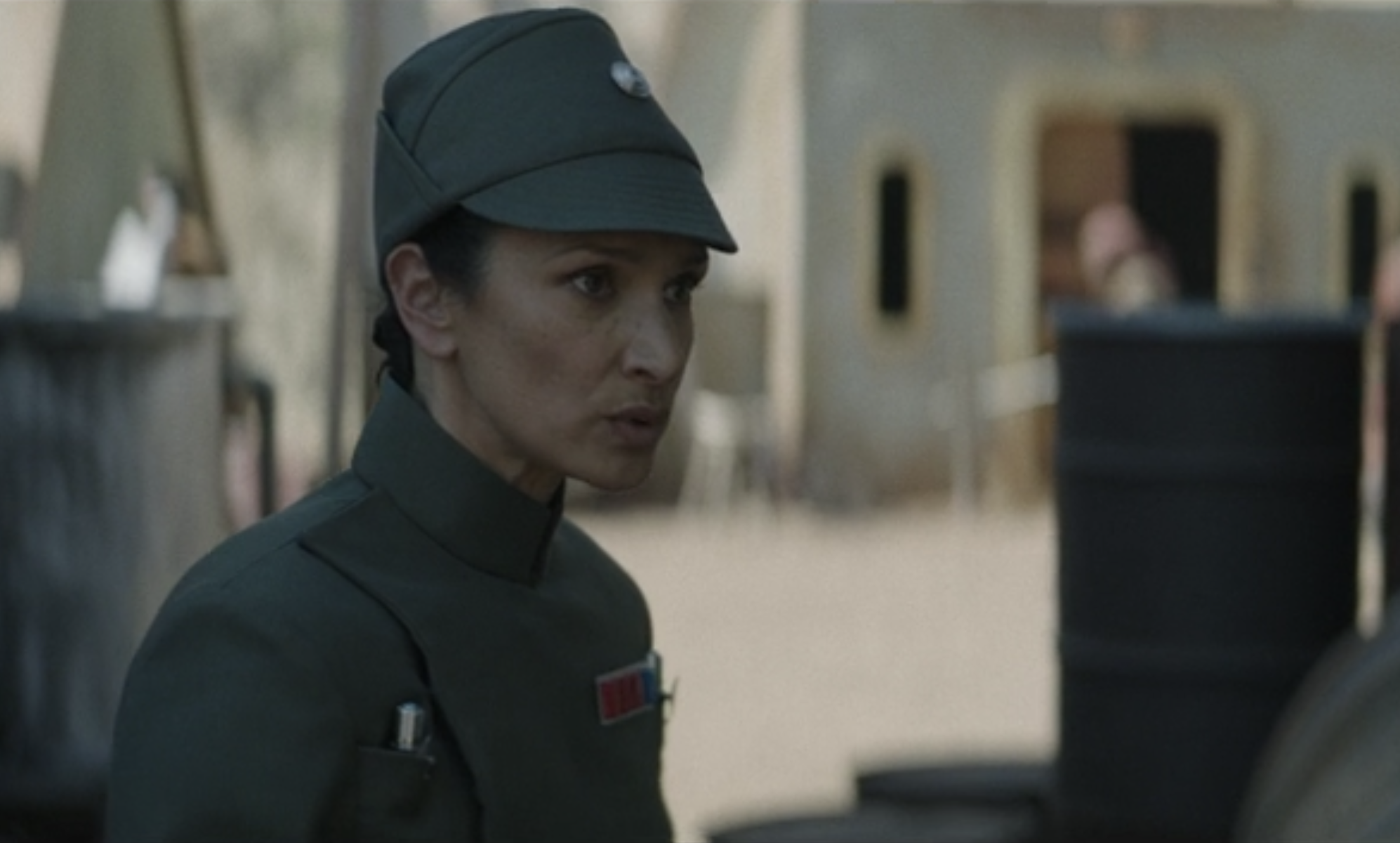 We got our first look at Indira Varma's character a year ago, a few weeks after filming began. She was photographed walking into the set wearing an Imperial costume, the same one she donned in the first teaser trailer. But then, after her introduction in the episode, we quickly realized we'd been fooled, and she is actually a double agent that is working for the Rebels and against the Empire. She explained how it was hard for her to keep that secret after the trailer dropped, as everyone was assuming (rightfully so) that she was an Imperial:
"Oh my God! I know! And it was slightly frustrating because I had all these friends say, 'Oh my God, you're an Imperial officer!' And then, of course, that's literally the first second that you see me on screen. And then my cover is blown 20 seconds later. So that was really hard to bite my tongue with. But it was really nice to play a double agent and to be somebody who's a code switcher and who uses that nasty front to do good."
She also praised Tala's courage when Entertainment Weekly brought up the scene in the third act of Part III in which she started blasting Darth Vader to save Obi-Wan from getting burned alive:
"What can I say? She will do anything. She's very courageous. She will risk it all."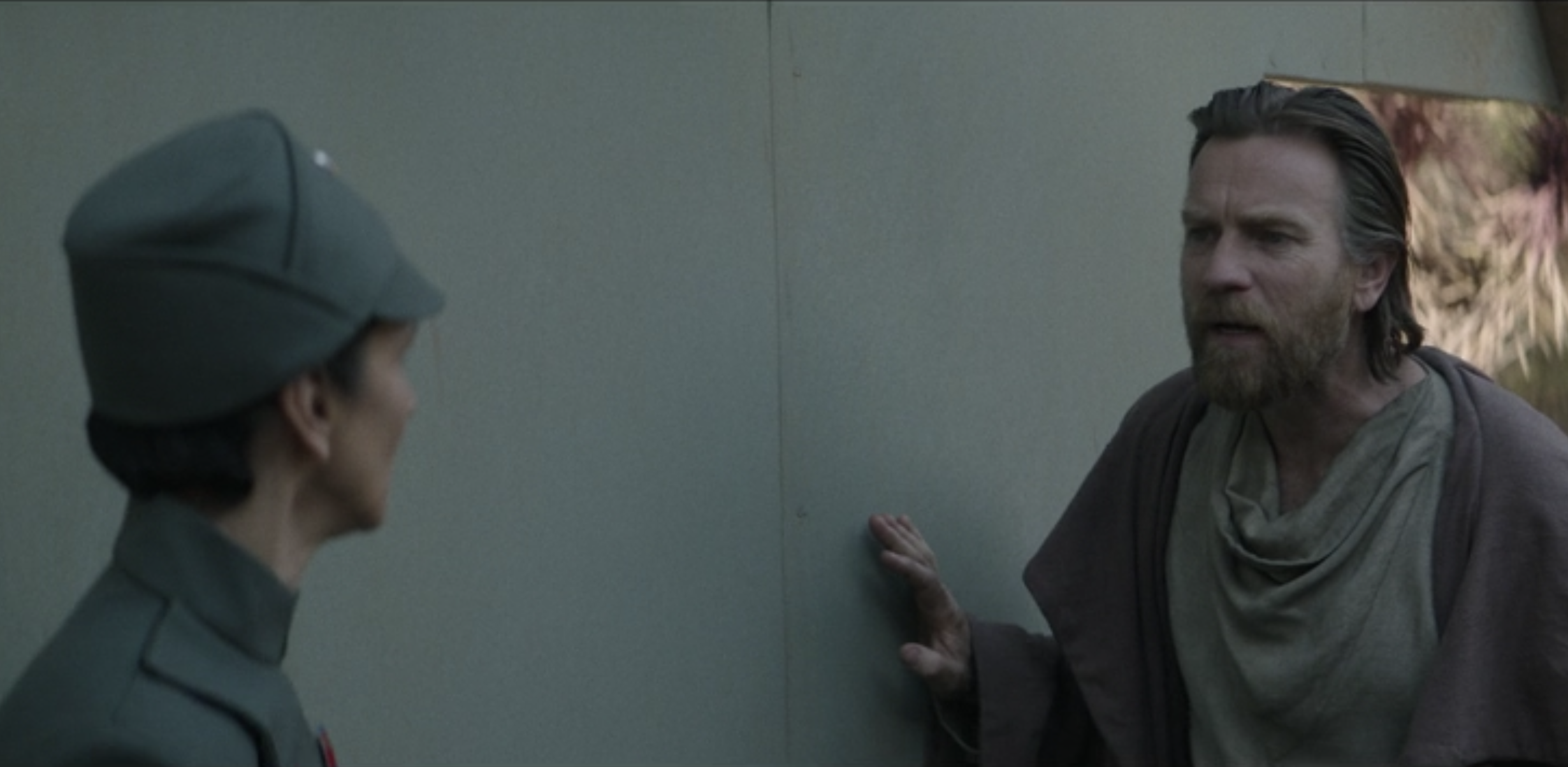 She went on to describe how surreal it felt to be in Star Wars, surrounded by stormtroopers, and be on set with Darth Vader himself:
"Listen, day one on set was like that. Actually, the Darth Vader scene was also one of the times we were on set, rather than being on the Volume in the studio. And my first day, I walk up and there are a bunch of Stormtroopers and I kept having to stop and take a breath because it was just incredible. And I kept laughing. I kept giggling because it was just too wonderful. And then also, seeing Darth Vader, your heart is beating faster just seeing him there live in front of you. This is in 3D! It was really exciting."
In another interview with The Hollywood Reporter, Varma took the opportunity to praise Ewan McGregor and the work environment he creates. And she couldn't resist doing the same here, saying:
"Working with Ewan, it was just so easy. He's the loveliest guy and he's such a laugh. I mean, it was dangerously giggly, to be honest. We did get told off a couple of times for giggling, but I think that's what's so lovely. It's kept alive. You feel like this is not somebody who's phoning in some performance that he's already thought of before he got to set. He is playing with you. It feels collaborative. You always feel that there's this huge element of respect for the material and he elevates it in his attitude and his work ethic."
While she didn't provide many details of what's to come for her character, and whether or not she'll have a large role in the rest of the series, she did hint that we might get to see her wear the Imperial outfit once more, saying: "Might get to see it again!"
We will probably find out more when Part IV of Obi-Wan Kenobi drops on Disney Plus next Wednesday.
Miguel Fernández is a Spanish student that has movies as his second passion in life. His favorite movie of all time is The Lord of the Rings, but he is also a huge Star Wars fan. However, fantasy movies are not his only cup of tea, as movies from Scorsese, Fincher, Kubrick or Hitchcock have been an obsession for him since he started to understand the language of filmmaking. He is that guy who will watch a black and white movie, just because it is in black and white.