'Star Wars' Celebration: 'The Bad Batch' Panel Recap, First Season 2 Trailer Released
After yesterday's jam-packed Tales of the Jedi panel, Lucasfilm Animation had plenty to share today about The Bad Batch and its upcoming season 2 — read on below to get a full rundown of everything that happened and was discussed.
To kick things off, an extended recap of season 1 was played. Then, Dave Filoni joined the panel to introduce part of the series' crew: supervising director Brad Rau, head writer Jennifer Corbett, story editor Matt Michnovetz, and actors Dee Bradley Baker (the Bad Batch) and Michelle Ang (Omega). They all recapped the history of the show and told attendees how George Lucas came up with its seeds many years ago; during development of The Clone Wars, he grew attached to the idea of a group of defective clones.
Corbett commented on how there was a want for more stories starring clones, so Filoni and his team started to actively develop the show. Order 66 soon became the perfect starting point for such a series — "We wanted to show the slow phasing out of clones…We wanted to show that transition."
Faced with the question of whether Crosshair can be redeemed, Baker said, in Crosshair's voice: "Yes. I often wrestle with this question myself." This wasn't an official confirmation, but it was nice to hear Baker's insight into the current core interpersonal conflict of the show. Brad Rau, on the other hand, wonders if he actually wants to be redeemed: "Does he want to be redeemed? He's a very interesting guy."
Jen Corbett's favorite season 1 moment was pairing Omega with Hera Syndulla, which brought an interesting and fresh dynamic into the show — both of them were inexperienced in combat, but they did their best to help their people. Michelle Ang added that Omega's experiences with "crazy animals" was a highlight of season 1 for her, and she sees Wrecker as Omega's fun big brother (we all feel the same way). Baker then said his favorite scenes were Wrecker preparing Omega's room and the lunchroom scene, both of which added tons of soul and lighthearted fun to the series.
The actors later began to read scenes from the eighth episode: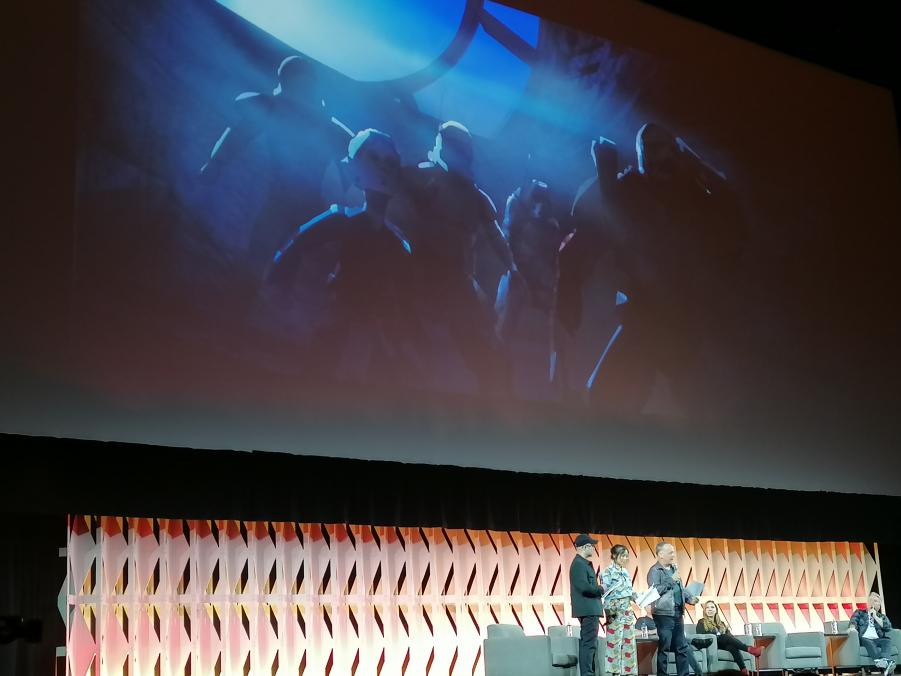 According to Michelle Ang, Dee Bradley Baker records all of his lines for all his characters in a single take. "He's an amazing artist!", she affirmed. Meanwhile, Baker praised the work done by the writers, which "makes this whole ship fly." On top of that, he's convinced the level of animation The Bad Batch has belongs in a movie theater.
Matt Michnovetz underlined how George Lucas' fingerprints are all over the show — he really wanted to do it, so this is an extension of his personal vision of the Star Wars franchise. He and Dave Filoni came up with the names for all the members of the Bad Batch, with Filoni later adding Cad Bane into the mix and suggesting that Fennec Shand should be the bounty hunter going after Omega. As for the destruction of Kamino, that was planned from the start and was always designed to be the end of season 1.
The panel then moved on to season 2, playing a first-ever clip for those in attendance. In this season, the team is sporting new looks and armor (see above), including Omega, who has longer hair now and is seen fighting off strange creatures in a tropical planet. Apparently, there will be a time jump between season 1 and 2. According to Brad Rau, Omega "still has so much heart" despite being a little older.
Here's the (very WWII pulp-style) teaser poster for season 2 of The Bad Batch, which everyone in attendance got to take home:
To cap things off, here's the first official trailer of season 2, coming this fall (without a specific date yet) to Disney Plus:
Francisco J. Ruiz is that guy who has watched Jurassic Park a thousand times and loves Star Wars. His hunger for movies is only matched by his love for video games. He graduated in English Studies from the University of Malaga, in Spain. As he keeps writing about what he enjoys (and doesn't) for websites all over, he's continuing his studies.