'Star Wars' Celebration Day 1 Roundup From the LIVE! Stage
For those of us relegated to watching Star Wars Celebration from home, there are always a number of special guests on the LIVE! Stage that we are able to hear from.
Yesterday's festivities from the opening day brought us Ewan McGregor and Hayden Christensen to talk Obi-Wan Kenobi — you can watch the first two episodes of right now on Disney Plus, and here's our review, but beware of spoilers. Deborah Chow was also there to talk Obi-Wan and her time on The Mandalorian.
Jon Favreau and Dave Filoni also chatted The Mandalorian ahead of its season 3 premiere in February 2023. In addition, Filoni of course talked about Ahsoka, Rebels, and The Clone Wars as he can never escape those questions at this point in his career. During Lucasfilm's Studio Showcase panel, we got official confirmation that Katee Sackhoff would return for season 3 — she was on to talk Bo-Katan and teased there are big surprises to come with her character.
And finally, Diego Luna and Genevieve O'Reilly were there to talk what to expect from Andor and discuss the teaser trailer. You can check out all the interviews below as we prepare for even more on day 2 of Star Wars Celebration!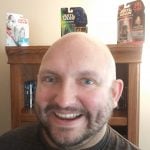 Nate uses his love for Star Wars and movies in general as a way to cope with the pain of being a Minnesota sports fan. When he's not at the theater, you can usually find Nate reading a comic, listening to an audiobook, or playing a Mario video game for the 1,000th time.