Rosario Dawson Talks Difficulties on Keeping 'Ahsoka' Secrets
It seems Rosario Dawson is not quite as secretive about Star Wars spoilers as Lucasfilm would like. In an interview with Vanity Fair, she reveals how she tried to call her friend's son while wearing her full Ahsoka make-up.
I called my friend Polina because her son Cosmo is a huge fan of Star Wars, knows every ship, every robot. He sees me and throws the phone across the room. Just freaked out. I've gotten ice cream with this kid. We've hung out. But it was too much that this character he loves was starting to talk to him and said his name. She calls me back the next day and goes, 'Cosmo just walked into the room and told me: He's ready now.' I said, 'Well, that's very sweet, but I am no longer in costume. His moment is missed.'
The report also references the time when Dawson shared a rumor on social media that Hayden Christensen would be joining the cast of Ahsoka, a post that many fans took as confirmation that we'd be getting Anakin Skywalker in flashbacks or as a Force ghost. Unfortunately, it seems she was just as in the dark as the rest of us. It seems Dawson just read a trade report and got excited.
I just posted, 'Skyguy…They know!!! See you soon, Snips.' I looked in my email, and Star Wars was like, 'You might want to take that down. I'm like, 'Man, I can't be trusted.'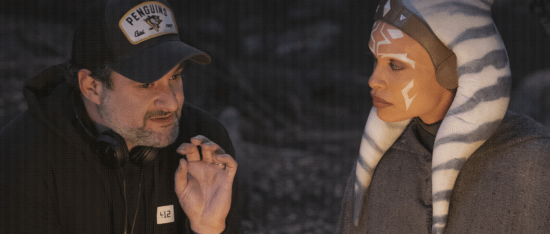 Vanity Fair points out that Lucasfilm never actually confirmed either way if Hayden Christensen will be appearing in Ahsoka or not, though they do offer some insight from Dave Filoni on what shape the series will take.
Ahsoka is a continuous story.

It is definitely driving toward a goal, in my mind, as opposed to being little singular adventures. That's what I want the character to be doing, and I think that's what fans want now. They have such a relationship with her. I've only recently started to understand that all those kids that watched Clone Wars are now a lot older—they're very excited about all the things they grew up with, as they should be.
It seems unlikely that anyone was expecting Ahsoka to be a procedural series with a new adventure every week, but it's nice to get confirmation that it's a serial story all the same. The series is still slated to debut sometime in 2023, along with The Acolyte.
Josh is a huge Star Wars fan, who has spent far too much time wondering if any Star Wars character could defeat Thanos with all the Infinity Stones.