New 'Obi-Wan Kenobi' TV Spot Shows New Footage and Dialogue
We're almost there Star Wars fans. We're less than a week away from Obi-Wan Kenobi. TV spots have been popping up the last few weeks in preparation and a new one aired on ESPN last night, featuring a few new shots and lines of dialogue from Moses Ingram's Reva.
At the time of writing it hasn't been released on an official Star Wars related channel yet, but thanks to the fine people over at r/StarWarsLeaks, you can check it out below:
Update – Obi-Wan Kenobi TV Spot Brief New Footage from StarWarsLeaks
The short spot appears to give us more context behind the final shot of the second trailer, which sees Obi-Wan opening his eyes after the tease of Darth Vader. It starts with a wider shot behind Obi-Wan. He is seen meditating, but this doesn't appear to just be any meditation. The next shot is a close-up of Kenobi fiddling with his hands indicating he isn't liking what the Force is showing him. Could this be when he realizes the truth about Vader?
Up next we see the Inquisitorius' ship come down on Tatooine. The spot is dominated by voiceover from Reva confronting the people of Tatooine. She calls the Jedi cowards and says they have failed them. She continues by saying there is no point in protecting them. Reva finishes it off simply by demanding "where is Obi-Wan?"
Being so close to the premiere, it's safe to say there won't be much more in terms of brand new scenes and set pieces. If we do, it will likely just be extended glimpses from things we've already seen. Obi-Wan Kenobi debuts May 27th on Disney Plus with its first two episodes.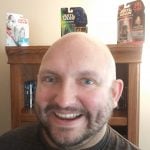 Nate uses his love for Star Wars and movies in general as a way to cope with the pain of being a Minnesota sports fan. When he's not at the theater, you can usually find Nate reading a comic, listening to an audiobook, or playing a Mario video game for the 1,000th time.