New 'Obi-Wan Kenobi' Trailer Confirmed for Today
It's Star Wars Day, and what better way to celebrate than with a brand-new trailer for the Obi-Wan Kenobi series!
The official Kenobi Twitter account posted a short video this morning confirming that a new trailer for the highly anticipated limited series will be released today, May 4.
New trailer today. #ObiWanKenobi pic.twitter.com/TJc78IBifI

— Obi-Wan Kenobi (@obiwankenobi) May 4, 2022
Though a time was not revealed, it is possible that the trailer could hit as early as this morning (ET), potentially on the Disney-owned show Good Morning America.
Directed by Deborah Chow, the six-episode limited series will see Ewan McGregor returning to the iconic role of Obi-Wan Kenobi, in the dark times between Revenge of the Sith and A New Hope in a story that will feature an epic rematch between him and Hayden Christensen's Darth Vader as master and apprentice clash once more.
Though Obi-Wan Kenobi was designed to be a limited series, McGregor has recently expressed his openness to return if the opportunity comes up. So there is always the chance this is not the last time we will see him in the role.
Obi-Wan Kenobi will premiere on Disney+ on Friday, May 27, with two episodes. Future episodes will premiere on the four following Wednesdays.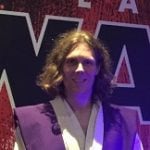 Chris is a lifelong fan of Star Wars, Disney, and super heroes who can't quite believe this golden age of movies and TV we're living in. Having written blogs dedicated to Disney's Aladdin musical and Star Wars Celebration, Chris is excited to be part of the SWNN and MNN teams.