'Mando+' Panel Brings 'Ahsoka' Surprises: Ghost Crew Likely Reuniting With Sabine Casting Confirmation and Hera Appearance
During Saturday's "Mando+" panel at Star Wars Celebration, Dave Filoni pulled one of his famed tricks and brought out a few more surprises. Ahsoka has only been in production for a few weeks, but even that didn't stop a teaser from being shown for those in attendance.
The fun started at the end of the presentation for The Mandalorian season 3, when Rosario Dawson came onstage. She was quickly joined by the one and only Chopper, with The Mandalorian official account saying the fan-favorite droid will be around for the party.
.@rosariodawson brought a friend. The #StarWarsCelebration crowd says hello to Chopper!

Chopper will make his live-action debut in #Ahsoka! pic.twitter.com/vxI6VUqWTv

— The Mandalorian (@themandalorian) May 28, 2022
Rosario says that now she is Ahsoka (thanks to a fan support) she is thrilled to help bring her to life. Can't wait to see her story continue.

— SWNN (@StarWarsNewsNet) May 28, 2022
Their appearances led into a surprise teaser. It was naturally short, starting with a behind-the-back shot of Ahsoka and a Twi'lek who certainly looks like Hera Syndulla. They are walking aboard what appears to be the Ghost. There is also a shot of a Mark IV droid similar to Huyang from The Clone Wars. We then see a shot of an interior plus another shot of that same interior, this time with a hand trying to grab a cup using the Force. Jacen Syndulla anyone?
Ahsoka is seen kneeling at some type of altar, before taking her hood off in a different shot. Her lekku appear to be a little bit longer than we saw from the live-action iteration of Ahsoka in The Mandalorian season 2. At the end of the teaser is a shot of the Rebels mural as seen in the finale, with Sabine walking up to it.
Between the sequence of Ahsoka taking off her hood and Sabine walking up to the mural, we could be seeing the Rebels epilogue in live-action to kick things off. When the lights came back up, we got confirmation that Natasha Liu Bordizzo is playing Sabine Wren — she was next to come onto the stage:
Natasha Liu Bordizzo is playing her!

— SWNN (@StarWarsNewsNet) May 28, 2022
Our live-action Sabine said that she was grateful to be a part of the show before the panel moved on. Additionally, this weekend also saw the confirmation that Filoni would direct a handful of episodes. Spider-Man: Into the Spider-Verse director Peter Ramsey is also slated to direct one episode, if not more. While other Mandalorian directors could be returning for Ahsoka, we've yet to hear anything on that.
Production is currently underway on Ahsoka, which will hit Disney Plus in 2023.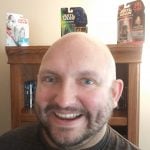 Nate uses his love for Star Wars and movies in general as a way to cope with the pain of being a Minnesota sports fan. When he's not at the theater, you can usually find Nate reading a comic, listening to an audiobook, or playing a Mario video game for the 1,000th time.