Kathleen Kennedy Opens up About the 'Star Wars' Franchise: What Worked, What Didn't, and Where It's Going
Vanity Fair got the chance to sit down with Lucasfilm president Kathleen Kennedy for their June cover story, in which they focus on the future of Star Wars on television. After releasing some snippets from the interview, with quotes from Kennedy on both the television and film side of the franchise, the full piece has now been released on the magazine's website.
Star Wars has had television projects in the works for many years, be it animation with The Clone Wars or Rebels, or George Lucas' scrapped Star Wars: Underworld live-action series he was developing for ABC. Lucasfilm doubled their investment into TV when Bog Iger started circulating the idea of creating Disney Plus. In 2017, when this was happening, Iger tasked Kathleen Kennedy with coming up with new live-action Star Wars series that would air on the service.
When that happened, Kennedy gave a call to Jon Favreau, to see if he'd be interested in developing a new project for them. As Kennedy recalls, she didn't even give Favreau any specifics, just wanted to test the waters and see if he'd like to join the Star Wars family. As we now know, and as Kennedy told Vanity Fair, Favreau signed up immediately. And then, Kennedy exercised her producing abilities and paired him up with Dave Filoni, who she knew had ambitions to go from the animation world to live-action. She said:
"It wasn't an assignment by any means. I went to talk to him because Bob Iger was beginning to have these conversations about creating streaming. I said, 'Hey, I don't know if you would have an interest in coming in and working with us.' He said, 'Not only would I have an interest, I have an idea.' So he had been thinking about this, unbeknownst to me.

Consequently, once Jon wanted to get involved in Star Wars, I had known for a long time that Dave Filoni [who created the Clone Wars series with Lucas] had always been interested in making a transition from animation to live action. I have known this almost from the moment I came into the company and really encouraged him. I tried to create opportunities for him to come over to London, to be on the set [of feature films], to talk to our directors, to get a sense of what that transition might look and feel like.

So I said to Favreau, 'You need to sit down with Dave.' Not because I thought that Dave was going to immediately jump in and start directing, but because I knew that Dave would be a huge, huge added bonus to Jon's vision."
According to the executive, when they find a director or a storyteller that they like, they let them go nuts, as long as they stick to a certain framework defined by the fundamental Star Wars values. But what made it special about Favreau, unlike what she's found on the film side, is that he's willing to make a long-time commitment:
"The biggest challenge is getting all these great minds together and arriving at a structural point of view. We really drive our storytelling through the lens of filmmakers. We depend on people like Favreau and Dave and J.J. Abrams and the filmmakers we've worked with, like Tony Gilroy [on the upcoming Andor series]. We put the basic guardrails around what makes something Star Wars, those fundamental values inherent in Star Wars, that sense of place, the deeper meanings around selflessness, selfishness, and the mythology that George created. Then we pretty much leave them to their own devices and try to support that.

So there's a little bit of luck that comes into this too. With Jon Favreau and the TV side, we've gotten very fortunate that he's made the long-term commitment. I would love to find somebody on the feature side that would make that kind of a long-term commitment. There's a couple of people I'm pretty close to that we may get there, but it's such a competitive landscape right now that availability, exclusivity, those kind of ideas [make it] tough."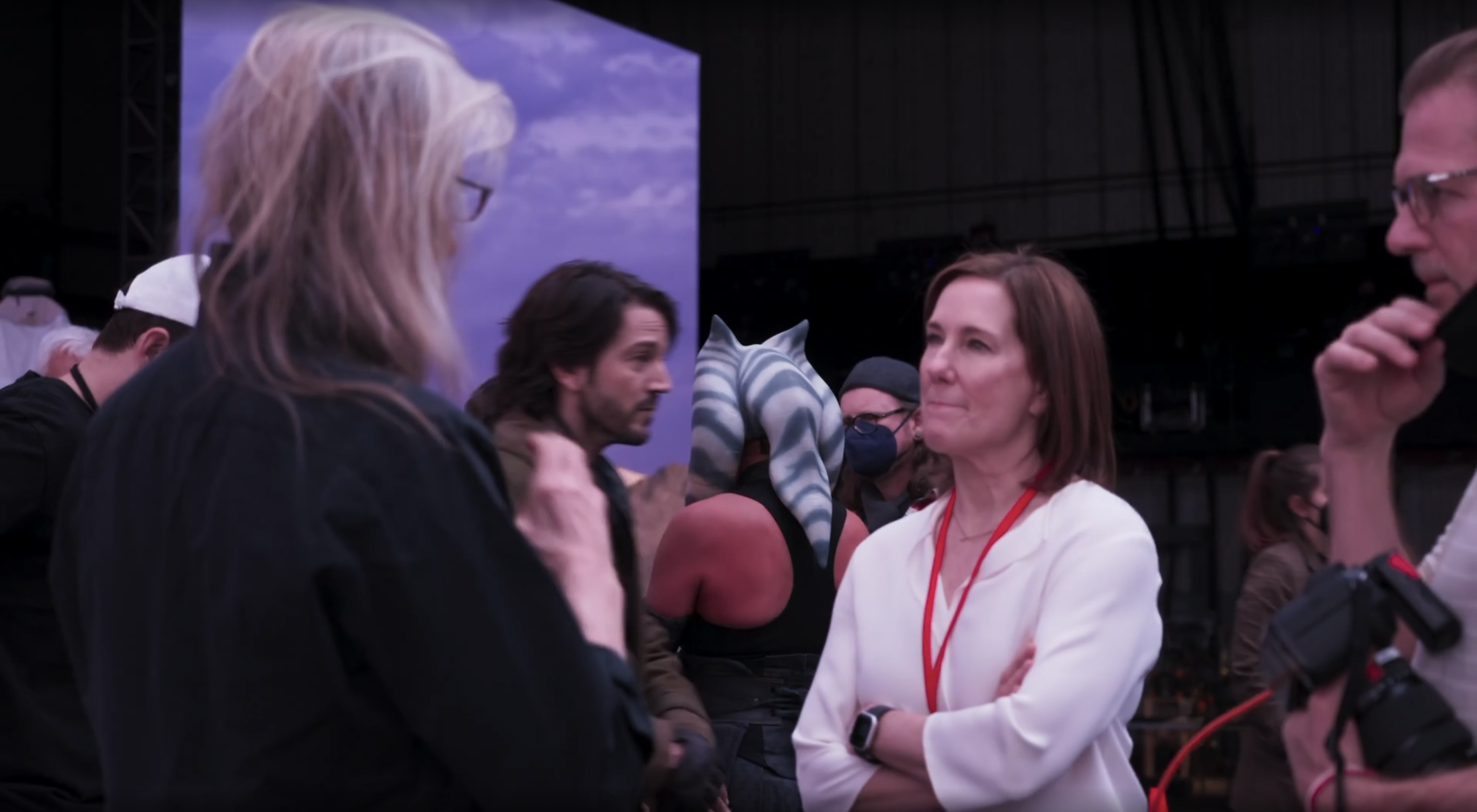 One of the key ideas that Favreau brought to the table was the character of Grogu, a.k.a. Baby Yoda. When asked about this, Kennedy confirmed that this was indeed the plan from the very beginning, though Favreau and Filoni had very long talks about it. Favreau was pushing for it, while Filoni was a bit more apprehensive. Kennedy said:
"[Grogu] was part of it from the beginning. There's always some evolution. That character and what it looked like took a bit of time, but that character was something that he had identified right from the beginning. There was a lot of discussion around whether that was something we should or shouldn't do.

It gave us some pause. But the thing I love about Jon is he's very definitive. He also gives a lot of thought to what he wants to do. He's always, always respectful of Star Wars and what it means and not just doing things flippantly. So he and Dave debated that quite ferociously. Both came to the conclusion that—why not? Everybody knows that Yoda is not just a singular being; he is of a species. That could develop into something interesting."
Kennedy then added that what sold her on the idea of having the character in the show is that it was a bold idea, which is something she's always embraced:
"I internalized a lot of the debate they were having. I think what struck me was it was a bold idea. I'm always attracted to that. You could look back and maybe think that was an expected idea—but it wasn't.

Initially, he was just trying to create a character—the Mandalorian is taking care of The Child. That's the basic concept. It was The Child. What that The Child looked like is what evolved over time. The bold idea that maybe it's of the species that Yoda is immediately gives you a context and a potential backstory. That's exciting in Star Wars because all these things need to be connected. That's what I recognized right away when he was talking about it. Then when we saw it, I mean… come on."
There has been some speculation for a while that Favreau initially wanted to make a Boba Fett show, but Kennedy didn't, and they came to an agreement with Din Djarin. Kennedy immediately shut down those rumors, when asked if Favreau's pitch was initially a Boba Fett show:
"No. He was certainly intrigued by Boba Fett. He knew that we were working on Boba Fett in the feature space for a while. So when he started to develop The Mandalorian, there's no question that there was a lot of conversation around: How do we separate the two? If we were ever to do something with Boba Fett, what would that mean?"
Kennedy was then asked about one of the downsides that the Star Wars franchise is coming across right now — since they are trying to tell one, unified story, they aren't really allowed to course correct that much in their storytelling. This is something that other franchises like Batman or James Bond are allowed to do, when things no longer work.
Of course, when answering this, she ignored the fact that Star Wars canon has been making small retcons for many years, and it's been especially flagrant in the last few years with the comics and books (we published an editorial on the matter a few months ago, you can check it out here). Kennedy said the following:
"We also can't go do something with Luke Skywalker that isn't Mark Hamill. We're not going to suddenly go try to do that. The beauty of Obi-Wan Kenobi is Ewan [McGregor] desperately wanted to do this. He has been so engaged in the entire process, and our excitement and reason for doing this is that the real Obi-Wan wanted to tell this story. We got excited by the idea that Ewan McGregor wanted to come back, and Hayden Christensen wanted to come back.

Just as fans, everybody inside the company was like, 'Let's see if we can make this work.' Deborah Chow's done a beautiful job with it. Again, it's a singular vision. She's directed all six [episodes]. It has a consistent feel and style to it."
Kennedy's answer is especially interesting, as she gives the example of Obi-Wan Kenobi, a show that already nullifies her point twice — the series cast a new actor to play Luke Skywalker (Grant Feely) and stars Ewan McGregor as the character that Alec Guinness first made iconic with the original trilogy. According to the executive, what convinced her that recasting original trilogy actors is not the way to go was 2018's Solo: A Star Wars Story. She said:
"I think back, and Solo was one of the first ideas that came up when the company was sold. One of the first people I went to was [screenwriter] Larry Kasdan. Larry and I have known each other forever. He was so excited to tell that story. We genuinely believed at the time it was a good idea.

So yeah. There should be moments along the way when you learn things. That may have certainly been a learning moment. Some people have talked about how, well, maybe Solo should have been a TV show. But even doing Solo as a TV show without Harrison Ford as Han Solo…it's the same thinking. Maybe I should have recognized this before. We would never make Indiana Jones without Harrison Ford. Having just finished the fifth movie, I can tell you, there wasn't a day I wasn't on set where I wasn't like, Yes—this is Indiana Jones.

Maybe I'm closer to the DNA of Indy, and always have been, than I was when I came into Star Wars, because now it does seem so abundantly clear that we can't do that. You get excited by these things, and you want to revisit things you want. You want to have that feeling again, and you're trying to resurrect that. I think that's what we do even with our new characters. With Star Wars, everybody talks about a 'feeling' they have about Star Wars. That's that intangible idea that you're looking for."
Staying on the feature film side, Vanity Fair brought up the topic of Rey and her ascendency. J.J. Abrams arguably built a cloud of mystery around the character in The Force Awakens, and one of the long-running theories about her ancestors was that she was the granddaughter of Obi-Wan Kenobi. Kennedy confirmed that this was indeed an idea they discussed, but ultimately didn't go through with it:
"The bigger issue is talking about Obi-Wan as a Master Jedi, and the issue of attachment and selflessness. In order for Obi-Wan to have a child, you are really, really impacting the rules around the Jedi. What does that mean? If that were explored—and certainly there were a lot of ideas being thrown around—but anything to do with Obi-Wan in that regard was pretty much off the table because it flies in the face of everything George created in the mythology. We're not rigid about it. It's certainly open for discussion all the time. But that's a pretty significant tenet in the mythology of the Jedi that we'd be reluctant to mess with."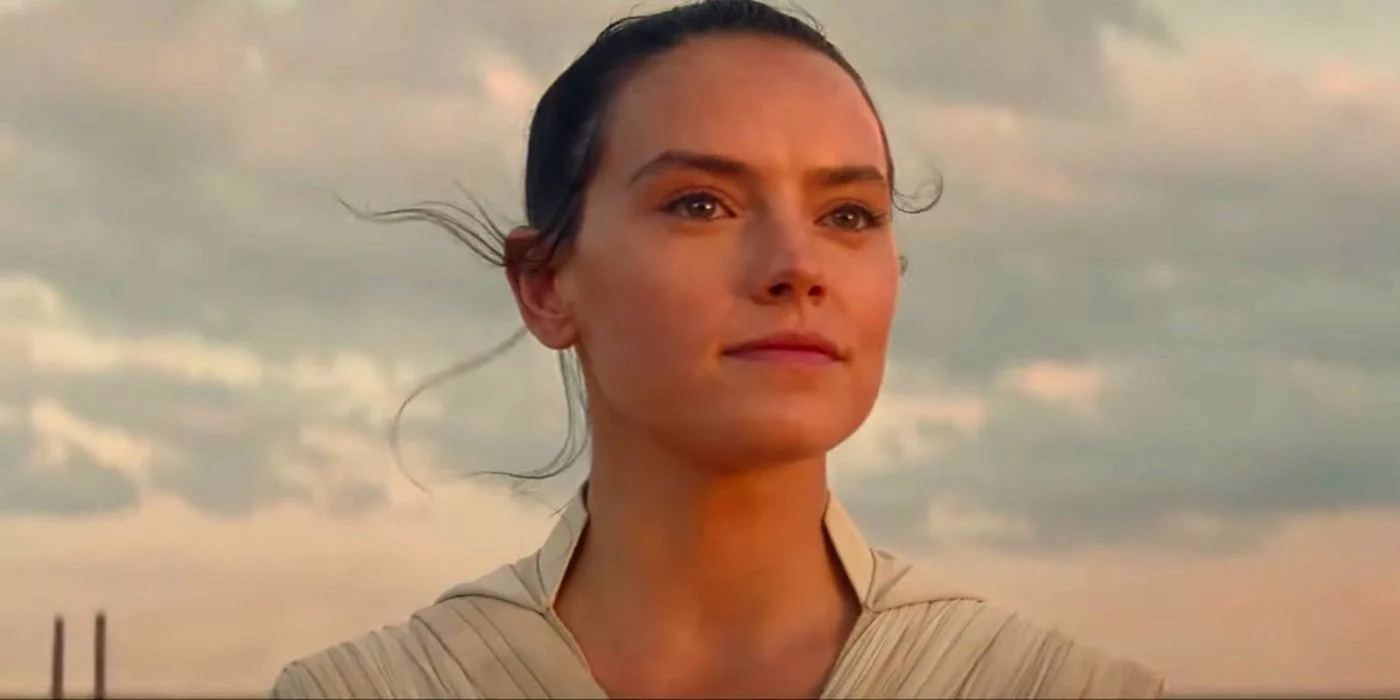 She also said that there are a lot of internal discussions about moving on from the Skywalker Saga at the moment:
"I think [moving beyond the characters we know] is vital. Just staying within the construct of George's storytelling, to keep chipping away at that, I think would be wrong. It's our job to step away now, but still have a connection to the mythology that George created. That won't stop. But we are moving on from the Skywalker Saga. That's what's taking a lot of time, discussion, and thought right now."
And to help them decide what to do next, Kennedy said that trying something on the publishing side of Star Wars is a good way to test the waters for them:
"It is. That's something we put into motion about five years ago because we don't have the benefit of just pulling a book off the shelf…

As we look at where Star Wars is going, we don't just assume it's only going to be on television and in movie theaters. That's another evolution we're having a lot of conversation around."
And what could that be? Virtual Reality is a possibility, Kennedy said, but they want to go even beyond that:
"I think it's beyond just V.R. Think of some of the things Epic Games is doing with Fortnite: the ability to immerse people in stories, building avatars around your character that could actually participate in some way.

We talk so much about the movie experience being something that is a community. You get to hear people interact. You get to hear them laugh. You get to hear them cheer. Well, in the future, you're going to have that opportunity to experience that feeling and that interaction virtually. That may not be ideal to a lot of people, but there's no question that's where it's going.

So what does that mean for us as storytellers? Since we work so far ahead of what the audience interacts with, we have to be thinking about these things.

It's right on the horizon. We're already having conversations around what we're going to experiment with [regarding] immersive technology. I know everybody kicks around the word metaverse. But in a funny way, George created Star Wars as a part of the metaverse a long time ago."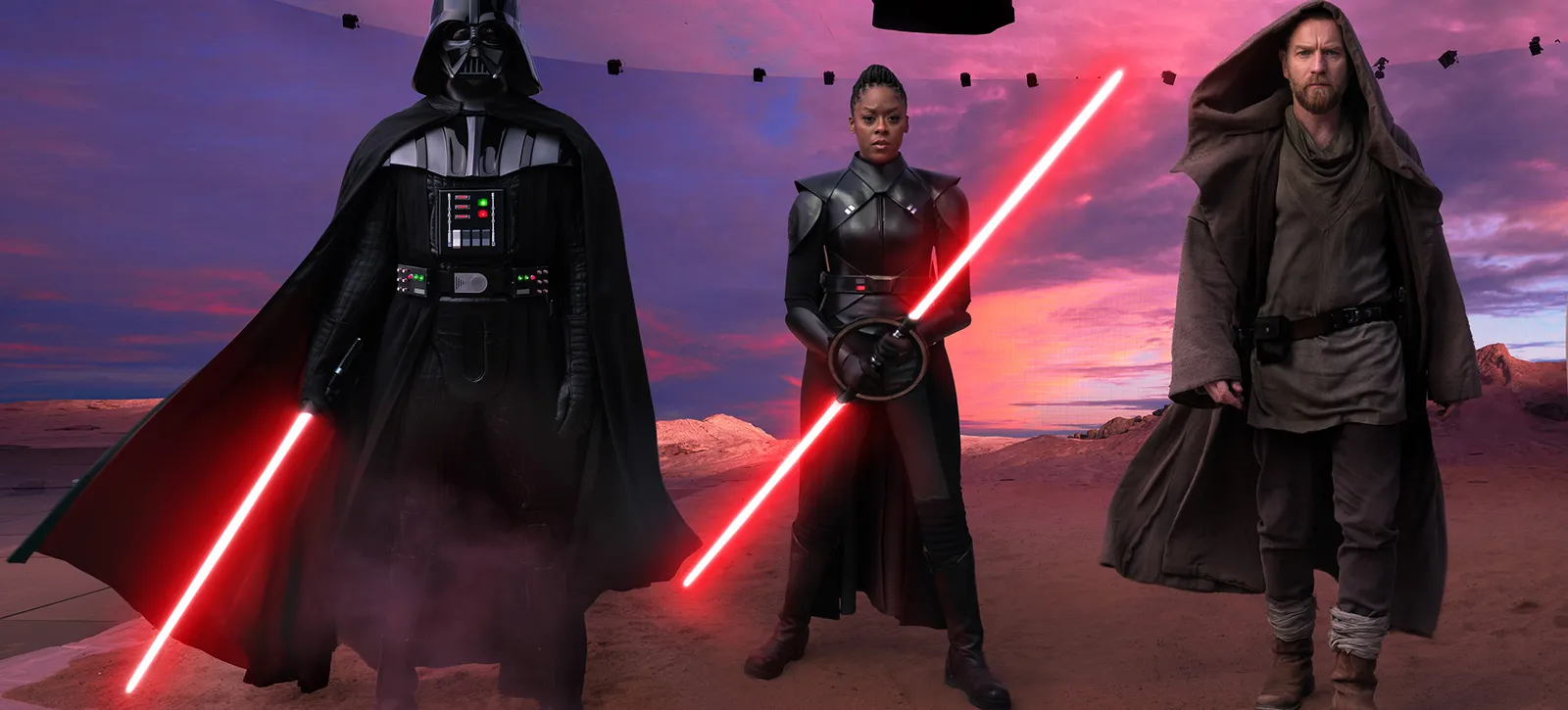 In the immediate future, however, the company has a lot of projects in the works. For instance, they are less than ten days away from the release of Obi-Wan Kenobi, with the first two episodes coming out on May 27th. This is what Kennedy could tease about the series:
"I think what Deborah's done really effectively is she's explored the interior life of Obi-Wan, because we find Obi-Wan at a point when he thinks he's killed Anakin. He is at a pretty low point when we find him. He's questioning who he is. I think she does a really great job of having him find that humanity again.… There's so much I can't tell you!"
Another highly anticipated project they are developing is The Acolyte, with Leslye Headland as the leader. The show will not include many characters we're familiar with, as it will take 100 years before the events of the original trilogy. Kennedy said about the show:
"That one sits right on the edge of the High Republic Era. It's a bit of an experiment for us because it isn't building within the timeline and the era that Jon and Dave are. It isn't necessarily going to be where features are. We are moving into a new era with what [showrunner] Leslye Headland is doing.

There are certainly reflections of things that people are going to recognize, and it will have connectivity in Star Wars. But this will be a whole new [era] of storytelling if we determine—like we did with The Mandalorian—that it works and that there's interest. I think there will be."
Moving on to the feature film division, Kennedy has confirmed that they are indeed rethinking Rogue Squadron, and that Taika Waititi's film is probably up next. However, she alleges that they have a roadmap in place:
"We have a road map. I would say that Taika's story fits more specifically into that. Rogue Squadron…we kind of pushed off to the side for the moment. Patty is developing the script further. Then we will talk about how that connects to the central spine that we're working on. There's a couple of [filmmakers] that we've been in conversation with over quite a long period of time that I'm hoping will come in and make the overall commitment that Jon and Dave have made. That's ideally what I would love to see happen in the feature space."
She then added that the Star Wars movie Kevin Feige is supposedly producing is just a rumor:
"[That's] the rumor mill. Kevin, I think everybody knows, is a huge Star Wars fan. He's clearly been inspired by Star Wars in the way in which he's handled Marvel. I know he's got a lot on his plate right now. I would love to see at some point what movie he might come up with. But right now, no. There isn't anything specifically on the horizon."
This is something very bizarre for her to say. The movie was announced by Alan Horn in 2019, back when he was Disney's Chief Creative Officer (and therefore, Kathleen Kennedy's boss), and the major Hollywood trades reported in early 2021 that Michael Waldron (Loki, Doctor Strange in the Multiverse of Madness) would be the main writer. Not only that, but Kevin Feige acknowledged it in November 2019 and then in January 2021, shortly after Waldron's involvement got out. In addition, Michael Waldron has also acknowledged the movie multiple times and most recently confirmed that he's now hard at work on it. The Vanity Fair writer did acknowledge this last interview in the story, adding that his talk with Kathleen Kennedy happened in March, before Waldron made those comments.
The timing of the interview is especially relevant, as Kennedy added that two months later (that is, May), they would give more specifics about the upcoming films:
"We'll probably get a little bit more specific in a couple of months."
She's obviously referring to the upcoming Star Wars Celebration, which will kick off on the 26th in Anaheim, California. The panel where they will address them will happen that day, at 11 am PT. Stay tuned for that and more!
Miguel Fernández is a Spanish student that has movies as his second passion in life. His favorite movie of all time is The Lord of the Rings, but he is also a huge Star Wars fan. However, fantasy movies are not his only cup of tea, as movies from Scorsese, Fincher, Kubrick or Hitchcock have been an obsession for him since he started to understand the language of filmmaking. He is that guy who will watch a black and white movie, just because it is in black and white.