Jon Favreau on How 'The Book of Boba Fett' Was Inspired by 'The Godfather'
A new segment from Vanity Fair's June cover story, focused on the future of Star Wars television, has come out. In it, instead of looking into the future, Jon Favreau and Dave Filoni look back at how they approached The Book of Boba Fett. The series, which wrapped in February, was widely criticized for making Boba Fett, a classic Star Wars villain, a hero.
Since the trailer for the series was released in early November, we were told to expect a Godfather-esque story, with Boba Fett being the new Don Corleone. Speaking to Vanity Fair, Favreau explained that this was indeed their approach, though there is nuance to it. While audiences might have been expecting a ruthless mafia boss, Favreau wanted to depict Boba Fett as a leader trying to remain peaceful in a time of war. He said:
"You think about Don Corleone. There's a tremendous amount of restraint because he knows that to be sustainable, there has to be [peace.] You don't do well unless there's some political balance, because if you keep going to the mattresses, nobody's earning."
And this is something that applies to Marlon Brando's Vito Corleone, and also to Robert DeNiro's Vito, as Favreau continued to explain:
"You think about what things are off limits. Don Corleone wasn't just doing everything to line his pockets as he got later into his career. You look at De Niro, in the flashbacks in The Godfather: Part II, as he's walking down the streets. He's seen as somebody who's actually creating, someone the people respect because of the way he conducts himself. There's lots of different ways to run an empire. There's the Sonny Corleone way, there's the Michael Corleone way and then there's the Vito Corleone way."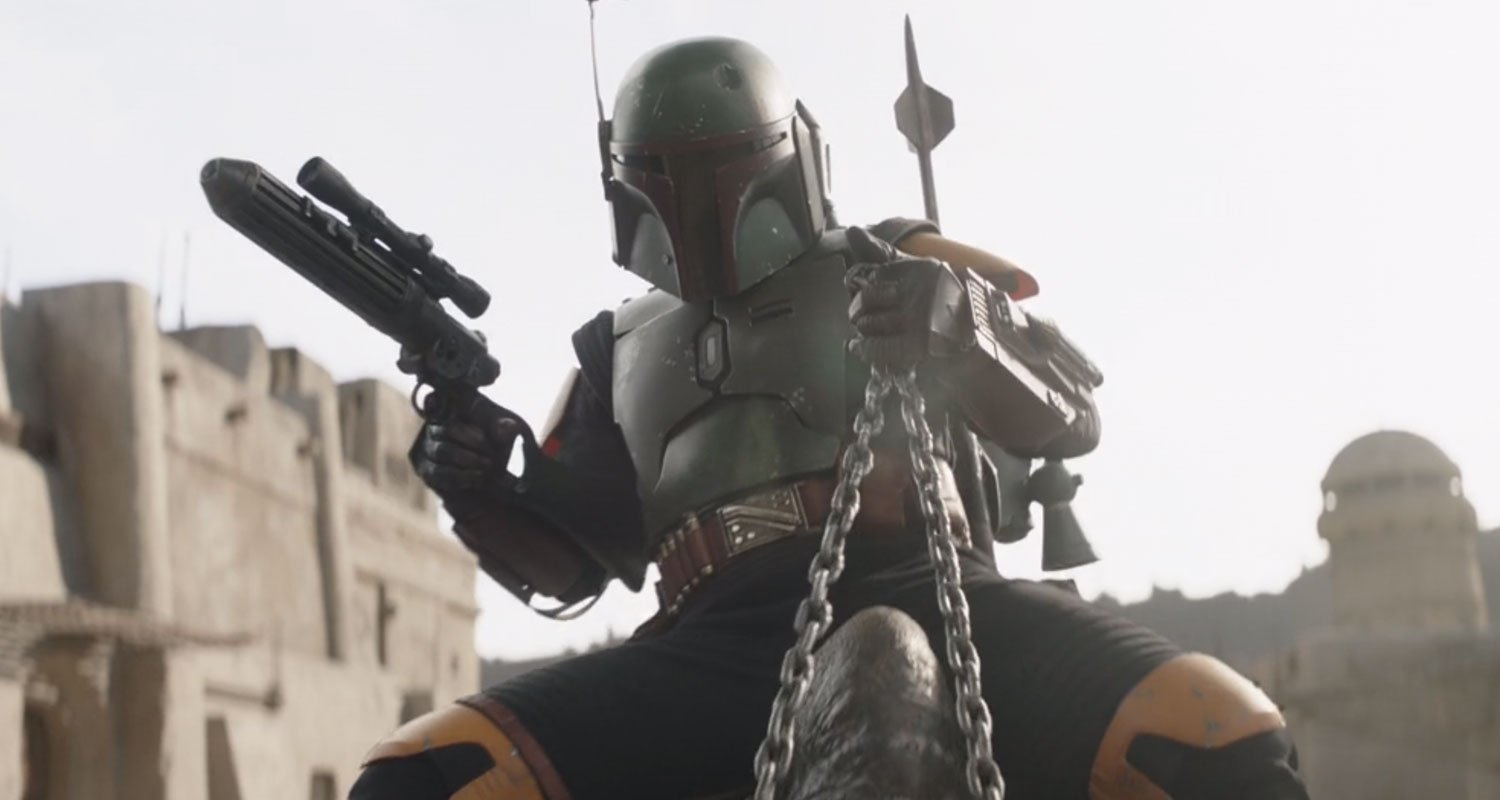 Robert Rodriguez's approach to the character, however, was more inspired by another iconic character from the 20th Century, Conan the Barbarian. This is according to Favreau, who said:
"We would talk to Robert about Conan. Conan starts off as a young warrior and then ages up through the books until he's Conan the King. So, how is Boba the crime lord going to be different, knowing what he knows, than what he would've been when he was a younger man?

I think he's just wise. … He's also a much older character because now we're after the original trilogy. He's at a different point of his life, having experienced what we had seen in all the previous films."
Ever since the release of the Boba Fett action figure, months before the release of The Empire Strikes Back, many fans have been coming up with their own version of the legend of Boba Fett. Most were then disappointed when the character was unceremoniously killed off at the beginning of Return of the Jedi, as Favreau said:
"Boba Fett is a lot of different things to a lot of different people. I grew up with Boba Fett as a faceless, quiet, mysterious bounty hunter. All we knew was that he was scary enough that Darth Vader saw him as somebody to set out after Han Solo. Then by the time you hit the second movie that Boba was in, Return of the Jedi, that was a different version of the character. He got knocked into the Sarlacc pit and passed away. I think people assumed he would've lasted longer in that situation."
Not Dave Filoni, though. According to him, it was time for Boba to go, as Return of the Jedi wasn't about him:
"It's funny when you say he stands up to Darth Vader. Does he do that? I think he was hired and Vader tells him, 'No disintegrations,' and he's like, '…Okay,' I love Boba Fett but even when I was a kid, the idea that he fell into the Sarlacc pit actually never disappointed me because I'm like, 'The story is not about him.'"
At this point, it's unclear what the plans are for the future of the character. The show might be renewed for a second season, or both he and Ming-Na Wen's Fennec Shand might simply have recurring roles in The Mandalorian. We might find out more about it next week during Star Wars Celebration.
Miguel Fernández is a Spanish student that has movies as his second passion in life. His favorite movie of all time is The Lord of the Rings, but he is also a huge Star Wars fan. However, fantasy movies are not his only cup of tea, as movies from Scorsese, Fincher, Kubrick or Hitchcock have been an obsession for him since he started to understand the language of filmmaking. He is that guy who will watch a black and white movie, just because it is in black and white.