Ewan McGregor Talks to 'Empire' About His Journey Back to Obi-Wan Kenobi and His Newfound Appreciation
With the release of Empire Magazine's Summer 2022 issue, a new interview with Ewan McGregor and three new pictures from Obi-Wan Kenobi have been released. The images are mostly taken from scenes we've already seen in the trailers and previous images from the series, but they work as a reminder that the show will be here in two weeks.
As far as the interviews go, Ewan McGregor continued to share his enthusiasm about coming back to Star Wars after his experience filming the prequels. For instance, he explained that he started to come around to the idea of going back to playing Obi-Wan when, a few years ago, he directly experienced the enthusiasm young fans had for him as that character. He said:
"One of the cinemas in Hollywood was doing [a marathon], starting with the first prequel and going through all of the films. They asked me to introduce one of the films. I [chose] Episode III, because I think that was the strongest one and I know that the fans like that film a lot. I just suddenly felt like, 'Fuck it, I want to do it!' Nobody knew I was going to be there. I rode down on my motorbike at 2am to Hollywood. It was my first interaction like that with real, full-on die-hard Star Wars fans. When I walked out on stage, it was a really nice feeling. It felt good. People were in costumes, in sleeping bags on the floor. I felt a real warmth and positive reaction.

I never felt it more than when we were making Kenobi, because so many of the crew are real Star Wars fans. I really saw it when Hayden [Christensen] walked on set the first time. There were hundreds of people standing behind the cameras. It was the first time that Vader comes down the street. He walked around a corner onto the set, and so many people were there to actually see it with their own eyes. My appreciation for the whole world is different than it used to be."
He continued on to say that his experience prepping and filming the show has been nothing but great:
"I'm excited about [people seeing Obi-Wan Kenobi]. My whole experience of the series has been really good, right from when I started speaking to Disney years ago. They called me in because every interview I did, I was being asked two things — would I do a sequel to Trainspotting, and would I play Obi-Wan Kenobi again? I would start saying 'yeah, I think there's a story between Episode III and Episode IV.' I was asked so much that Disney got me in and said 'Do you mean it? Because we might do it.' And I went 'Yeah!'.

From that moment on, it's been a really positive experience. I was a producer on it, and I was loosely involved in notes and different drafts and story ideas and such. And that was very satisfying."
McGregor was then asked about how the project came together from the moment that Disney said they were interested in doing it too:
"It went through several different iterations. We were talking about it being a movie. I said 'I think it could be a story about a man who's broken and lost his faith, and it could be quite dark. How does he get it back?' That's where we started. Taking somebody we know is an example of what the Jedi stand for, somebody who's on the Jedi Council and is respected, to take them to a place where we've never seen them before — he's guilt-ridden that he's lost Anakin to the dark side, all his close spiritual friends, Yoda, everyone's gone into hiding. So he's lost.

Stephen Daldry was going to direct for a time [but he] was attached to direct a big movie and he just couldn't do it. Then Deborah Chow became the director, and she took the project in two different directions, because it became a series, and then the storyline shifted. She's got an amazing, depth of understanding of that world. I don't know if it's because of her work with The Mandalorian, but she really knows the world inside out. It's very broad now with the animations and the video games. I don't know what happened in Episode 29 of The Clone Wars, but she does."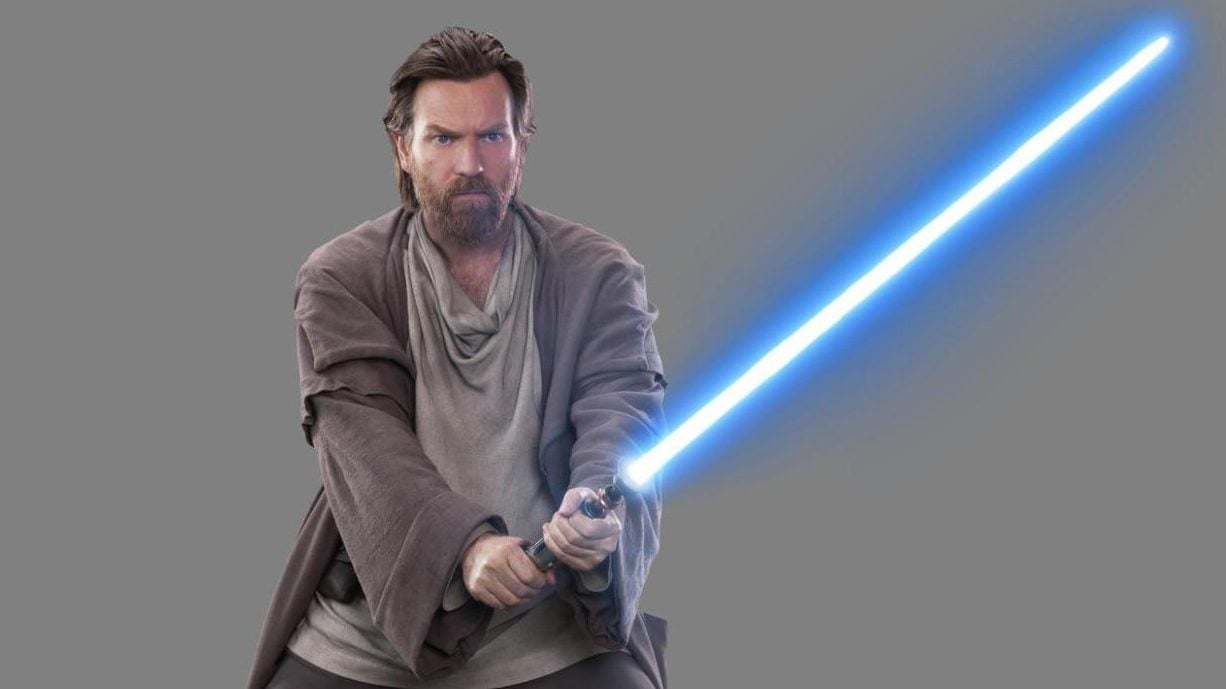 The picture above is the first time we've seen Ewan McGregor with his lightsaber ignited in all the promotional material (except for this artwork that teased the fight between him and Vader). This is definitely a hint that we are seeing a powerless Obi-Wan, at least at the beginning of the series, which McGregor confirmed to Empire:
"We get to see Obi-Wan without his power. He's out of the game, he's totally rusty at the beginning. And he has to make the decision of whether he's going to try and get back to where he has, or not."
McGregor has teased in previous interviews that the character will have to make a decision at the beginning of the show, based on an incident that happens and he'll have to decide whether or not he helps someone.
When asked about his reunion with Hayden Christensen, Ewan McGregor couldn't hold back his enthusiasm about reuniting with his friend:
"We spent so much time together in Australia, because we shot Episode II and Episode III [there]. We were far away from home, and he was so young and passionate. He had a lovely relationship with my little — now 26-year-old — daughter Clara. I was so happy to see him again. When I knew we wanted to have him in the series, we met in a park in Santa Mónica and we went for a long walk. It was during lockdown. We were outdoors with our masks, I got to see his eyes only. We walked, we caught up on our lives. We hadn't seen each other for a long, long time.

On set, it was like walking back in time. I was looking across at him playing these scenes, and it was like a time warp or something — like the last 20 years didn't really happen. All of my personal feelings — because I love Hayden — were there, but also all of Obi-Wan's feelings about Anakin were there, and it was pretty seamless. It's funny, both playing Renton again [McGregor's character in Trainspotting], and playing Obi-Wan again, how it feels like those characters have existed somewhere in your brain, even though you don't know you're gonna play them again. When you come back to them, they're the right age somehow. They come out like they've existed for the last 20 years somewhere. And it's because they are a part of you. A lot has happened to me in my life since I last played Obi-Wan. That's all my part and parcel of it somehow; it gets muddled together."
He was also asked about his fight scenes with Hayden Christensen as Vader, though he couldn't give many details about them. He simply said:
"We had a great experience working together in the prequels, doing the fight stuff. I'm not gonna talk too much about anything that Hayden and I might or might not do in the fight world. It might be that we continue some of that in this one… We'll see. I had a lot of fight stuff to do in this series, and in different ways — not necessarily always with the lightsaber."
Of course, we've already seen some of that in the trailer, whether it was Obi-Wan using his blaster in the middle of the desert (see image above), on a roof, or fighting hand-to-hand with a Zabrak. We will probably have a better idea of what's going on after we watch the first two episodes of Obi-Wan Kenobi when they come out, on May 27th.
Miguel Fernández is a Spanish student that has movies as his second passion in life. His favorite movie of all time is The Lord of the Rings, but he is also a huge Star Wars fan. However, fantasy movies are not his only cup of tea, as movies from Scorsese, Fincher, Kubrick or Hitchcock have been an obsession for him since he started to understand the language of filmmaking. He is that guy who will watch a black and white movie, just because it is in black and white.