Art Show Revealed for Star Wars Celebration Anaheim
Star Wars Celebration is just three weeks away, and today the official site has revealed the 21 artists and prints that will make up the official Art Show.
This year's offerings include tributes to Carrie Fisher, the iconic landscapes of the saga, a tarot card-inspired portrait of Rey, as well as pieces inspired by The Bad Batch, The Clone Wars, and Solo: A Star Wars Story, and many more.
The artists for this year include Al Abbazia, Steve Anderson, Jonathan Beistline, Kate Carleton, Jason W. Christman, Joe Corroney, Kaela Croft, Asia Ellington, Danny Haas, Karen Hallion, Joe Hogan, Brian Miller, Alex Mines, Dawn Murphy, L. Jason Queen, Adam Schickling, Lin Zy Selestow, Chris Trevas, Malcolm Tween, Adrianna Vanderstelt, and Ksenia Zelentsova.
The art show is one of my favorite parts of Celebration, and I always try to pick up one print whenever I go. Each piece is incredibly unique, so there will be something that speaks to everyone. I think my personal choice this year is 'A Friend' by Adrianna Vanderstelt, featuring the touching moment when R2-D2 and Grogu met at the end of The Mandalorian season 2, with Luke watching on in the stars.
Make sure you check out the full article over at the official site to view the full range of artwork that will be available, and to read each artist's insights into their work.
Pre-orders open at DarkInkArt today at 12pm PT and run through to 12pm on Monday, May 16. Each print will be limited to 250 pieces, with 200 available during the pre-order period and 50 held back to be sold at Star Wars Celebration later this month. Popular pieces can sell out quickly, so if there's a piece you really want, pre-ordering today is highly recommended. Pre-orders are for collection only and cannot be posted.
Star Wars Celebration takes place from May 26 to May 29 at the Anaheim Convention Center.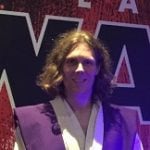 Chris is a lifelong fan of Star Wars, Disney, and super heroes who can't quite believe this golden age of movies and TV we're living in. Having written blogs dedicated to Disney's Aladdin musical and Star Wars Celebration, Chris is excited to be part of the SWNN and MNN teams.