'Star Wars' Celebration New Guests Include Carl Weathers, Katee Sackhoff, Emily Swallow, and More
Star Wars Celebration keeps adding to its ranks. After yesterday's major television and film panel announcement, StarWars.com is keeping the party going with a bunch of new names from across the galaxy.
Joining the fun this May are Carl Weathers (Greef Karga), Katee Sackhoff (Bo-Katan Kryze), Dee Bradley Baker (The Bad Batch, Captain Rex), Amy Allen (Aayla Secura), Emily Swallow (The Armorer), and Michelle Ang (Omega). Return of the Jedi stunt performer Dickey Beer, who performed some of Boba Fett's tricks, will also be attending this year's convention.
This week's star-studded batch joins last week's announcement, which featured Daniel Logan, Giancarlo Esposito, the High Republic writing team, and many others. Other big-name celebrities confirmed for the massive event include the ever-present Anthony Daniels, Ian McDiarmid, and Ashley Eckstein. Pre-orders for all guests, including photo ops and autographs, also went live today. You can purchase those here.
Celebration in Anaheim kicks off May 26th and runs through the 29th. Stay tuned here at Star Wars News Net for more as we prepare for the biggest Star Wars party in the world!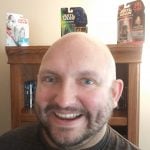 Nate uses his love for Star Wars and movies in general as a way to cope with the pain of being a Minnesota sports fan. When he's not at the theater, you can usually find Nate reading a comic, listening to an audiobook, or playing a Mario video game for the 1,000th time.