Official 'Obi-Wan Kenobi' Promo Art Features New Duel Between Kenobi and Darth Vader
The Obi-Wan Kenobi series debuts in a little over a month on Disney Plus, and finally the marketing push is set to begin for the highly anticipated series. We now have our first look at promotional artwork for the series that features Darth Vader and that "rematch of the century" Kathleen Kennedy talked about when describing Hayden Christensen's return in December 2020. Let's take a look at the full image:

Without getting too subjective, this is stellar artwork, bringing back the color palate reminiscent of Revenge of the Sith. It is safe to say if this design is made into a movie poster, Star Wars fans everywhere will be looking to get one. The central focus of the duel between Vader and Kenobi ignites hype-induced excitement in the best way possible. Everyone knows at least one matchup between the two is coming, so it is a welcome sight to see Lucasfilm embracing that imagery in promoting the show versus keeping in visually hidden within the series itself.
The art initially made the rounds via the photo below taken in a store. We're not positive of where this photo originated, we are still trying to find out who took it, for proper credit, and to learn what retailer this was found in. It is clearly an end-of-aisle topper display at some retail establishment. If you know or find out who actually took this photo, please let us know so we can give proper credit.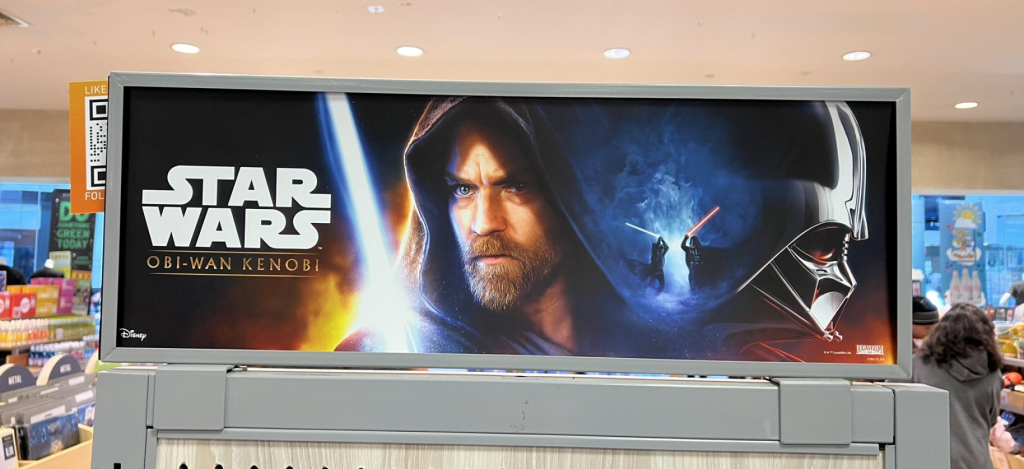 Does this mean a wave of action figures and other toys/collectibles are heading our way soon? Wouldn't that be exciting? We'll see what the next five weeks leading up to the series debut have in store for us. May 4th is always a popular choice for reveals, so keep an eye on that, though there has also been unconfirmed buzz and rumblings that more footage could be on the horizon as well.
Obi-Wan Kenobi debuts its first two episodes on Friday May 27th, with the following episodes coming out each Wednesday thereafter. Remember, the Force will be with you, always.
John Hoey is the Lead Editor and Senior Writer for Star Wars News Net and the host of The Resistance Broadcast podcast
"For my ally is the Force, and a powerful ally it is."