Matt Lanter on Why It Was Important Hayden Christensen Saw 'The Clone Wars'
In a new interview with SFFGazette.com, Matt Lanter discussed his time working on The Clone Wars as the voice of Anakin Skywalker. The actor also said he was glad to hear that Hayden Christensen had checked out the animated series in preparation for Obi-Wan Kenobi.
As Lanter explained, the seven seasons of The Clone Wars, together with Vader's appearances in Star Wars: Rebels, gave the audience a lot of nuance on the character's arc in ways the films never had the time to explore. When asked about Christensen's comments, he said:
"I saw that! I'm happy that he went and checked out The Clone Wars and went public to say that. As an actor, actor to actor, I think that's really smart of him regardless of whether I voiced the character or not. There's a wealth of knowledge to learn about Anakin Skywalker in The Clone Wars. We had seven seasons to develop this character. Hayden didn't have that opportunity in the films. He had a very tough job to take Anakin from a bratty teenager to the most iconic villain of all time in a very short amount of screen time.

There's a wealth of knowledge to learn from Anakin in The Clone Wars about his relationships, how he treats people, and the adventures he's been on. I think that's wonderful. Just as a fan of Star Wars, to know a role you were invested in and care about [has made such an impact]. That's so cool and I'm glad he was able to revisit it."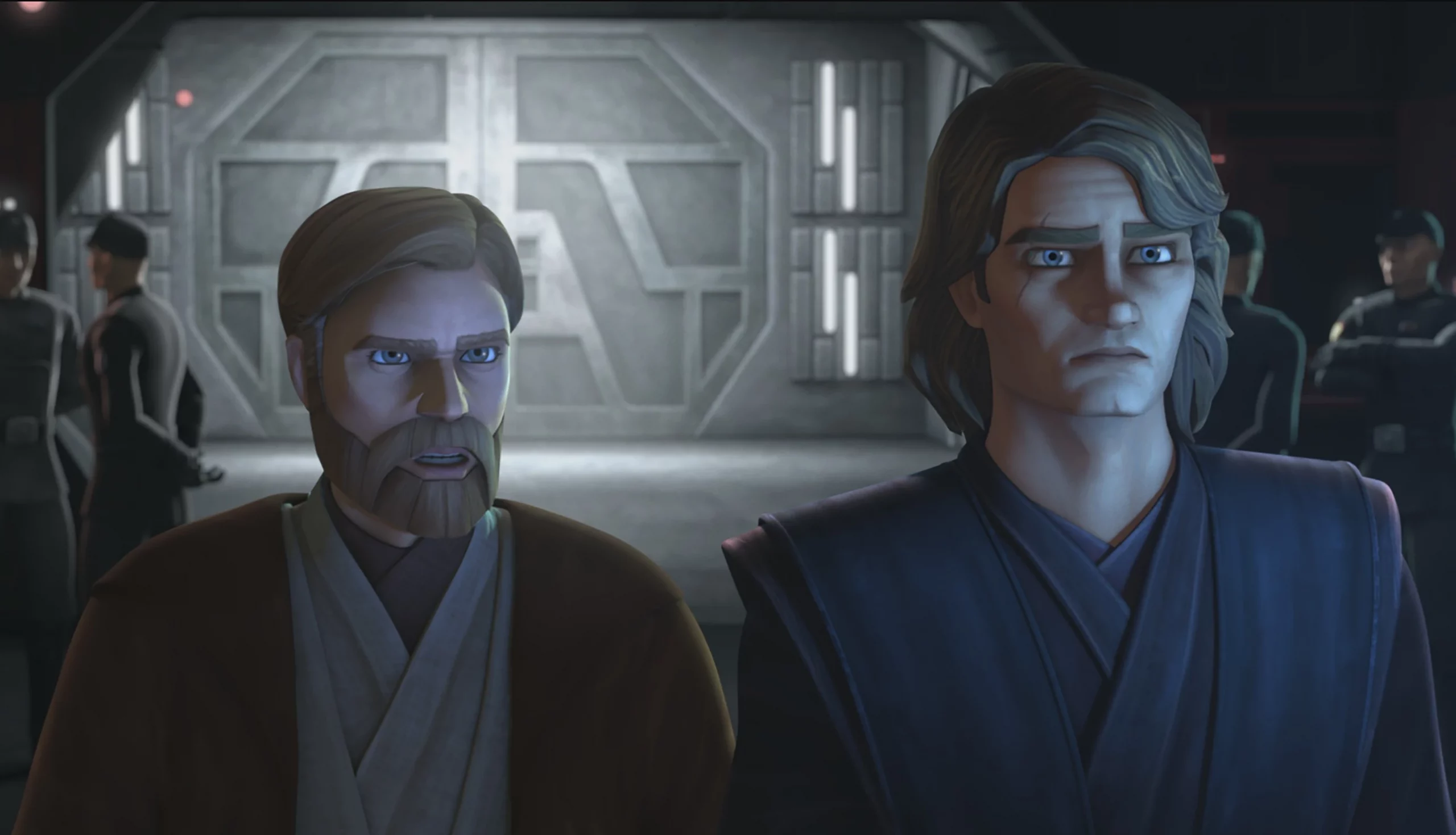 Matt Lanter cameoed as the voice of Anakin in a couple of episodes of Rebels, most notably in the season 2 finale, when Vader's mask cracked and we got to see and hear a fractured Anakin behind the helmet. He was also asked if he'd like to return to voice the character after he turns to the Dark Side, in a similar way to Hayden Christensen returning as Vader for Obi-Wan Kenobi, after playing Anakin in two live-action films. He said:
"That's a really great question. The masked Darth Vader seems like such a different character to Anakin. Even in the films, the James Earl Jones booming void of emotion character we know as Darth Vader seems very different to me. Would I like to play that version? Possibly. I feel like that's a big undertaking in a lot of ways as it's a different character.

I think you specifically mentioned the unmasked version and that would be pretty cool. What was so unique about that moment [in Rebels] is that we literally saw the helmet break on the face jaggedly down the centre of his face and we saw Anakin and we saw Darth Vader. It was just this stark reminder that there's a person inside of there and we loved him and knew him as Anakin."
Matt Lanter confirmed over a year ago that he'd be returning to voice Anakin in a future Star Wars animated project, but we still haven't heard any updates on that. Since he'll be attending Star Wars Celebration next month, it's possible we'll get an update on that. A very real possibility is the new animated anthology of shorts, Star Wars: Tales of the Jedi. The project will have its own panel at Celebration, on Saturday, with Dave Filoni making a special appearance, so stay tuned for more news on that!
Miguel Fernández is a Spanish student that has movies as his second passion in life. His favorite movie of all time is The Lord of the Rings, but he is also a huge Star Wars fan. However, fantasy movies are not his only cup of tea, as movies from Scorsese, Fincher, Kubrick or Hitchcock have been an obsession for him since he started to understand the language of filmmaking. He is that guy who will watch a black and white movie, just because it is in black and white.