The Armorer Actress Emily Swallow Discusses Her Role in the Disney Plus 'Star Wars' Shows
The Book of Boba Fett managed to keep many secrets from fans, especially in the second half of the show, with the involvement of Din Djarin, Ahsoka, Luke, and Grogu. Another character that we weren't expecting to see in the show was the Armorer, played by Emily Swallow, whom we hadn't spent time with since The Mandalorian's season 1 finale. The actress just had a conversation with StarWars.com in which she dove deep into her episode in the Star Wars spin-off series.
She returned in Chapter 5: Return of the Mandalorian, and was used as an exposition tool to catch both Mando and audiences up to speed. She also participated in a cool training sequence in which she taught Mando how to wield the Darksaber and then sent him in what will probably be his season 3 quest — he must look for the living waters beneath the mines of Mandalore.
The episode was directed by Bryce Dallas Howard, who is a dream director according to Swallow:
"Working with Bryce is such a dream for an actor. She is that remarkable breed of leader who knows what she wants and makes sure she gets every single shot she wants, but she will always ask you if there is anything you want to try, and she will unfailingly tell you to follow your gut. There is never any doubt that she trusts her actors."
This was also the actress' return to the Volume, which to her, is a "game changer" in terms of acting:
"Working on the Volume is a game changer in the best possible way. When I first stepped onto the set, it took my breath away. The vastness of the sky and the isolation of this place that the Armorer had staked out really struck me. I got a glimpse of how lonely existence must be for this group of people who have to live in constant hiding. As an audience member, I can't even tell I'm watching something that's not shot on location. It's incredible."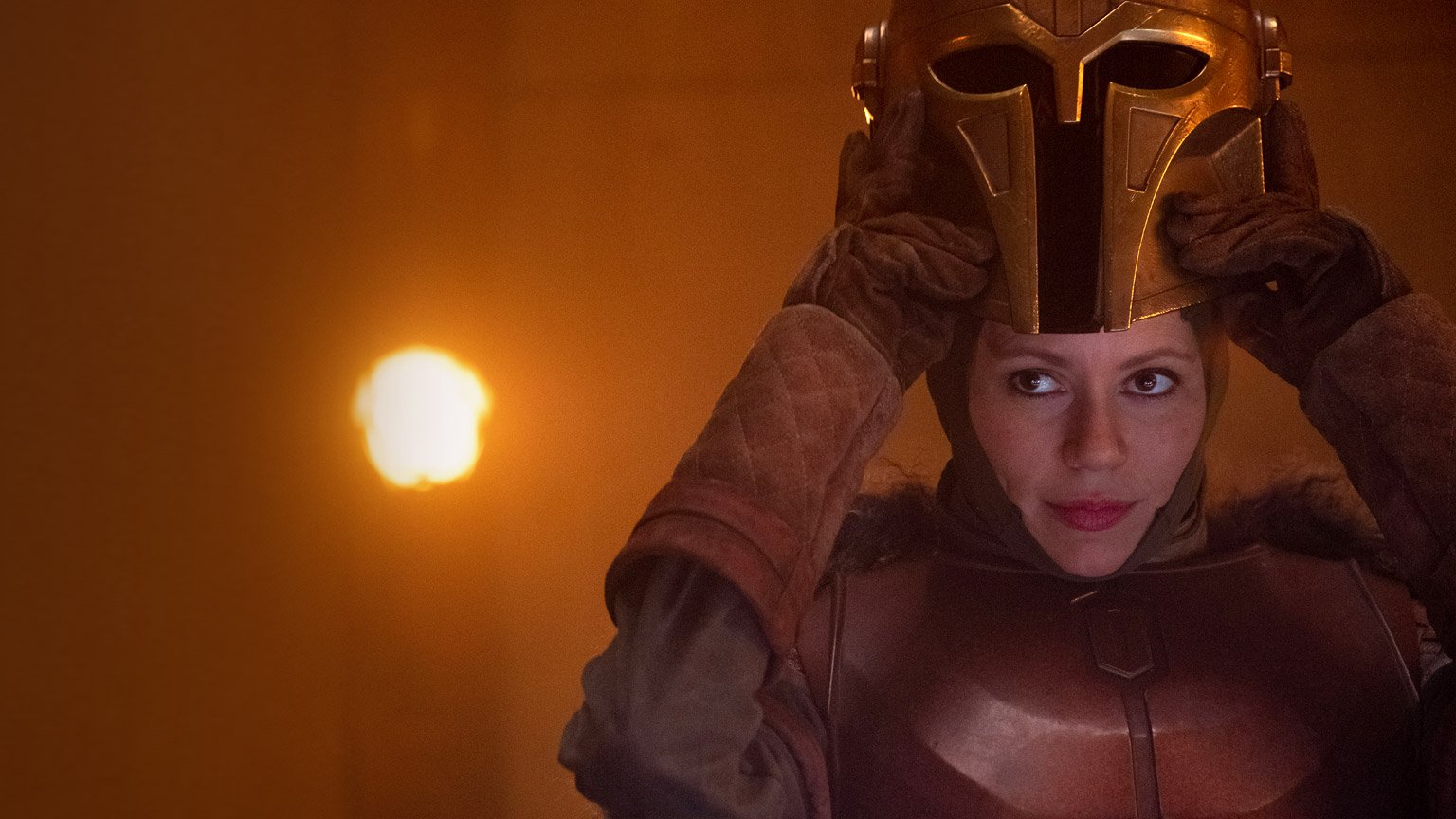 She then talked about the auditioning process, during which she didn't know what she was getting into besides it was a Star Wars project:
"I knew that I was auditioning for something possibly to do with Star Wars, but everything was so secretive. [The character description was brief,] just that she was the leader of a group of people in hiding and she was masked.

I didn't go in with a bag over my head or anything. I do remember saying 'This is the Way,' in my audition scene, but there was no context."
Her inclusion in the cast was officially announced in December 2018, but it wasn't until the red carpet premiere of the show in November 2019 when reality finally hit her:
"I just felt a kind of euphoria in the audience. That's when I got excited. I felt like I was part of something pretty magical that really captured the heart of those first three movies. And the quality and intelligence of it, the cleverness of how they were tying in so many things for people that are well versed in the Star Wars universe, but then also making it so accessible to people that know nothing about it, who could just jump in. It still blows my mind that it covers so many bases."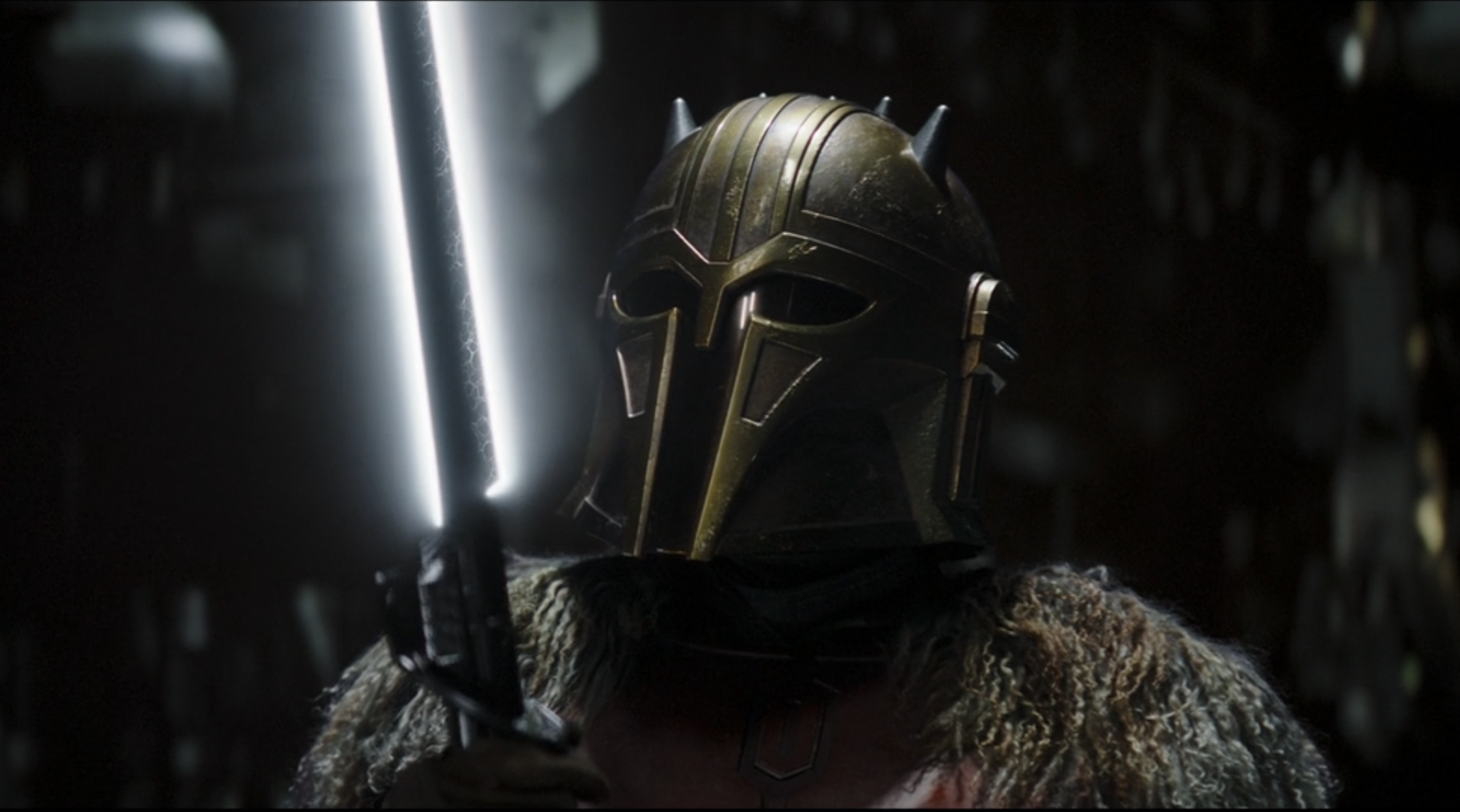 Since her character spends all of her time on-screen hidden underneath an armor, and we never see her face, Swallow's performance must be even more nuanced than what we would initially think. She explained:
"When you can't look at the face, the eye is drawn to the rest of the body even more, and every small movement becomes magnified. It was really fun those first few episodes, because we were all sort of finding together what the language of movement was and what translated and what didn't.

Dave [Filoni] and Deborah [Chow] were directing. It was a lot of experimenting. It was a lot of running into each other. We would bonk helmets with each other; I was tripping on things in my forge. I mean, if we had all of the behind-the-scenes footage put together from those episodes, we would have a Three Stooges reel because it was just ridiculous!"
And of course, she can't really see much in the helmet:
"It was very disorienting, especially because it was already dimly lit in that room. And then you put on, essentially, sunglasses and you have no peripheral vision. If you tilt your head to look down, it's very distracting. And for a character like that who's supposed to be very confident and very measured and who definitely does not look down to check where she's going, I realized I couldn't do that."
However, wearing the armor and the helmet felt quite liberating to her in many senses, as Swallow discussed:
"You cannot be in this business without being well aware of what you look like and how people receive that. It is so liberating to me to play this character who is so beloved and so respected and so inspiring, and for it to have nothing to do with what she looks like. I love that. And it means that I save like an hour and a half when I get to set. I don't have to go to hair and makeup, and that's awesome. It's just really a dream."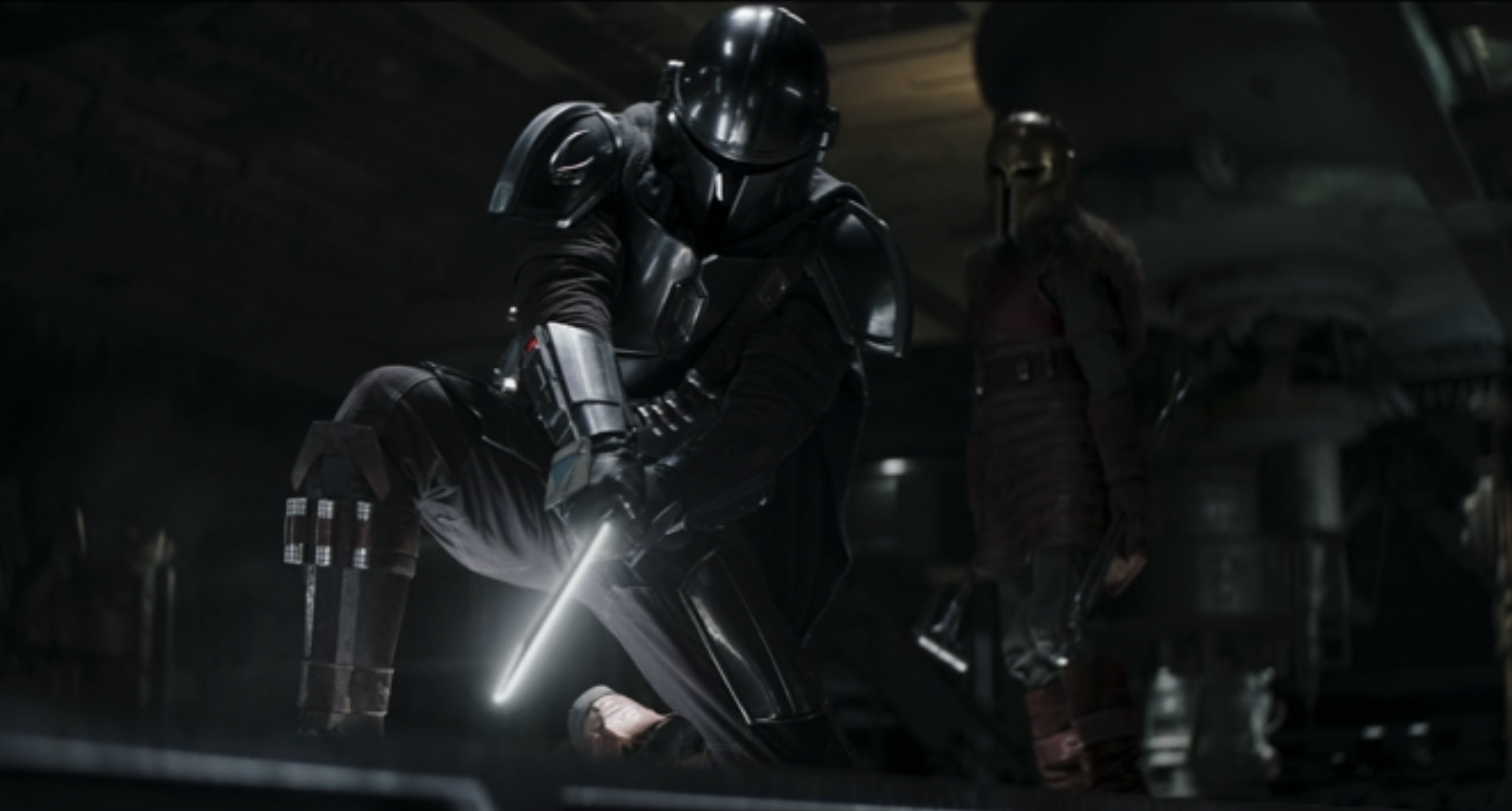 Swallow then recalled a particularly long day of shooting for The Book of Boba Fett:
"We were shooting a lot of hammering. I hammered high. I hammered low. I hammered medium. I hammered hard. I hammered soft. I hammered like a butterfly. I hammered like an elephant. I hammered from every angle, in every shape and at every conceivable tempo. And you have to picture all of this happening with me in my full armor, wearing my bulky gloves that Jon [Favreau] called my oven mitts, with my rather formidable hammers in the midst of my forge surrounded by that beautiful starry set."
Bryce Dallas Howard would give her instructions through a microphone, and according to the actress, the only reason she didn't lose her mind was because of her full trust in Howard:
"'Ok, we're going to do it again, and this time swing the hammer 6 inches higher and two beats faster…Now two inches lower and three beats faster.'

'Again. Again… Again.' And since I trust her completely and she manages to be one of the nicest people on the planet, I only slightly cursed her from beneath my helmet."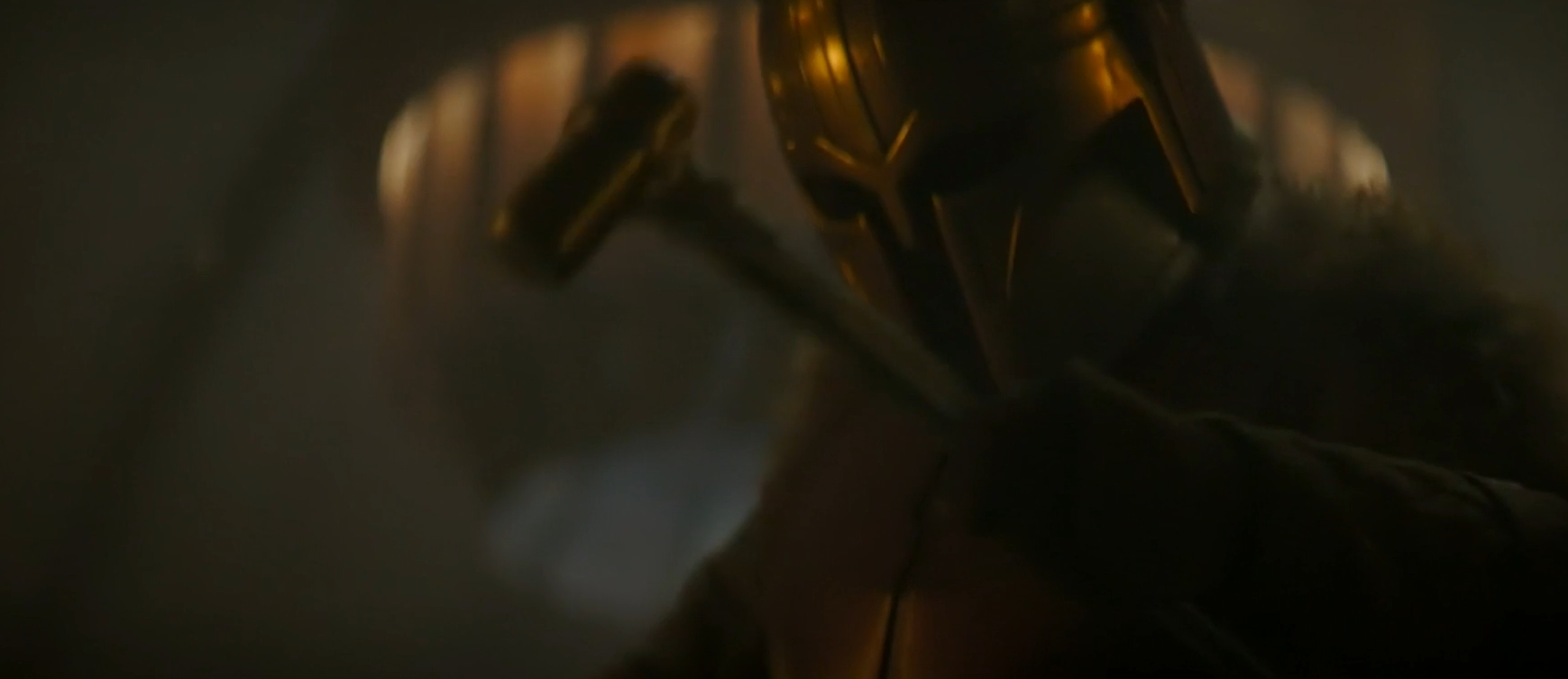 The Armorer is a warrior who is picky about the fights she gets herself into, which is one of Swallow's favorite aspects of the role:
"One of the things that I personally love about her is that she is this warrior — she makes armor, she makes weapons, — but she is so deliberate about when she chooses to fight. She is the keeper of something sacred. She respects something that is so deeply spiritual, and it is remarkable to have the space for that within this story. It is something that often gets skipped over in our fast-paced world these days. She's always trying to say, 'Why don't you look at this?' Like I think great teachers do. Instead of saying, 'This is what you need to think about this,' she's saying, 'What do you think?'"
But overall, it is the fan reaction that continues to inspire her on a day-to-day basis, as she said in her beautiful closing statement:
"Every time I go to a convention, I feel like I learn something else that I realized I didn't know from the fans. I love that about it. I love that there are so many layers, and I love that all the fans are so passionate about it and that there's just something for everyone… I love the people that I work with. Everyone is so, so ridiculously talented and generous and playful and open hearted. And I love the fans. The fans amaze me. They are unfailingly generous and talented."

The fact that this storytelling inspires such genius and giving is absolutely incredible to me. It brings out the best in people and it's beautiful. That's exactly why I wanted to be a storyteller in the first place because I think that it can inspire us to be the best of ourselves."
We don't know for sure yet whether the Armorer will appear in The Mandalorian season 3, but given the way the story is presenting itself after Chapter 5 of The Book of Boba Fett, odds are in her favor. Last year, Swallow was asked about this, and she wouldn't confirm nor deny her involvement in season 3 — we shall see for ourselves when the new season debuts on Disney Plus, presumably later this year.
Miguel Fernández is a Spanish student that has movies as his second passion in life. His favorite movie of all time is The Lord of the Rings, but he is also a huge Star Wars fan. However, fantasy movies are not his only cup of tea, as movies from Scorsese, Fincher, Kubrick or Hitchcock have been an obsession for him since he started to understand the language of filmmaking. He is that guy who will watch a black and white movie, just because it is in black and white.