Rumor: 'Star Wars Eclipse' Has Significant Development Issues, Now Targeting a 2027 or 2028 Release
On top of being a magnet for controversy due to an association with a video game developer accused of having a toxic workplace environment, Star Wars Eclipse may be suffering from some serious issues affecting the development of the ambitious video game project.
There was a lot of enthusiasm toward Star Wars Eclipse when the game's cinematic trailer was showcased at The Game Awards – but when it was confirmed that this was the game Quantic Dream was working on, that excitement turned to trepidation in a considerable amount of the audience, knowing the many accusations of racism, sexism, and homophobia at a toxic workplace culture at the developer have surfaced in the past few years. This has also led to a notable social media boycott of the game.
A while ago, games journalist Tom Henderson released a video report back in _, explaining some rumored details about the development of Star Wars Eclipse that were not known to the public at the time. To summarize the thirteen-minute video, here are the main rumors that he discussed:
The game began very early development in 2013 as an original work dubbed "Project Karma" that was ultimately rejected by Sony, before the work accomplished on the title was later revisited and given a Star Wars coat of paint under the name "Solstice". Some assets created for Project Karma can be seen in the Star Wars Eclipse trailer.
The game was a co-production between David Cage's Quantic Dream Paris, which would handle things like narrative, while gameplay would be handled by Stéphane D'Astous's Quantic Dream Montréal.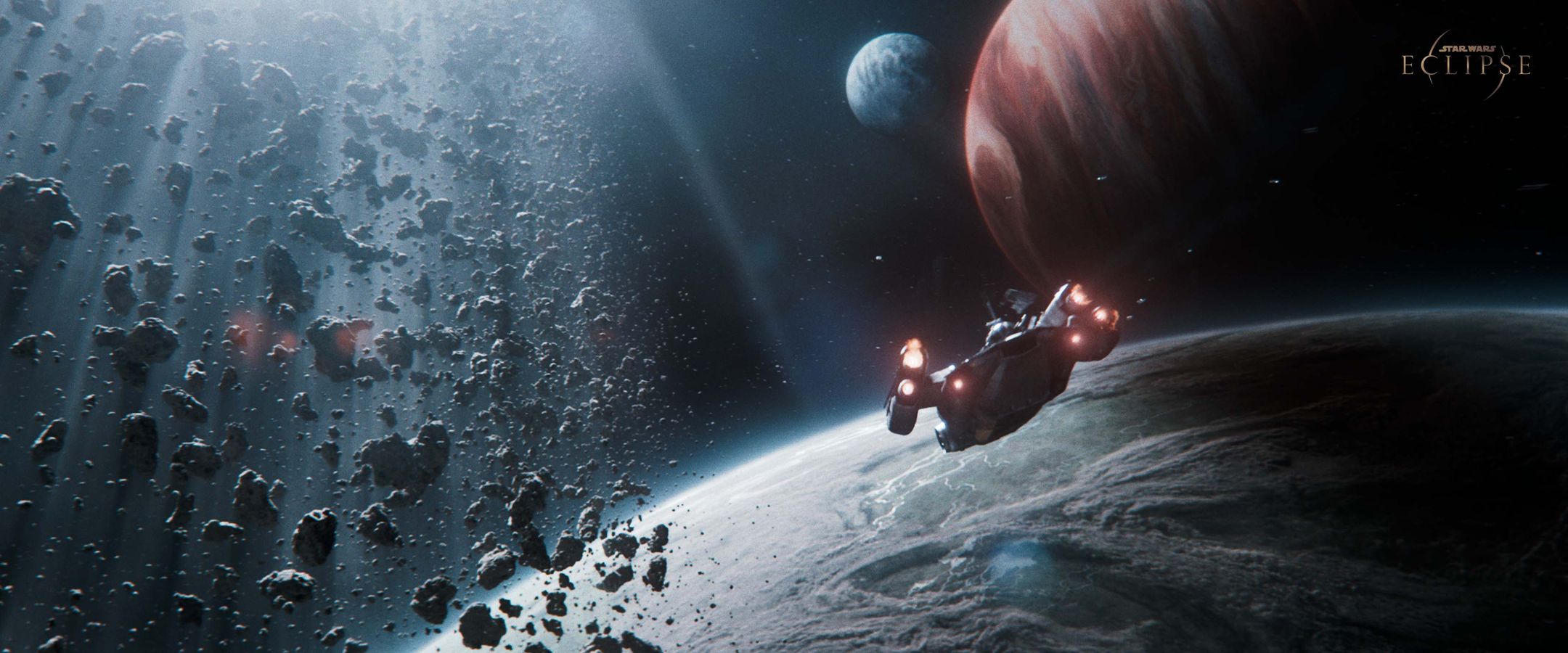 The Quantic Dream engine is being used, and it is having growing pains accommodating for a more action-driven gameplay style and scale than what the company is used to, which has been small-scale environments and not the kind of massive open worlds that they hope to create in this game.
The multiplayer side of the game is also facing development troubles due to being Quantic Dream's first multiplayer effort, which, again, is completely new for the engines that they've worked with.
No playable version of Star Wars Eclipse currently exists at this time, with the trailer animated by Unit Image effectively serving as a proof-of-concept for the title.
The game was at least three or four years away, presuming that Quantic Dream could get the right amount of talent on the project and push the title forward. Unfortunately for Quantic Dream, there are over sixty positions open at the French studio and they are having great difficulty hiring, though the Montréal studio has had better luck with only 9 vacant positions. The trailer was released well ahead of the game's expected release date to entice new developers and wow investors.
Quantic Dream has also searched for a company to acquire them, which it has not happened in part due to negative media attention over the many toxic workplace allegations.
Aside from that, it has also been said that Quantic Dream have multiple other games in development which will most likely see release before Star Wars Eclipse. You can watch the video below:
And now, as of March 3, 2022, Henderson has published a follow-up article on Xfire explaining that things have apparently gone from bad to worse for the development of Star Wars Eclipse. Inside of about three months, it seems that the effort to attract more developers to the project has not achieved the desired effect for the studio. As such, release projections suggest that we've gone from three to four years out from the release of the game to five to six years out at the current rate that things are going.
It does not seem that an acquisition of Quantic Dream is necessarily off the table, given the moves that are being made. It's been believed that Microsoft or Sony could make a move to acquire the studio at some point, given the recent flood of acquisitions that have been taking place, and with such an acquisition there may also come an internal restructuring of the company being sold to better address the allegations that have surrounded the developer. But in all likelihood, it seems like Star Wars Eclipse is a long, long way away from being playable – if the game ever even makes it to the shelves.
Star Wars Eclipse does not yet have a release date. Quantic Dream has been working on the game for nearly two years now as the first major project for their Montréal studio, which is run by former Eidos employee Stéphane D'Astous. Yohan Cazaux of Assassin's Creed fame serves as game director.
Grant has been a fan of Star Wars for as long as he can remember, having seen every movie on the big screen. When he's not hard at work with his college studies, he keeps himself busy by reporting on all kinds of Star Wars news for SWNN and general movie news on the sister site, Movie News Net. He served as a frequent commentator on SWNN's The Resistance Broadcast.