Review: The Scoundrel Returns in Marvel's Han Solo and Chewbacca #1
Our favorite scoundrel and Wookiee absolutely jump off the pages in the first issue of Han Solo and Chewbacca. While it took me a few pages to settle into this one, it does generate the necessary flair and reckless adventure a story centered around Han Solo should. Maybe a few too many obvious callbacks to iconic Han moments, but it still delivers a justifiable nostalgic punch while introducing new characters and some surprising twists. Overall, a solid start to what I expect to be a wonderful series.
I wonder if future issues will dive deeper into Chewbacca or if he will simply remain a glorified sidekick throughout. Taking Han back to Corellia was a fun twist I'm sure will give us a glance beneath the mask Han wears. If you love Han Solo you will find this issue enjoyable, and I am confident in saying it will only get better from here.
SPOILERS AHEAD!
Our adventure begins with Han and Chewie making repairs aboard the Falcon so they can complete a mission. It doesn't take long at all before Han has the smug sarcasm cranked to ten. Late for a pickup, Han has infuriated one Khel Tanna as she and her crew are fending for their lives – all while Han is laid back in the cockpit of his storied ship. Ultimately, Han does rescue Khel Tanna in a reckless "sometimes he even amazes himself" fashion.
When the crew gets back to Jabba I felt as if I was finally starting to find my groove in reading this issue. The smug arrogance of Han Solo flowed in a much smoother way for me, and seeing him in front of Jabba was a great moment.
Jabba enlists Han for a mission with a massive payout. The job sounds easy enough, retrieving an urn containing the remains of one of Jabba's most hated rivals, but as we know, things never go exactly as planned on a Han and Chewie adventure. The one catch to this mission is our two heroes have to work with an old friend. In comes our favorite Rodian… Greedo!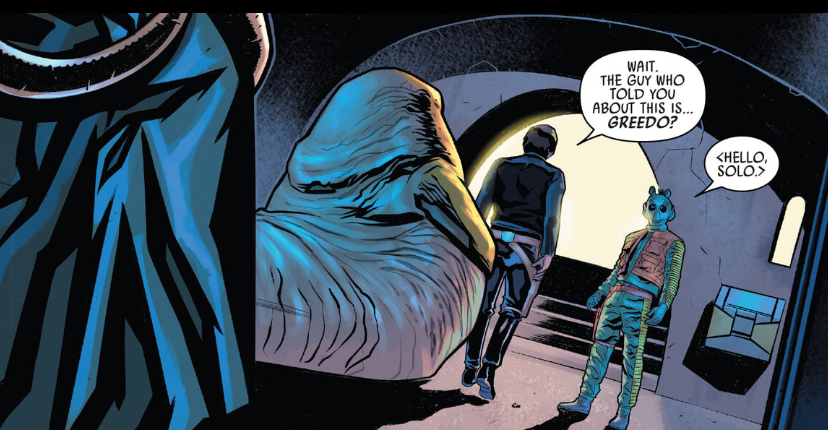 Typically, I tend to laugh inside when reading or watching something, but the Han and Greedo exchanges did get some audible chuckles out of me, I must say. Although, they may have been trying a bit too hard with this one.
In a fun turn of events, we find out the heist is going to take the crew back to where it all began for Han; his home world of Corellia. Having just come off of reading Midnight Horizon last month it was wonderful to go back to one of my favorite worlds in the Star Wars universe.
Once on Corellia, Greedo leads them towards the Pearl District which is the home to the wealthiest of Corellia's citizens. With the urn locked away in the safe of a heavily guarded mansion I was all too excited to see how Han wormed his way inside.
He didn't disappoint. Swiping an access card from someone in the crowded streets, channeling his bravado at the security, to stealthily making his way to the vault it was great to see. However, rather than being a simple safe they could crack open, it's a Locris 1-42-08, the "the most impregnable safe in the galaxy".
Knowing it will take a massive power source to crack this bad boy open, Han, Chewie, and Greedo have to slow down and think of a plan. This allows time for other competitors for this prize to catch up – and those looking for a bounty on Solo to make their way to Corellia.
The big twist came in the end reveal. There were a few times Han mentioned people from his past throughout the comic, but none more so than his father. As Han is trying to devise a new plan of attack, he shares a few drinks with an older gentleman who builds ships for the same people as his father did. The twist came at the end when the man claims to be Han's father!
While bumpy at times, Marc Guggenheim delivers a solid start to what I expect will be a wild ride. There were times Han's sense of humor felt a tiny bit forced, but overall it was handled well. Guggenheim seemed to find his groove deeper into the issue the story. I am looking forward to April!
RATING: 7.5/10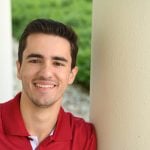 Finding ways to nonchalantly incorporate Star Wars quotes into his daily meetings at work, Tyler lives and breathes Star Wars. His morning tradition is sending the latest number in the countdown for different Star Wars projects and loves engaging in uplifting Star Wars dialogue. If you are passionate about  Star Wars you can follow him on Twitter at TyBrad5.