'Obi-Wan Kenobi': A Long Time 'Star Wars' Location Will Finally Be Seen in the Upcoming Series
A Star Wars location first mentioned in the original film way back in 1977 will finally be seen on screen for the first time in the upcoming Obi-Wan Kenobi series.
***MINOR SPOILER AHEAD***
"Look, I can take you as far as Anchorhead. You can get a transport there to Mos Eisley or wherever you're going."―Luke Skywalker, to Obi-Wan Kenobi
That's right folks, we are finally going to visit Anchorhead in Star Wars after first hearing about it 45 years ago, and it was actually faintly seen from a distance in the first teaser for Obi-Wan Kenobi. Yes, Tosche Station is technically on the "outskirts" of Anchorhead, which we of course saw in The Book of Boba Fett, but Obi-Wan Kenobi will take us into the heart of Anchorhead and its main transportation hub.
In the Obi-Wan Kenobi trailer, we see Kenobi traveling among commoners to keep a low profile. He is on a local transport in one shot with a town/city in the distance with a central tower. We can confirm that is the legendary Anchorhead! Here is that shot from the trailer.
We were told Anchorhead is more than a just local transportation hub, and that focal-point of the town itself is a bigger transport station than initially conceived. The tower you see can be compared to an air traffic control tower from major US airports. When they see the show, eagle-eye fans might find some similarities between the look of Anchorhead and Los Angeles International Airport, specifically. Since Anchorhead had only previously been referenced, and never actually seen in Star Wars canon, the designers were granted free-range to create the location from scratch, which we will hopefully continue to see in future stories.
While we can not confirm Anchorhead is how Obi-Wan directly leaves Tatooine, it is very likely. Based on a line from The Book of Boba Fett, Anchorhead has the capabilities for people to travel off-world, so we believe Obi-Wan will leave Tatooine from there to begin his new adventure, which may tie into another exclusive report of ours that explains the reason he leaves Tatooine to begin with.
"If we can get to Anchorhead, I can get us off-world." – Boba Fett, The Book of Boba Fett Chapter 1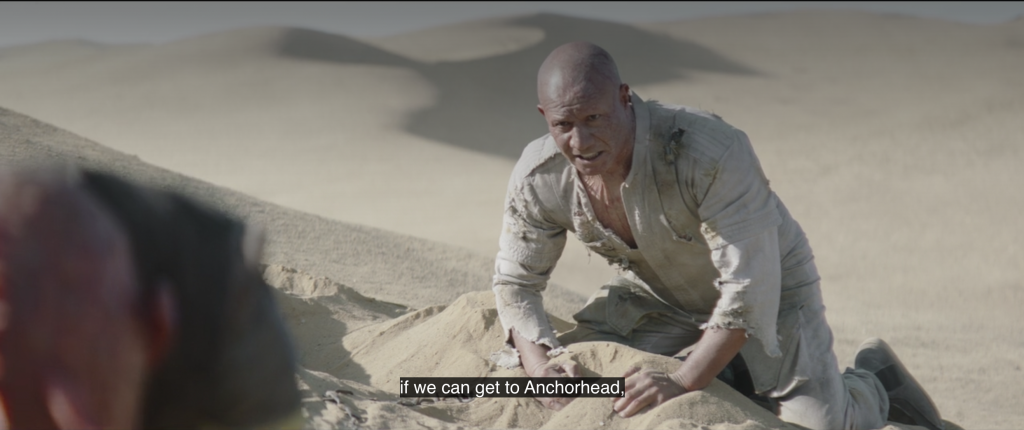 So there you have it, Anchorhead will finally be featured on screen in Star Wars canon for the first time, and what better place to do it than Obi-Wan Kenobi, as Luke was originally going to drop Obi-Wan off there before Owen and Beru were murdered in A New Hope.
It is always fun to explore a new location in Star Wars, and Anchorhead is special because of how long it has been known and talked about, but never seen. That's all about to change as Obi-Wan Kenobi debuts on Disney Plus on May 25th. Will Obi-Wan leave Tatooine with ease? Or will he have a classic Star Wars narrow escape? My bet is on the latter. I wonder what other fun surprises we're in store for? The hype and excitement for this series is palpable, and we don't have to wait much longer.
Remember, the Force will be with us, always.
John Hoey is the Lead Editor and Senior Writer for Star Wars News Net and the host of The Resistance Broadcast podcast
"For my ally is the Force, and a powerful ally it is."