Nostalgia, Action, and Clever World Play – A 'LEGO Star Wars: The Skywalker Saga' Preview
As one of the most anticipated video game releases for Star Wars in the past few years, LEGO Star Wars: The Skywalker Saga is almost here. We got to sit in on a game demo with game designer Mike Consalvey to see what's new in the LEGO galaxy, and if the wait for this game has been worth it. And as Consalvey stated when he started the demo, "This is where the fun begins."
The game kicks off with a menu screen of all the movies in the Skywalker Saga — from The Phantom Menace to The Rise of Skywalker, they're all there, and you can play them all. You can start at any point the saga, so play in the theatrical order, machete order, or hey, just play your favorites. The galaxy is yours to explore, and each movie icon features a LEGO scene from that episode which animates when selected. Rey jumps over the TIE Whisper for TROS, and Anakin and Obi-Wan battle it out on Mustafar for ROTS, etc.
"What an exciting moment this is for the studio! One thing that is evident is the team's passion for the game, and to make our best LEGO game ever." – Michael Denny, TT Games Studio Head
Consalvey chose A New Hope for the demo which brings the player aboard the Tantive IV that's been boarded by the Empire. The first thing players will notice is a new camera perspective. They are closer to the action than in previous games, and will see that every single detail in the game is made from LEGOs. Combat has been renewed with a "combo meter" that allows for unique combos of buttons with a variety of attacks.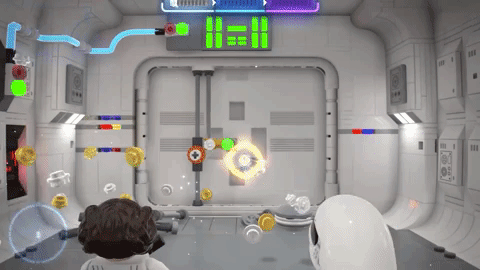 The big takeaway from the demo was "play freedom". Players can play whatever episode they would like, as whatever character they would like, and choose whichever routes to take in the level. You can follow the story or go off and explore the galaxy. It's truly up to you. There are also different types of characters to play, from Jedi to villain to astromech to bounty hunter. Each category has varying abilities based on their skill set.
This game is jam-packed with so many ways to play, and that is because the TT Games team wanted fans to go back to the game over and over again. Want to take on the Empire with a friend? You can join using co-op mode, which allows a second player to drop in and out of the level anytime. Want to level up your character? Complete challenges throughout the levels to collect kyber bricks. You can unlock new characters, abilities, and special modes — including a rave mode that turns the entire Star Wars galaxy into your personal party.
"The game is suited to your play style. The choice is yours." – Mike Consalvey, TT Games, Designer
As expected, the best part of the game is the on-brand LEGO humor. There are lots of Star Wars video games out there for fans to enjoy, with varying difficulty levels and experiences to offer, but none of them compare to the laugh-out-loud moments you'll find in a LEGO game. This one features something around every corner, with stormtroopers in a hot tub, Anakin eating a retirement cake, and free-range droids, just to name a few jokes.
"The design team loves puns, alliteration, and clever world play, so expect plenty of this throughout the game." – Mike Consalvey, TT Games, Designer
One thing is absolutely clear: this might be the most fun Star Wars video game ever. While some fans love FPS games like Battlefront, or more action-adventure titles such as Jedi: Fallen Order, there is no doubt that all video game fans can find something to be excited about with this game. With its use of over 300 characters, the addition of the combo meter, level challenges to keep the gameplay exciting, and of course, that signature hilarious LEGO humor, this game is easily going to rise to the top of everyone's favorite Star Wars video game list.
Thanks to the team at WB and TT Games for giving us this preview of LEGO Star Wars: The Skywalker Saga! To see more of the gameplay, check out the extensive demo below!
Lacey is a co-host on SWNN's official podcast The Resistance Broadcast. You can see and hear her Monday and Thursday recapping the news and having deep discussions with the rest of the TRB crew. When not podcasting, Lacey provides live coverage for events like Star Wars Celebration, New York Comic Con, and more! A Star Wars Fan since 2nd grade, she has always been drawn to the characters and adventures in a galaxy far, far away. You can usually find her either watching The Force Awakens for the 100000th time, or looking for art, toys and collectibles to add to her ever-growing collection. Geek out with Lacey on Twitter and Instagram - @laceygilleran.