New Reference Book 'Star Wars: Exploring Tatooine' Will Visually Explore the Planet's Storied History
Get ready for another trip to Tatooine! One of the most recognizable locations in Star Wars is set to be featured in a brand new reference book titled Star Wars: Exploring Tatooine, arriving August 30th. The book is being published by Insight Editions and written by Riley Silverman. The main draw of the book will be full illustrations by Studio MUTI, offering fans a new look at all of the iconic locations and characters of Tatooine. Accompanying the art are descriptions of what characters were doing on that part of the planet throughout varying points in Star Wars history.
From StarWars.com:
"Star Wars: Exploring Tatooine, an all-ages book coming August 2022, will showcase all the landmarks, grand arenas, and watering holes made famous by the iconic, desert-covered locale. Written by Riley Silverman and fully illustrated in a large-scale format by Studio MUTI, the hardcover release features the Lars homestead, Mos Espa's podracing Grand Arena, the krayt dragon's nest, and much more, as well as characters from across the saga."
Of course, Tatooine has been revisited time and time again across all of canon. StarWars.com shared some pages from the book, showing depictions of events from all mediums, including television and comics. Here is a look at some of those pages and the book's cover!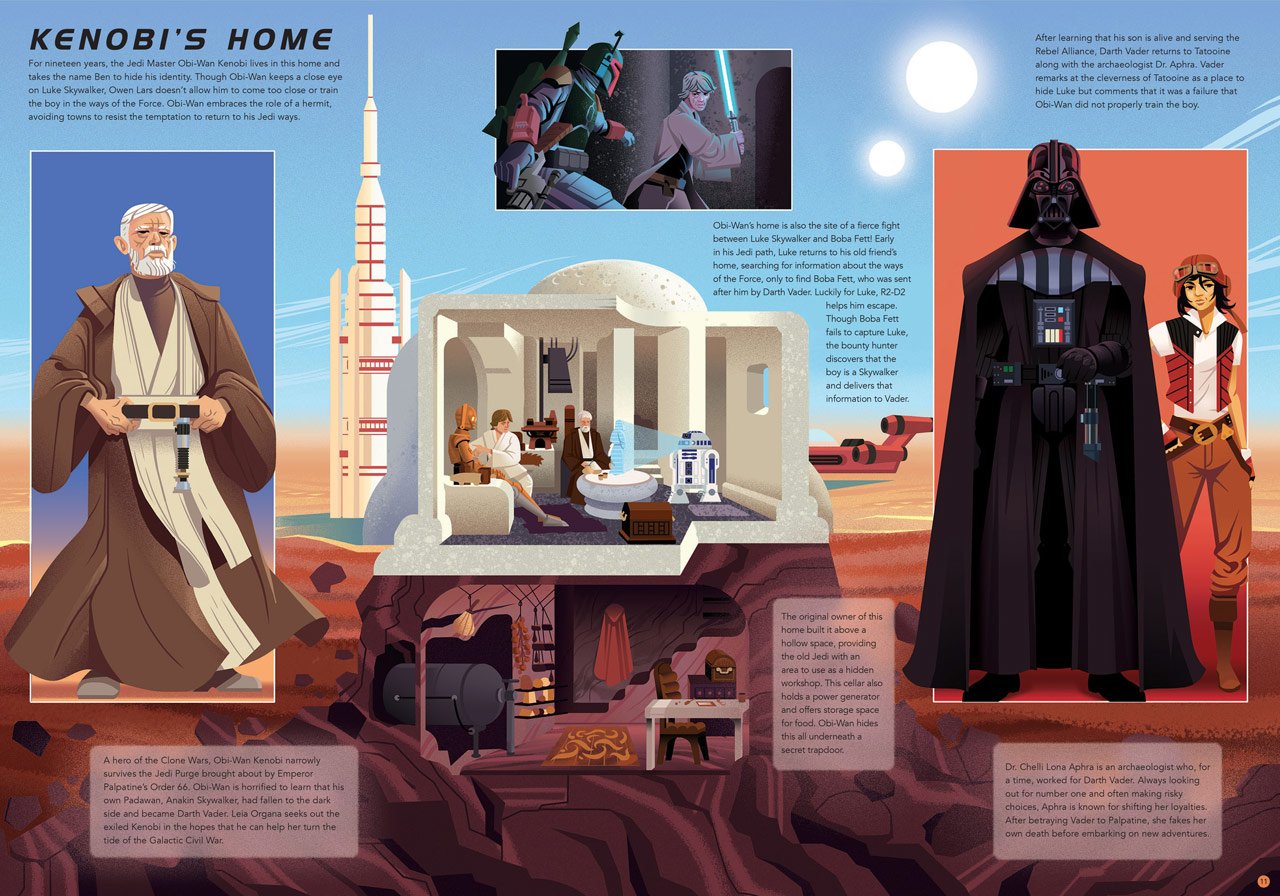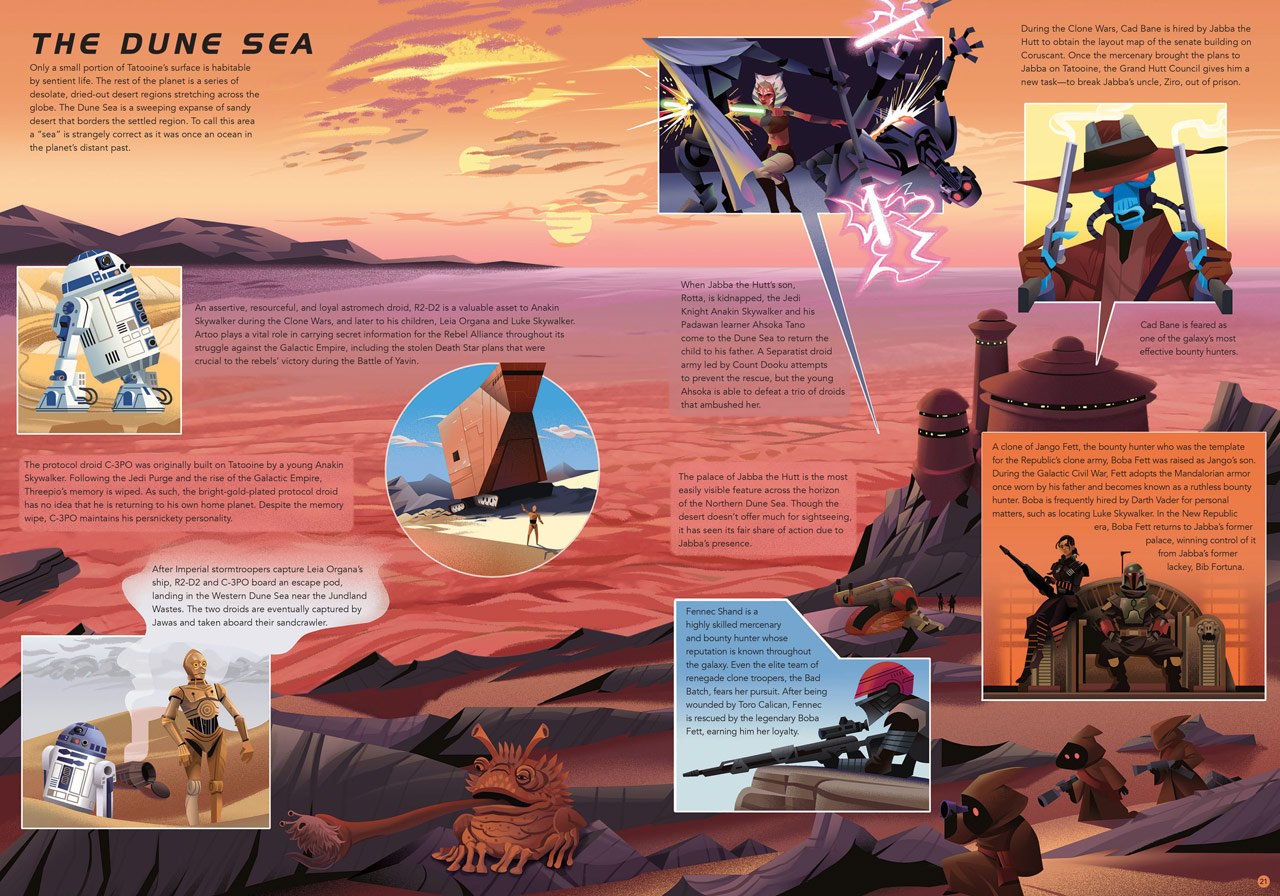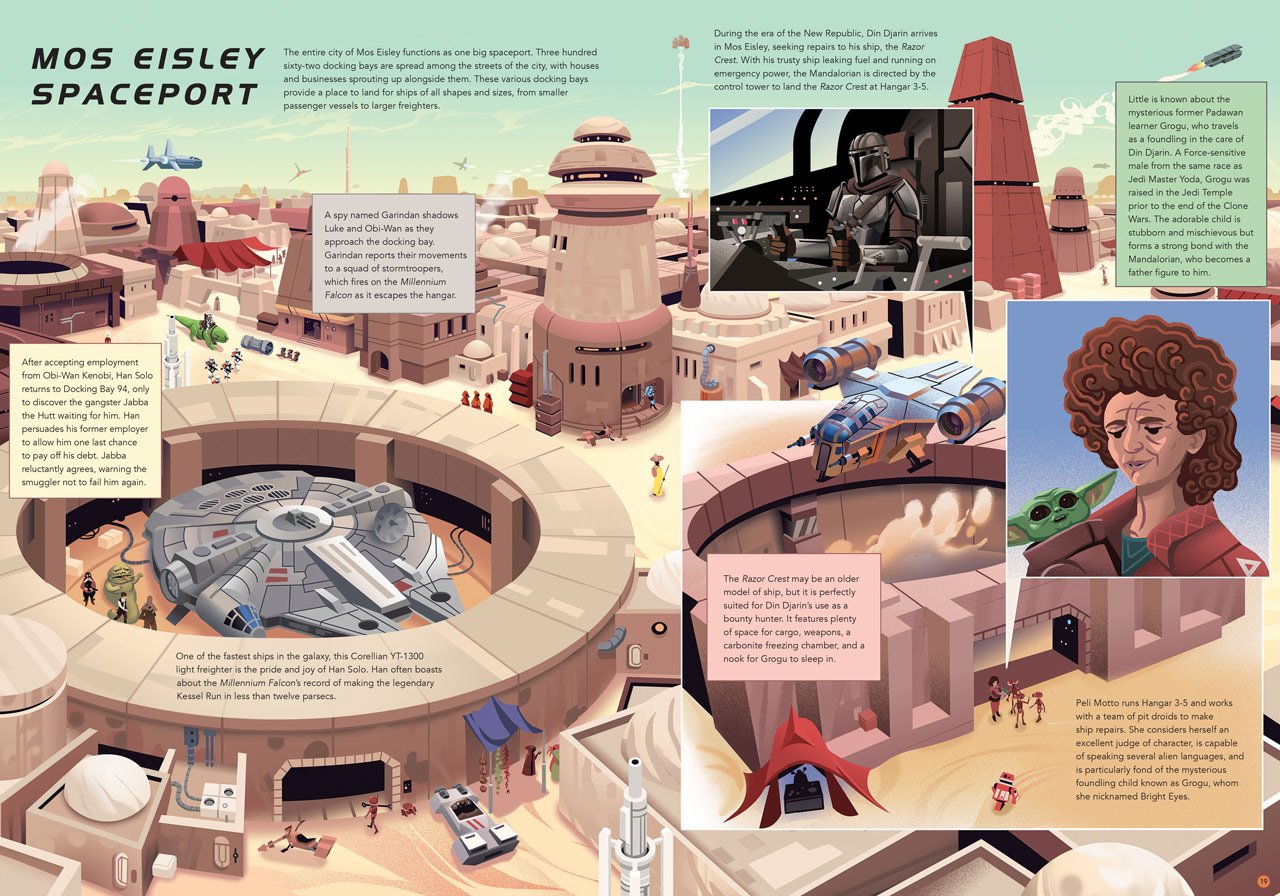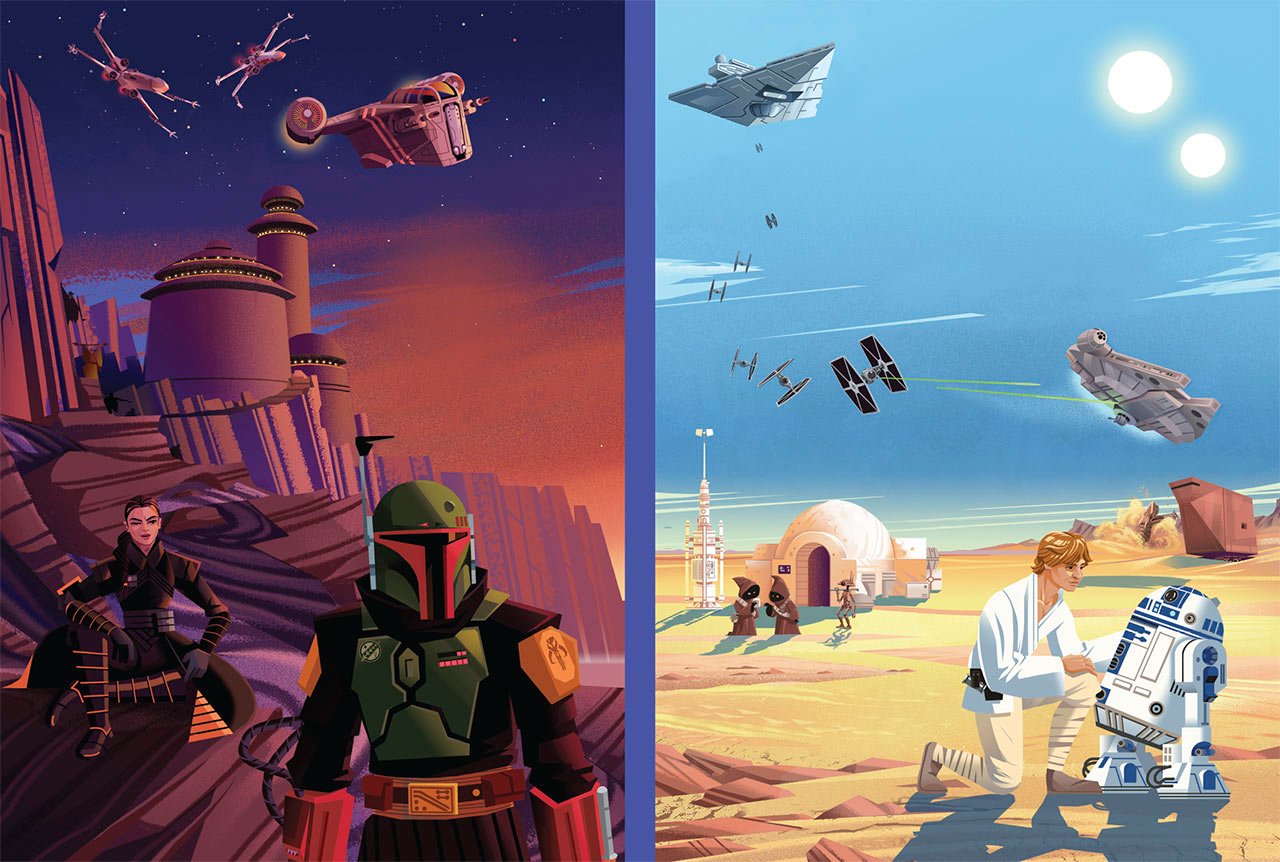 The art style feels reminiscent of classic Ralph McQuarrie art. While the art takes center stage, the details on each page are very interesting and informative. One panel in the Dune Sea shows Ahsoka Tano's ventures in saving Jabba the Hutt's son during The Clone Wars movie. The next panel down has Boba Fett and Fennec Shand taking the throne leading to their struggle in The Book of Boba Fett, with Cad Bane looming above it all.
Then back at the home of Obi-Wan Kenobi, there are nods to the comics in a largely-forgotten about duel between Luke and Boba Fett. Later on, Vader and Doctor Aphra traipse through not long after Luke has left the scene. Speaking with StarWars.com, Riley Silverman shared the fun she's had with the book:
"Making my way across the various sprawling landscapes and starting to place familiar characters like Luke Skywalker alongside new favorites like Doctor Aphra, and seeing them come to life through the playful art just really gave me a deeper appreciation for the place this unassuming desert planet has in the grander Star Wars story. I think the book serves as a nice trip down memory lane for long-time fans and as a fun primer for those just taking their first steps."
Studio MUTI is an award-winning graphic design company based out of Cape Town, South Africa. They have done work with ESPN, National Geographic, TIME, and on brands like DC, Harry Potter, Dune, Fortnite, and more. Clinton Campbell, creative director at Studio MUTI, also spoke with StarWars.com and had this to say:
"As Star Wars fans we were thrilled to be a part of the project and at the prospect of immersing ourselves in the intertwined stories of all the characters and places. Bringing everything to life and being able to give our visual interpretation of such an epic franchise was an honor, and we can't wait for other fans out there to page through this chronicle of Star Wars history."
We'll have to wait and see if specific details from the upcoming Obi-Wan Kenobi series are included. In the meantime, you can read about a "new" location on Tatooine that the show is set to finally unveil here. Beware of some minor spoilers though.
Star Wars: Exploring Tatooine will be released on August 30th and is available for pre-order now.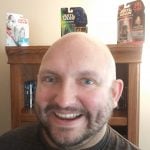 Nate uses his love for Star Wars and movies in general as a way to cope with the pain of being a Minnesota sports fan. When he's not at the theater, you can usually find Nate reading a comic, listening to an audiobook, or playing a Mario video game for the 1,000th time.