Māori Artist Graham Hoete Interviewed about Amazing Carving of Boba Fett's Helmet
It's not every day that you're honored in your hometown with a unique traditional gift, but that's what happened to Star Wars veteran Temuera Morrison around the time The Book of Boba Fett aired its seventh (and final) episode. The Māori actor returned to his hometown of Rotorua, New Zealand, just in time to receive a helmet which was carved from a native kauri tree.
Last month, the spotlight was understandably put on Morrison, but now we can learn more about the artist that worked hard on this wooden carving of Boba Fett's iconic helmet. StarWars.com recently sat down and interviewed Graham Hoete (also known as Mr G) about what meeting Morrison meant for him and the process behind crafting such a striking art piece.
We're sharing the most interesting bits below, alongside some photos, but you can head to the official Star Wars site to go through the full interview.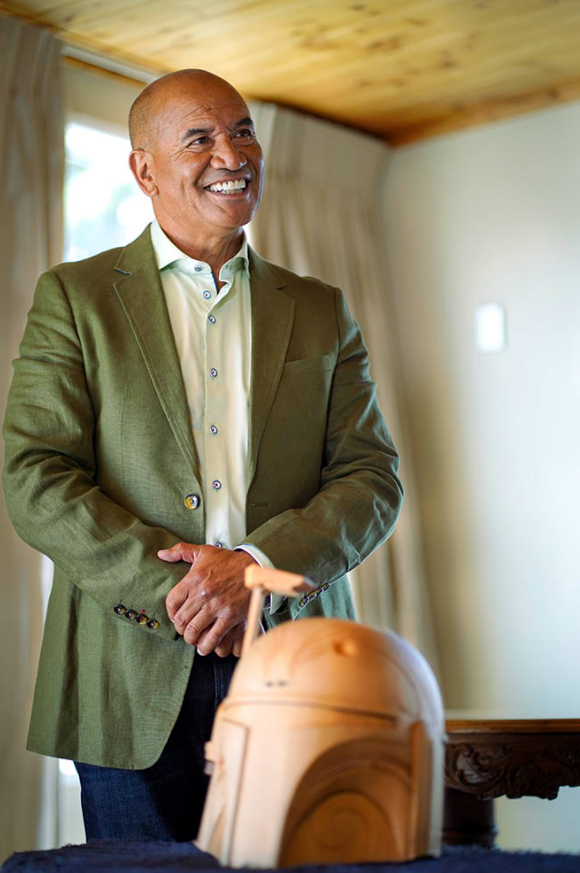 It appears that, due to COVID-19, the exchange between the artist and the actor had been delayed several times, but it finally happened just as The Book of Boba Fett finished its run. Here's what Hoete said about that emotional moment:
"There was a moment there where I said, 'You know, we're extremely proud of you.' Seeing Temuera on such a global stage, playing the main role as Boba Fett — for a lot of young Māori, that's a huge inspiration… I just wanted to acknowledge it face-to-face. And so, I said that to him. 'We're extremely proud of you. It makes me proud to be Māori.' And I could see he got a little bit teary there, because I know it means a lot to him. So, yeah, it was very special."
Indeed, seeing a Māori actor leave such a huge mark (across different characters) on the biggest film/TV franchise in the world is something that should be celebrated, especially now that he returned to Star Wars in his 60s to play a highly physical role with a complex history both in front of and behind the cameras.
Hoete went on to explain the unforgettable opportunity came from something as simple as a gumboot (a type of traditional rubber footwear); he had done an art piece on one of them, and Stacy Flahive, content marketing manager for Disney, noticed it and contacted him:
"She was blown away by it, really, and just thought it was really cool… And she had sent an email inquiry through my website, and that was essentially how it all started. From there it was actually my wife that told me. She was like, 'Oh hon, you're not gonna believe the inquiry that came through.'"
About the process required to get the helmet exactly right, he explained his technique has deep roots in Māori culture, so his Star Wars art piece celebrates his people as much as Boba Fett and Temuera Morrison.
"I really wanted to honor our culture, as well, in this piece… The wood that I used was what we call kauri, and it's native to Aotearoa, [the Māori name for] New Zealand. In Māori culture, we have a lot of stories of kauri, as well. We call it the whakaruruhau, or the protector. We have these beautiful stories infused into the actual wood itself. And so, you know, we didn't just use any old wood. We had wood that had meaning, that had story, that had a connection to Temuera. It's laying those foundation stones for this piece. All that stuff just adds to the uniqueness of the piece and the finished product."
The completed carving, which you can see below in all its wooden glory, holds important meaning and perfectly describes Boba Fett and Māori warriors.
"We have patterns in Māori culture called the puhoro, which relates to Māori warriors having speed and agility. Also one called the mangōpare, which relates to strength, bravery, tenacity, all those things… So, it's just understanding those surface patterns, what they mean, and using them within a context that's appropriate for the piece."
Hoete says he's been a Star Wars fan for most of his life — he remembers drawing Boba's helmet in the margins of his school notebooks (many of us can relate), and he "even fashioned the handle of his carving mallet into a lightsaber hilt." As you can understand, this face-to-face with Morrison was a dream come true for the artist, and we're pretty sure the actor won't forget this exchange either.
Francisco J. Ruiz is that guy who has watched Jurassic Park a thousand times and loves Star Wars. His hunger for movies is only matched by his love for video games. He graduated in English Studies from the University of Malaga, in Spain. As he keeps writing about what he enjoys (and doesn't) for websites all over, he's continuing his studies.