George Lucas and Kathleen Kennedy Receive 2022 Producers Guild of America Milestone Award
Star Wars creator George Lucas and Lucasfilm President Kathleen Kennedy received the 2022 Milestone Award during last night's Producers Guild of America (PGA) Awards. The prestigious award is given annually to honor a person or teams' contributions to the industry. Lucas and Kennedy are being recognized together as a credit to their extensive body of work individually, and collaboratively through Lucasfilm.
Legendary filmmaker Steven Spielberg has worked with Lucas and Kennedy for decades, crafting classics like the Indiana Jones franchise, Jurassic Park, and more. Spielberg took the stage to introduce the pair saying:
"I feel even in this room, we need to define what producers do. Producers do whatever the hell it takes. Courage and imagination and utter lack of intimidation, the producer needs to know everybody's jobs, and not how to do them, but how they are done well, which is what makes George and Kathy so deserving of this recognition…These two titans are still just like kids playing in a sandbox. So it is one plus one equals 175. That's the number of projects they have together and apart: 175. Because their singular talents combined are all in the pursuit of creating new stories. New stories that have enriched the art form, driven our culture forward and inspired new generations to tell their own stories. They are and always will be the force to be reckoned with."
Spielberg, the 1999 Milestone Award recipient, shares honors with Kennedy for their work on E.T. the Extra Terrestrial, a film which a year later was put into the PGA Hall of Fame. In 2008, Kennedy also received a Lifetime Achievement Award from the guild. Kennedy has seven other Outstanding Producer nominations from the PGA, including one for The Mandalorian season two and a win for Spielberg's The Adventures of Tin Tin.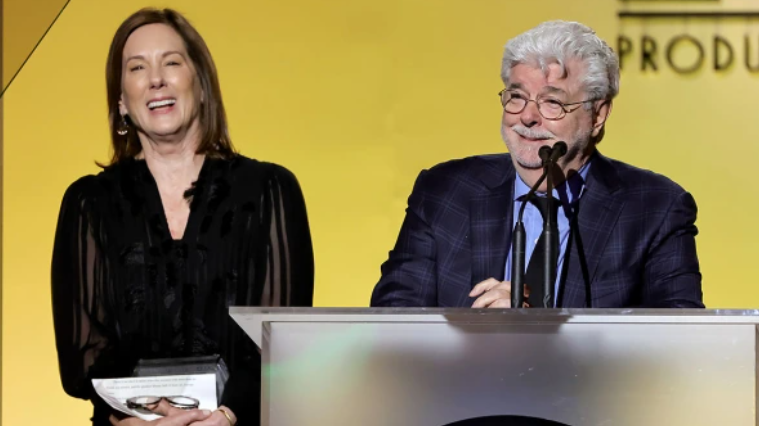 During her acceptance speech, Kennedy recalled the special time in history in which her and George Lucas have worked together, and how the film industry has evolved:
"We worked side by side through one revolution in our industry after another — revolutions not only in the means of moviemaking, and in the ways movies reach audiences, but also in the composition of our business…As women, artists of color, LGBTQ and differently labeled artists and producers who have fought for and won a place at the table, propelling our community toward a more inclusive, diverse, richer, more sophisticated and nuanced sense of our responsibilities for social, racial and economic justice. There's no one that I would rather share this moment with more than my friend, my mentor and the greatest master Jedi of them all: George."
George Lucas' accolades from the PGA aren't as extensive but in 2003, Lucas received the 2003 Vanguard Award, recognizing his contributions to new media. His speech paid homage to the vital role a producer plays and how nothing could be made without them.
"To me, that's the first and foremost job of a producer, which is to do the impossible. And you do it every single day. And then every single day, something comes along to destroy everything you've done. And you have to pick it all up at lunch, and figure out a new way to finish the movie, in conjunction with the director, and it's daunting to say the least. But a producer never works alone. One, you have to have a great crew. I've always had the best crews…I couldn't have done it without them. And so I think my job also is to gather them all together and inspire them to be the best they can be."
Spielberg's West Side Story was up for the biggest award of the night, losing out to CODA for Outstanding Producer of Theatrical Motion Pictures. For a full recap, you can visit here.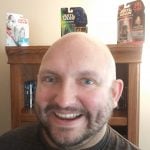 Nate uses his love for Star Wars and movies in general as a way to cope with the pain of being a Minnesota sports fan. When he's not at the theater, you can usually find Nate reading a comic, listening to an audiobook, or playing a Mario video game for the 1,000th time.