'Star Wars Hunters' Unveils New Characters and Maps, Enters Soft Launch
Star Wars Hunters, the upcoming free-to-play arena shooter from Lucasfilm Games and Zynga has now entered the soft launch period on iOS devices. Moreover, new content has been unveiled.
Entering the Arena are the new Hunters, Skora and Sprocket, each eager to prove their mettle as they square off against the toughest competition in the Galaxy. The addition of the latest combatants arrives alongside a number of other exciting updates, detailed below: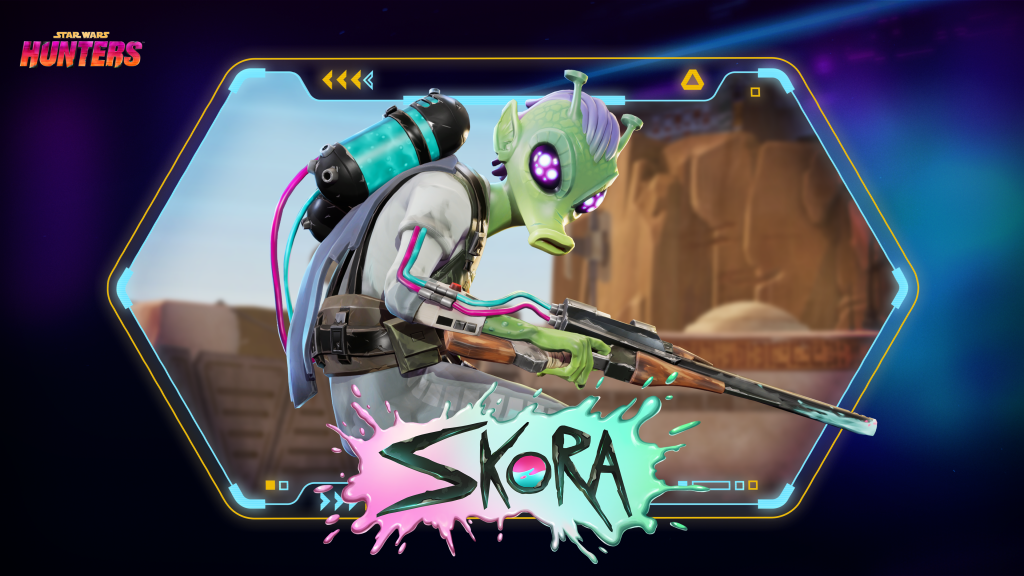 New Hunter, Skora: Delivering health to her allies and harm to her enemies with her ingenious Dart Gun, this legendary cartel doctor is exactly the kind of scum and villainy you want on your side in The Arena.
New Hunter, Sprocket: The No. 1 fan of Hunters of the Outer Rim steps into The Arena with an arsenal of droids ready to protect allies and bring the hurt to enemies, all controlled from the comfort of his custom Command Chair.
New game mode, Huttball: To the excitement of followers throughout the galaxy, the fan-favorite sporting event has finally returned. Hunters will strive to rack up as many goals against their opponents as possible in the brutal, no-holds-barred crucible of The Arena version of Huttball.
New Arena map, The Great Hunt: In this Escort map, Hunters will escort a massive harpoon through the unforgiving desert terrain of Tatooine to the forest moon of Endor in pursuit of the fabled Gorax.
New Arena map, Dusty Ridge: Hunters will take to the sand dunes to dominate their rivals in Huttball, the galaxy's favorite sport.
From the newest official press release:
Set after the fall of the Galactic Empire, Star Wars Hunters connects teams of four players in real time to battle in arena settings inspired by iconic Star Wars locales. Players compete as daring bounty hunters, heroes of the Rebellion and holdouts of the fallen Empire in a game that immerses players in fast-paced and visually stunning Star Wars conflict. Upon launch later this year, Star Wars Hunters will be available as a free download for the Nintendo Switch, on the App Store and on Google Play and will support synchronous cross-play across platforms. Star Wars Hunters does not require a Nintendo Switch Online membership to download and play.
The full launch date hasn't been announced yet, but pre-registration remains open and offers exclusive items, so get in there if you want to check out Star Wars Hunters as it expands access during its soft launch period. If you're looking for gameplay footage, an action-packed trailer dropped last December.
Francisco J. Ruiz is that guy who has watched Jurassic Park a thousand times and loves Star Wars. His hunger for movies is only matched by his love for video games. He graduated in English Studies from the University of Malaga, in Spain. As he keeps writing about what he enjoys (and doesn't) for websites all over, he's continuing his studies.