'Star Wars: Hunters' Tie-in Novel Coming Later This Year
It appears that free-to-play mobile game Star Wars: Hunters, developed by Zynga, is getting more love than anticipated as its release date approaches…
We got our first proper look at gameplay in early December, and now marketing is ramping up with the announcement of a middle-grade novel based on the video game's characters. StarWars.com has all the details plus an interesting interview with author Mark Oshiro, but we'll be sharing here the most interesting bits as well as the book's cover. Moreover, the (brief) official synopsis reads as follows:
The story will transport us to the world of Vespaara, where newcomer Rieve, a Force-sensitive orphan from Corellia, is finding her footing as a Hunter in the Arena. But it's not long before her past comes back to haunt her…
It seems like this novel will hit the ground running and waste no time with a journey to Vespaara, the planet in which the arena battles depicted in the game take place. It's also interesting to see Lucasfilm treating every bit of Star Wars storytelling and world-building out there as seriously as possible — Star Wars: Hunters is a multiplayer title with little-to-no focus on narrative, and most of it will be found as background information within the game.
So far, Rieve has been the "main" character of the game's promotional material, so it's interesting to hear a bit more about who this brand-new Force-powered warrior really is. Oshiro said the following about her:
Rieve is a walking mystery. She's vague about her past, and she doesn't like vulnerability. So becoming a Hunter seems like a good idea to her! She can disappear into this Sith Lord persona, and the Arena provides her an outlet for her quietly chaotic powers. She's very much an anti-hero because she has no interest in others… As we fleshed out Rieve, I was looking for inspiration from characters like Lando Calrissian, Jango Fett, and even Asajj Ventress from The Clone Wars. I love antagonistic people who have a reason for their antagonism. So I wanted her to be someone who, from another character's point of view, might almost seem like a villain. As an orphan, she's used to having to watch her own back, so one of her biggest flaws is her flat-out refusal to trust most people. It's all part of her drive for self-preservation, but as you'll see, it also does her a disservice.
He also claimed that Grozz the Wookiee is his personal favorite out of the starting characters in Hunters' striking and colorful roster of gladiators:
Oh, Grozz. Absolutely. He's a big goof who channels my childhood love of professional wrestling, but he also gets to have a fascinating relationship with Rieve. He was also a huge challenge to write because Rieve doesn't speak Shyriiwook, so I had to come up with all these fun ways to have them communicate.
Star Wars: Hunters: Battle for the Arena pre-orders are going up here soon, but a definite release date hasn't been shared yet. It'll most likely arrive alongside the game it ties into, which shouldn't be too far away now. Check out the full cover below: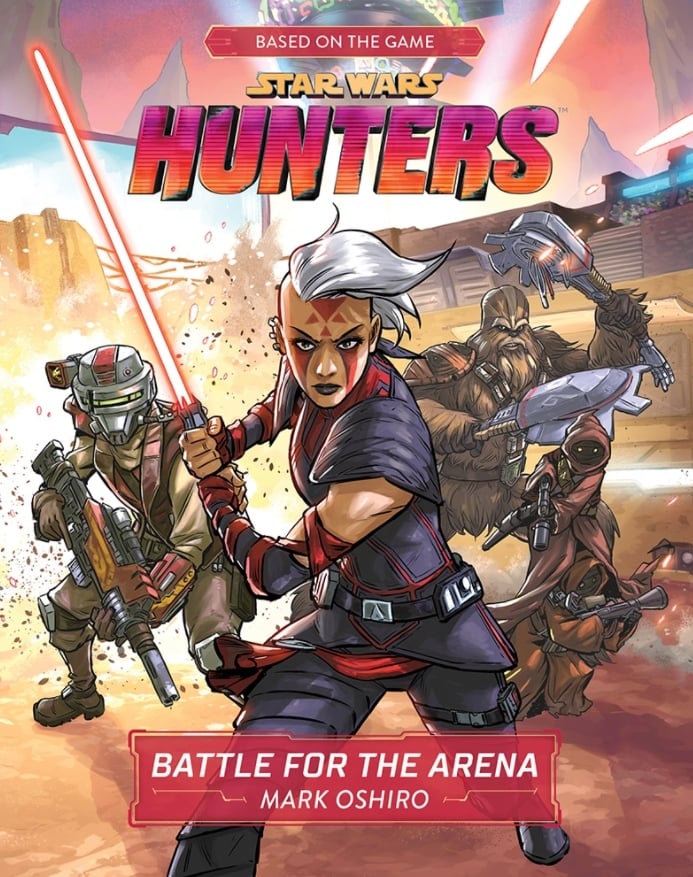 Francisco J. Ruiz is that guy who has watched Jurassic Park a thousand times and loves Star Wars. His hunger for movies is only matched by his love for video games. He graduated in English Studies from the University of Malaga, in Spain. As he keeps writing about what he enjoys (and doesn't) for websites all over, he's continuing his studies.