Review: New 'The Clone Wars' Guide Is an Exciting and Extensive Look The Series Deserves
Begun, the Clone War has.
When Yoda uttered those ominous words at the end of Attack of the Clones, very few of us could have imagined how rich and expansive this era of Star Wars was going to be!
From the introduction of fan-favorite Ahsoka Tano as Anakin Skywalker's apprentice, to the infamous ferocity of Cad Bane, to the resurgence of a hellbent-on-revenge Maul, to the fascinating ethical conundrum of clone troopers and their search for purpose, to the crushing emotional series conclusion as Vader is haunted by his past, the Star Wars: The Clone Wars series truly represented some of the best stories, character arcs, and mythology from a galaxy far, far away.
And now, thanks to Titan Magazines, we're getting an extensive look at all seven Clone Wars seasons in Star Wars: The Clone Wars – The Official Collector's Edition book that includes an in-depth episode guide, character profiles, behind-the-scenes concept art, stunning imagery, and fascinating interviews with some of the top creators of the 133-episode series (including George Lucas and Dave Filoni).
We had a chance to check it out (almost 150 pages of substantial content!) before it launches on March 29, 2022. It's a refreshing, fascinating, and comprehensive exploration the series deserves. Discover our preview below before pre-ordering this outstanding guide!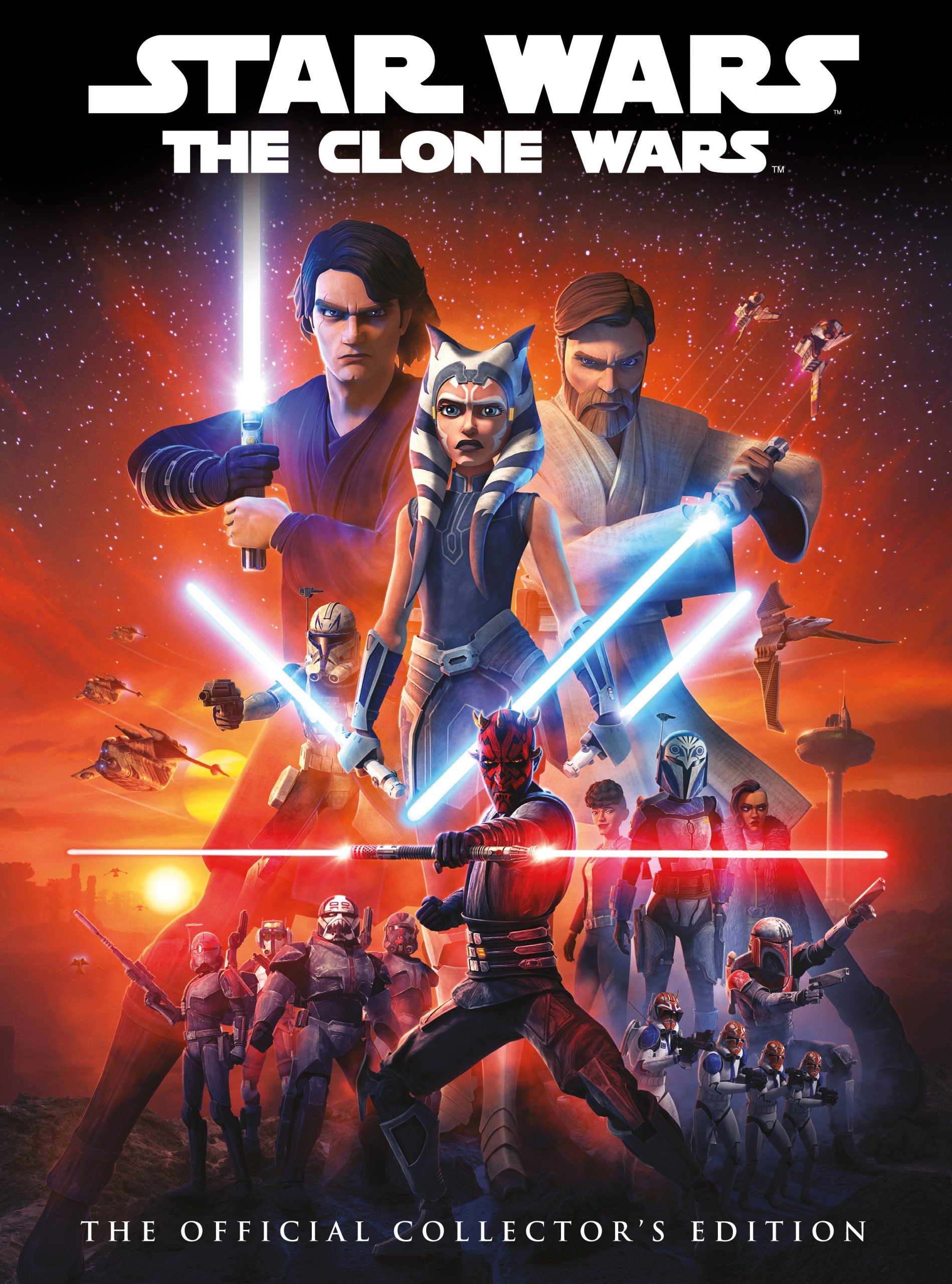 All photos in this feature are photos from within the Star Wars: The Clone Wars guide from Titan Magazines
The guide sets the stage with a recap of where the story falls in the timeline: explaining how Attack of the Clones kickstarted the war, how the Star Wars: The Clone Wars film continued the conflict, and where the rest of the series begins.
This gives a good starting point refresh for the reader to get back into the mindset of timeline, especially when so much is happening it's helpful to reset.
Following a quick recap, the next section features an abundance of character profiles one would expect in such an extensive guide including Anakin Skywalker, Obi-Wan Kenobi, Captain Rex, Ahsoka Tano, and other main players in the epic conflict.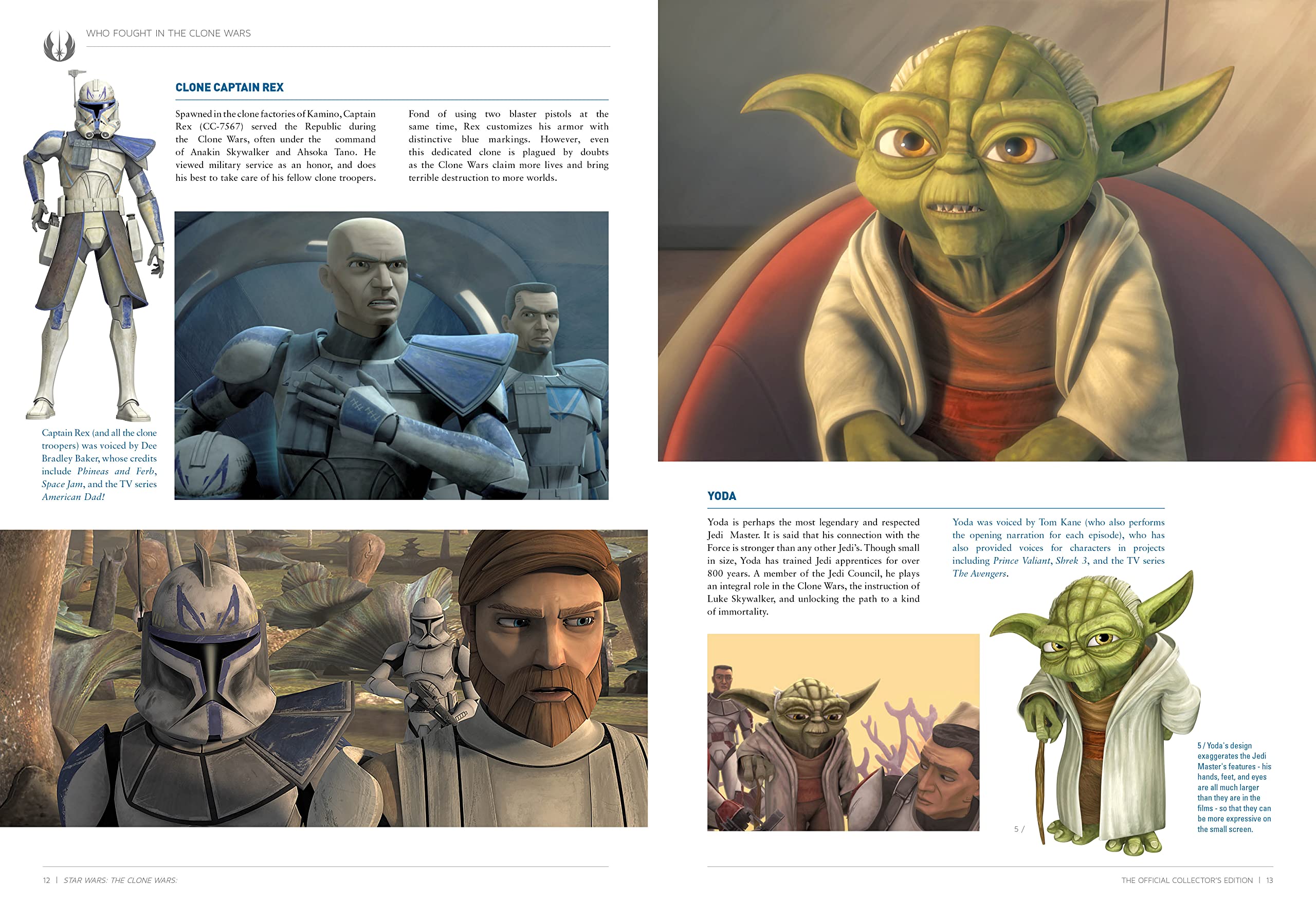 Although all are great to have here, I am more impressed with the inclusion of side details giving insight into the voice actors and sharing interesting bits of behind-the-scenes info regarding our favorite team of protagonists. Because of this, the guide really feels more than just a rehash of basic character facts you can find anywhere (did you know Tom Kane provided the voice of Yoda and all opening narration for each Clone Wars episode? Or that the design for Obi-Wan Kenobi was partially inspired by the 2D Genndy Tartakovsky legends Clone Wars micro-series?).
These fun facts are numerous, giving added depth to all the spotlight characters listed.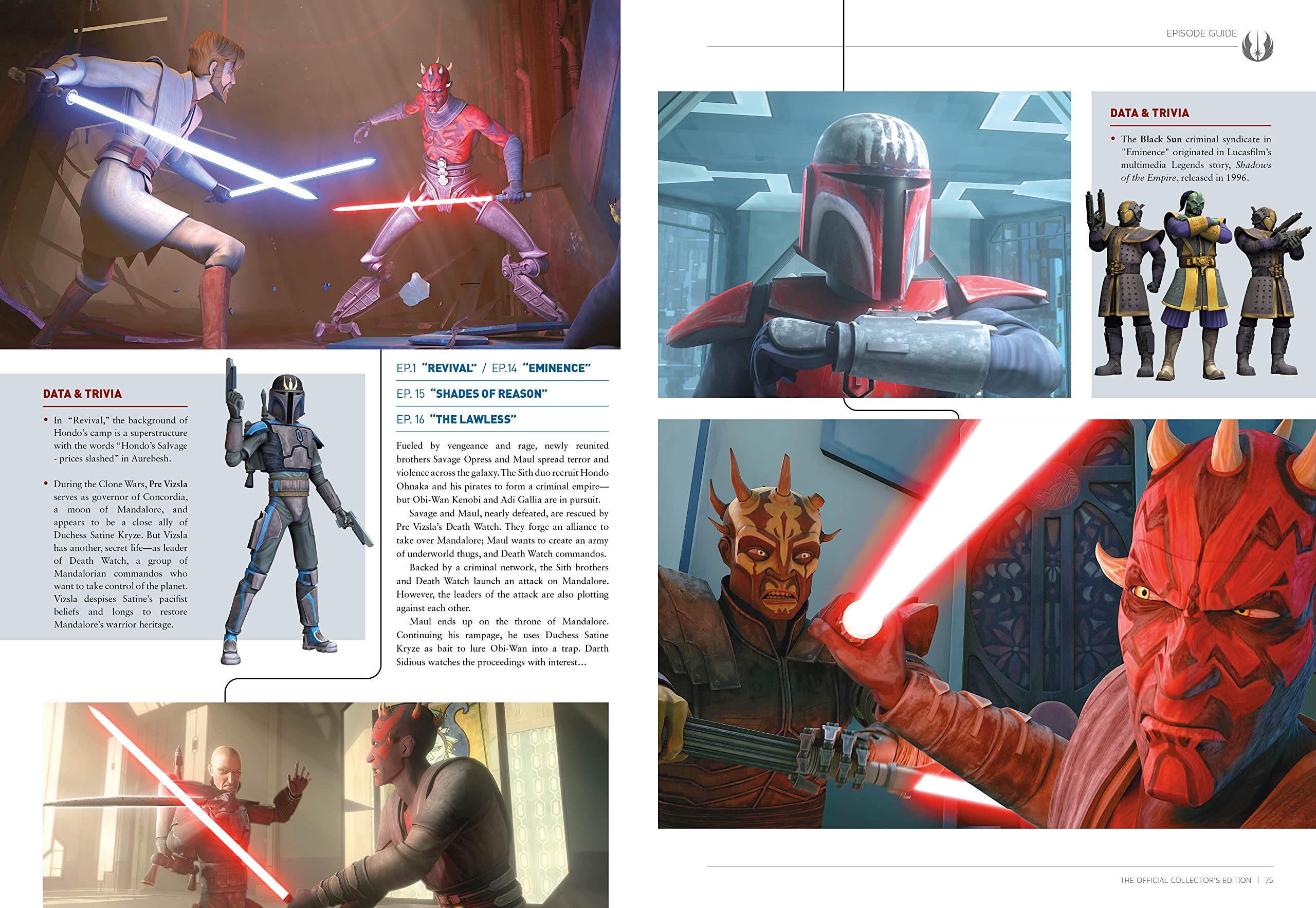 After a deep dive into the main players of the series, the guide provides an immense season by season, episode by episode breakdown that really shines as a needed addition to any collection of Star Wars reference books. I absolutely love having this handy–even as a major fan, it's easy to forget when certain aspects of stories or character arcs happen (especially in such a dense and robust timeline as the Clone Wars).
The idea to go episode by episode, with an abundance of lavish photos for reference, is beautifully executed. Some episode descriptions are combined, especially if they are part of a larger story arc (though all titles are included to help us follow along).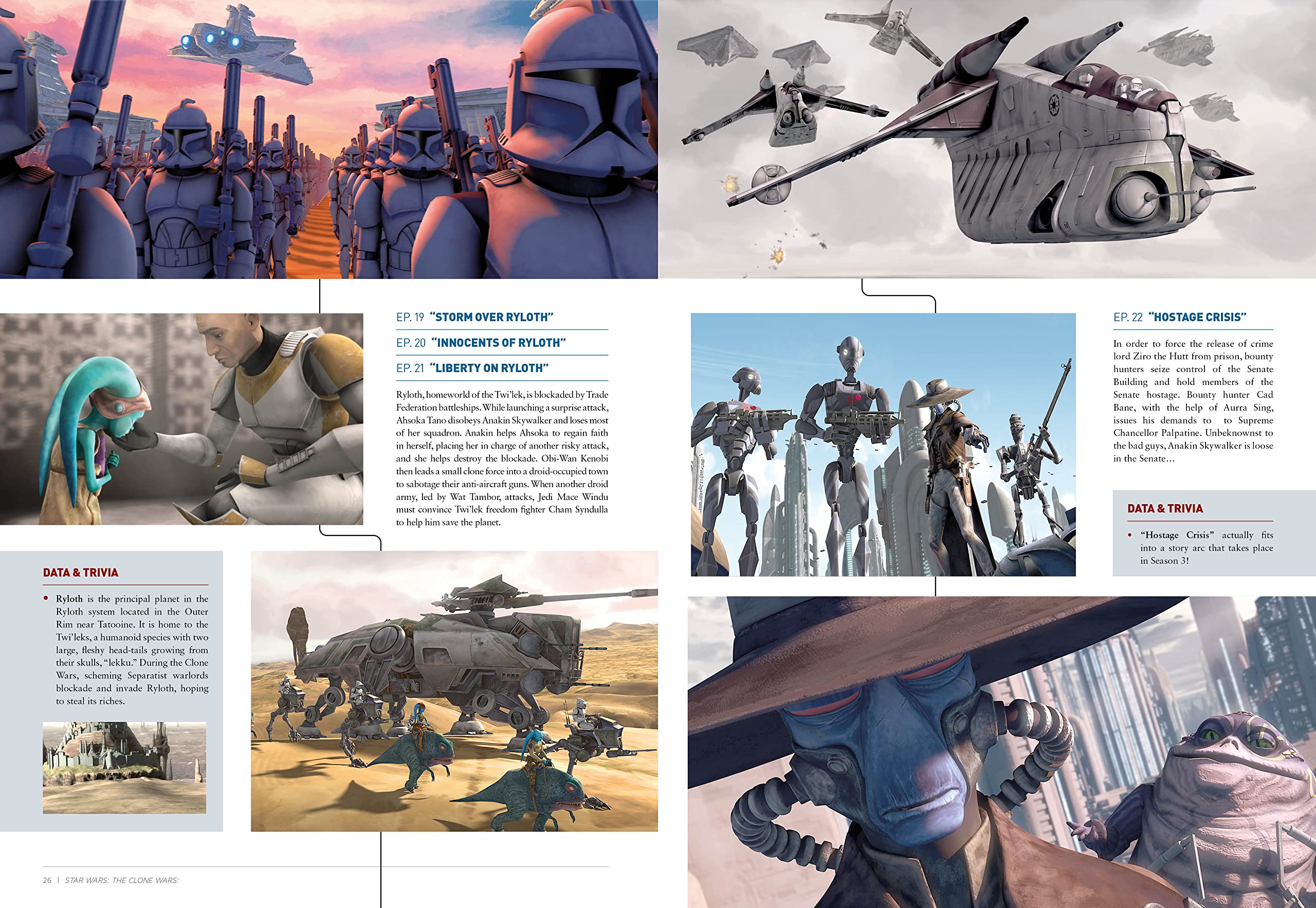 Not only does the format serve as a comprehensive guide to keep track of the storyline, but it also packs a bunch of inside notes dubbed "Data & Trivia" sections that really elevates this publication to a different level. The pages are crammed with interesting bits—like how the Kwazel Maw design in Season 1, Episode 8 (titled "Bombad Jedi") was based on legendary artist Ralph McQuarrie's concept for a swamp slug creature, or how the voice of Lok Durd is actually veteran actor George Takei, who played Sulu on the original Star Trek series.
I had no idea that Todo 360, Cad Bane's droid, is voiced by Seth Green, who co-created and co-executive produced Robot Chicken! There are so many more, but I don't want to spoil them for you because it's these additional notes that make this guide more than a companion for the show – it's a full, extensive deep-dive into the production peppered with behind-the-scenes elements that I thoroughly enjoyed learning more about.
To round out each season featured in the book, there is a bulleted quick-read section of ''Famous Battles'' that act as almost pseudo-teasers to some of the action you see in the show (the phrases include "Discarded by the Sith, hunted by the Jedi, Maul has only his brother to turn to – a weakness that Darth Sidious is more than happy to exploit" and "Betrayed by the clones that had only moments earlier been those most loyal to her, Ahsoka discovers the sinister power of Order 66 first hand").
These phrases feel a bit strange, almost vague, unfinished (or philosophical) notes of what happens, but they do act as interesting reminders of what transpires in each season. I found these sections to be a little out of place, but still helpful in pointing out some of the conflicts to highlight as you're working your way through the show.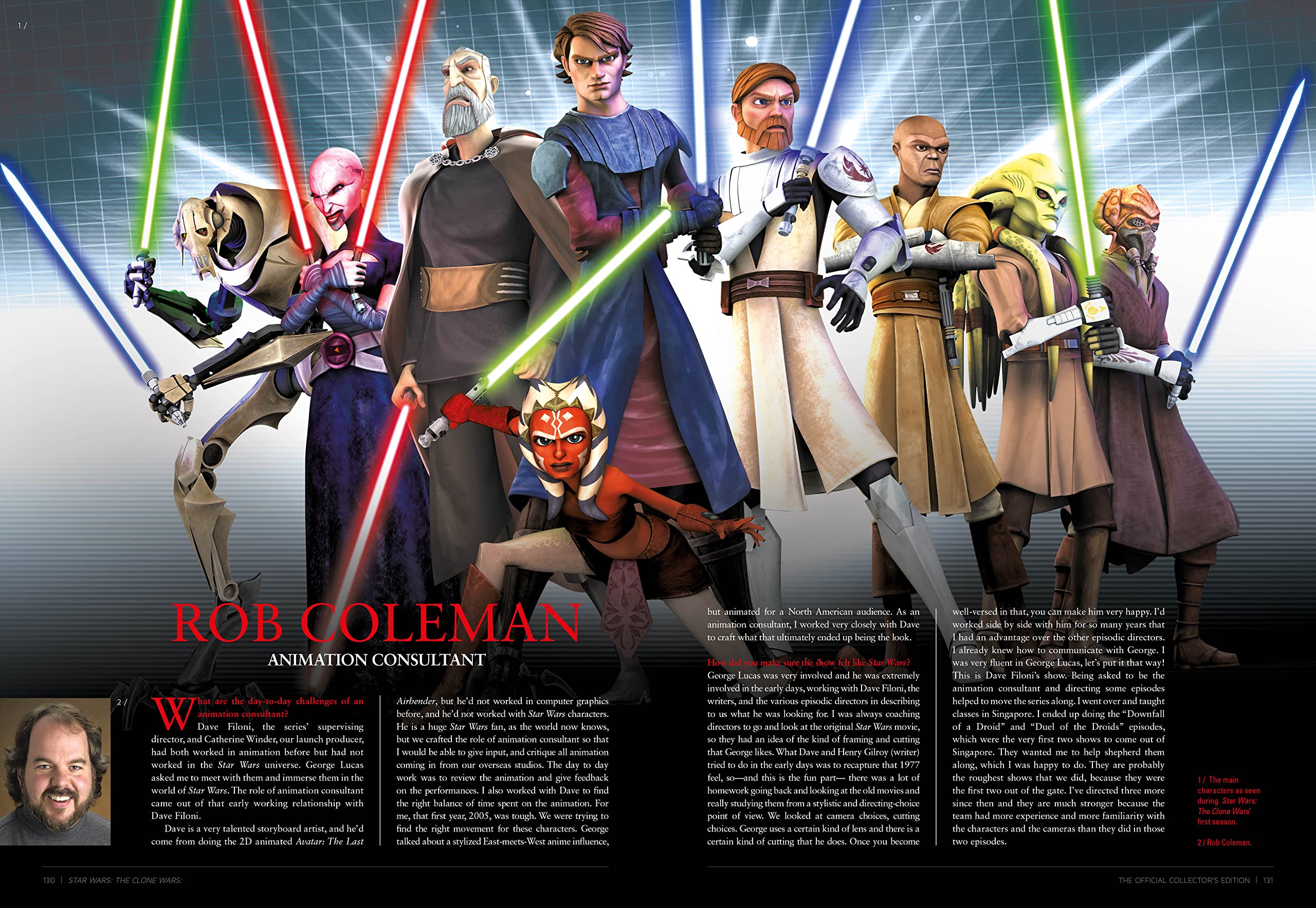 Although the guide boasts an in-depth exploration of actual episode content as the main feature, one of the greatest aspects is the surprisingly fresh behind-the-scenes look with interviews featuring George Lucas (Creator), Dave Filoni (Supervising Director), Darren Marshall (Character Design & Maquette Sculpture), Joel Aron (CG Lighting & Effects Supervisor), Keith Kellogg (Animation Supervisor), and Rob Coleman (Animation Consultant). There are also special feature interviews with the likes of Duwayne Dunham and Walter Murch, two prominent directors of some of the series' top episodes.
George Lucas shares his thoughts on the series:
"The TV series is exactly like the movies. Exactly. It's basically the movies only with cartoon characters. It's basically a dramatic series: there's a lot of action and a bit of humor. It runs along at the same level. It's unusual for an animated show, because it's not really a hardcore movie like say Beowulf (2007) and it's not a Pixar movie; it falls in-between a PG rating and a PG-13, because it (Star Wars) is a bit funny, yet hard-edged."
David Filoni, who has one of the biggest current impacts on Star Wars storytelling, shares a note about working with Lucas:
"For me personally, it was the greatest education in filmmaking I could ever get—all because of George and his patience when teaching me, being a mentor, not getting frustrated when I wasn't really getting it right. Just taking the time to teach all of us how to do this the way that he did it, and at times, I hope, get close to that effervescent magic that is Star Wars. To take the things he taught me and move forward with them."
These are just small snapshots of large, robust, and frankly incredible interviews with the makers behind the series. Each interview has multiple pages of question-and-answer discussions, where we learn everything from how the idea of the Mandalorian story arc began, to how difficult it was to replicate Chewbacca's features in this aesthetic, to the intricacies of animated explosions.
I don't want to give too much away because it's truly a treasure trove of insight and information best kept for an evening reading escape into the galaxy far, far away.
It seems like often I'll read a generic sound bite or note used on numerous occasions, but this guide is full of fascinating, unique, and fresh new details from so many that make the series the success that it is today.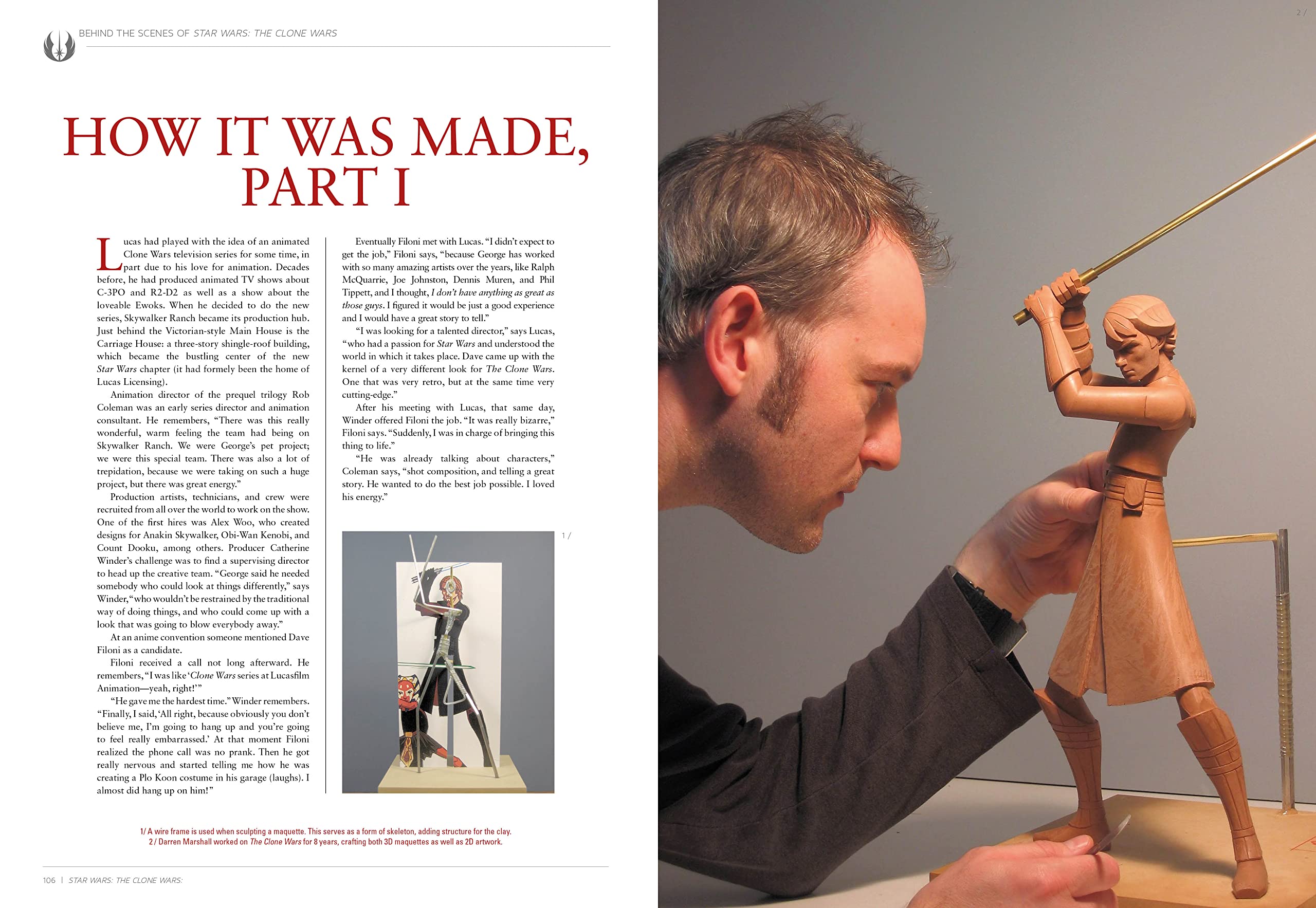 It's easy to forget how much goes into design in an animated show. Having Darren Marshall explain his affinity for getting the perfect clay sculpture right that represents a character is an example of how intentional (and expensive) each step of the process was in making this story come alive.
Within the guide, it also shares "Five Things To Love About The Clone Wars" including the additions of Mortis, Moraband, Force Priestesses, and how all of those profoundly shifted our view on the Force and the role it plays in the galaxy.
I couldn't agree more—this era of Star Wars content has shaped so much of what I've come to love (not to mention inspired huge spin-off shows like The Bad Batch, The Mandalorian, The Book of Boba Fett, and the upcoming Ahsoka series, among others). To see this era celebrated in this commemorative book is what the series truly deserves.
There is so much more I could get into, but this is one you'll want to grab for yourself and sit down to explore all it has to offer while you rewatch the series again. This preview is just a small taste at the incredible assortment of facts, insights, and recaps this book boasts.
Just flipping through these pages was an experience – it's truly incredible how much lore is packed into this series. With new worlds, meaningful character introductions, Force exploration, and more, the Clone Wars truly expanded upon some of the best aspects of Star Wars – and now you can relive each action-packed, emotionally-charged moment with this great guide.
Pre-order your copy now, launching on March 29, 2022.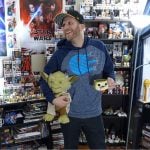 Tony Gorick is a self-proclaimed candy connoisseur with a passion for Star Wars and roller coasters. Whether he's working at his friend's arcade or watching classic Saturday morning cartoons, he does so with unsettling enthusiasm.