Meet Brack Lee, the 'Star Wars' Fan Looking to Break a World's Record
One's love for Star Wars can come in many, many different forms — some collect lightsabers, while others may collect costumes, and some even go around the globe to visit the unique shooting locations from the films. Then there is Brack Lee of Colorado, a fan who (pun totally intended) literally wears his love for all things Star Wars on his sleeves. In honor of the original film's release 45 years ago, Brack Lee is attempting to break a world's record by wearing one Star Wars shirt a day from May 2021 to May 2022.
"My plan is to go 365 days from anniversary to anniversary. Um, but that leads right up to a Star Wars convention and what am I going to wear to a Star Wars convention if not a Star Wars shirt?"

— Brack Lee

According to Brack, he owns over 400 Star Wars shirts and counting, and plans to continue wearing a shirt a day until he runs out:
"I'm attempting a record and I don't know if it's ever been done before."
When he's not spending time at his day job at the Longmont Museum assembling exhibit displays, he can be found enjoying his massive collection of Star Wars memorabilia or spending time with his wife Beth, who fully supports him in this endeavor:
"You know it, at first I was like oh my gosh does he have to wear another Star Wars shirt and then it kinda became enduring and it's more of like it's just kinda who he is."

At this point, with Star Wars Celebration just a few months away, Brack is over two-thirds of the way to reaching his goal. In an age when there can be so much toxicity and a serious lack of civil discourse amongst fans, it is refreshing to see someone like Brack unabashedly enjoying Star Wars with such pure joy:
"Doing silly things is gonna keep you young. Making people smile is gonna keep you young."
If you want to follow Brack Lee and his first-of-a-kind world record attempt, you can follow him on Instagram. We will certainly be wishing him luck on his journey to Celebration in May of this year, and looking forward to see what shirts he will be wearing when the fans of the Force descend upon Anaheim, California, a few months from now.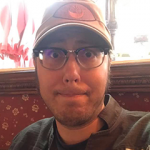 Born and raised in sunny Southern California, Colin grew up an avid fan of Star Wars, Disneyland, and so many more pop-culture staples. After spending some time as a character at a well-known theme park, he spent some time attending college in the UK. Colin now lives with his wife and dog just down the road from the Happiest Place on Earth and divides his time between family, friends, gaming, and writing horror stories and think pieces on cinema.