'LEGO Star Wars: The Skywalker Saga' Will Come With Nearly 400 Playable Characters
An interview with one of the developers of LEGO Star Wars: The Skywalker Saga that has flown under the radar has indicated that the long-awaited video game will come with lots of familiar faces, with the total number of playable characters rising to nearly 400.
In an interview hosted by GameSpot, TT Games senior producer James Burgon has indicated that as the scope and scale of the massive project has expanded over the course of its development, players will be able to play as nearly 400 characters and run into hundreds of unique NPCs:
"The beauty of Star Wars is that every character, no matter how little screen time, naturally ends up having a backstory we can dive into and create a quest around. It was a struggle to keep the playable number below 400, but in terms of NPCs I think we almost hit 800! The Star Wars galaxy is so rich with creatures and alien races that it was difficult to define a cut off point, but I think hardcore fans of Star Wars are going to be pleasantly surprised at who made it into the roster."
Worth keeping in mind is that this is before counting the various characters coming to the game via downloadable content, which will allow players to play as their favorite characters from the likes of The Mandalorian, Rogue One, Solo, The Bad Batch and more upon purchase. Word suggests that there are 20 purchase options set for the game, which does not necessarily translate to 20 character packs, but still suggests more options for players to potentially choose from than the initial seven packs that are said to be ready at launch.
The game is also a bit of a departure from previous LEGO Star Wars titles in that a sizable portion of the game's story will be told outside of the main levels. For instance, while the first two levels of the original game had to do with Qui-Gon and Obi-Wan's escape from the Trade Federation into the city of Otoh Gunga, all that will be playable in the open world, while the first official level of The Skywalker Saga will allow players to explore the trip into the planet core for the first time. Burgon explained that this change in style had to do with wanting to encourage separating open-world exploration with more action-driven sequences:
"We know that players love exploring our Freeplay content, so we made the Story levels snappier and more action-focused. Having pre-levels take place on the planet surfaces makes for a more cohesive experience overall and makes the game feel more like a journey, rather than two separate modes of Story and Freeplay. Players can hop between trilogies or enter Galaxy Freeplay to explore at their own pace if they choose. Having that freedom means players can take their time and immerse themselves without feeling overwhelmed."
Game design isn't the only thing that's changed between LEGO Star Wars: The Skywalker Saga and its predecessors – combat is now surprisingly intricate compared to previous installments, where it was largely a matter of knowing when to hit the attack button. Things have been reworked between melee and ranged combat, and that's one element that they're most excited for players to discover:
"Combat has had a massive overhaul in this game. Enemies will block or even try to rush you, and you can either combat roll out of the way, counter these ambushes with a special attack, or switch up attacks to break their block. We've also introduced Character Classes, which all come with their own upgrades. For example, you can upgrade Protocol Droids to emit shockwaves when they detach their upper and lower halves, stunning all enemies in a small radius. We wanted to make combat overall more engaging, with more ways to use character quirks to your advantage and add to that sense of power and progression. Force powers can be used with free-aim, allowing you to grab any nearby LEGO rocks or debris and hurl it at any enemies nearby – which is extremely satisfying to do with explosive barrels or even Battle Droids themselves. Same with blasters, you can now free-aim and shoot enemies with precision, allowing complete control on how you save the galaxy and defeat the Empire."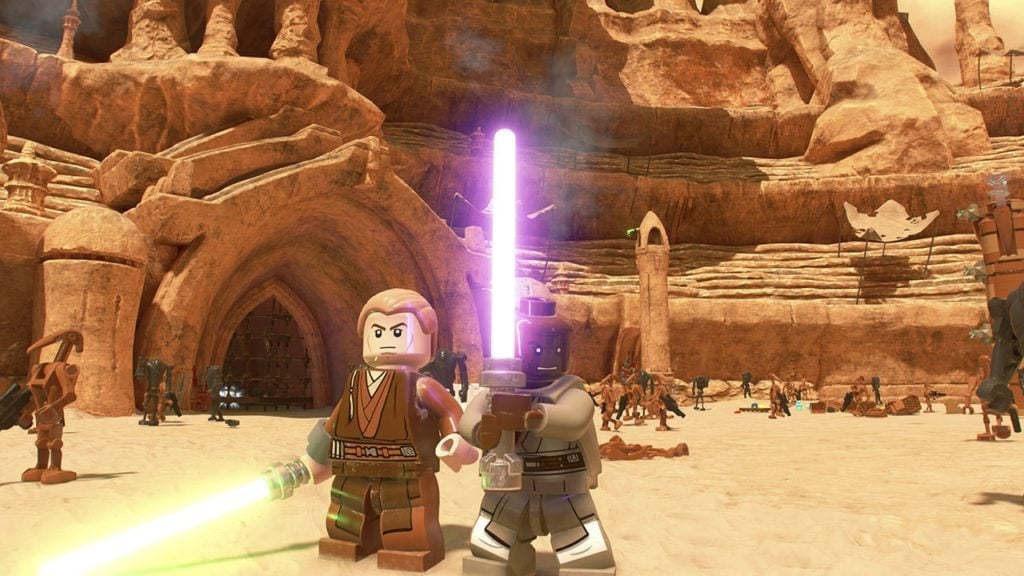 There are other bits of details worth looking into in the original article, but one thing that we would like to single out is that the developers have realized that the development of the game has been a complicated process, and they're happy to soon have the finished product on the shelves to reward fans for their patience:
"…The team and I want to say thanks to the gamers and fans for their patience and sticking with us whilst we work hard on delivering the biggest and most ambitious LEGO game ever. We're just as excited for April as you all are, and we can't wait for players of all ages to immerse themselves in exploring the LEGO Star Wars galaxy we've created."
We certainly won't have much longer to wait to see another update from the most ambitious LEGO Star Wars title to date, as it's been confirmed that The Skywalker Saga will have a presence at IGN Fan Fest 2022 later today.
We're definitely ready. Are you? We'll see you in IGN's Fan Fest, tomorrow at 11:40AM PT! #LEGOStarWarsGame https://t.co/a46EcK50UY

— LEGO Star Wars Game (@LSWGame) February 18, 2022
LEGO Star Wars: The Skywalker Saga will be released on April 5, 2022, on the Nintendo Switch, Xbox One, Xbox Series X/S, PlayStation 4, and PlayStation 5 video game consoles, along with Microsoft Windows.
Grant has been a fan of Star Wars for as long as he can remember, having seen every movie on the big screen. When he's not hard at work with his college studies, he keeps himself busy by reporting on all kinds of Star Wars news for SWNN and general movie news on the sister site, Movie News Net. He served as a frequent commentator on SWNN's The Resistance Broadcast.