'The High Republic: Midnight Horizon' New Excerpt Features Master Yoda Sharing Wisdom With Master Kantam Sy
A new fragment from Daniel José Older's upcoming High Republic novel Midnight Horizon has been released, ahead of its February 1 release date. The new young adult novel takes place before the events of the recent The Fallen Star (check out our review here), and follows Jedi Masters Cohmac Vitus and Kantam Sy, with Padawans Reath Silas and Ram Jomaram, as they investigate a possible attack from the Nihil on Corellia.
The excerpt, released by CNET, includes some wisdom from Master Yoda in a time in which Kantam needs it most. Older introduced it like this:
"This excerpt is from a thread we follow in Midnight Horizon that focuses on the past — it's one of my favorite throughlines of the book and it gives us a chance to step outside the present day action and get a deeper understanding of the complex emotional issues many of these characters face, both in terms of their roles within the Jedi Order and the galaxy as a whole."
Older also commented briefly on the character of Kantam Sy, who also appears in his The High Republic Adventures comic run:
"When we meet Kantam in the present day storytelling, they are Lula's master and renowned for their calm and measured responses. One inspiration for Kantam was Jin from [beloved anime] Samurai Champloo, a paragon of both discipline and chill, but also a fierce warrior when that's what's needed. I wanted to explore some of what led up to that epic calmness, and Kantam's turbulent Padawan era was a perfect way to do that."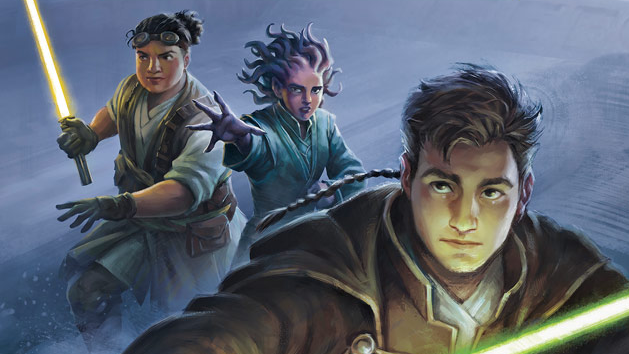 And finally, about Yoda's involvement in the novel, he told CNET:
"Can't tell you much, of course, but we've had a lot of discussions about this, and what I can say is that Yoda has been going through some very, very rough times. Of course, it would have to be bad for it to keep him out of commission all this time, when the galaxy needs him most," the author said. "I can't confirm whether or not we'll see Yoda again during this particular storytelling era of the High Republic… but the good part is he's been an active member of so many of our Jedi's lives, and that's why it was so important to bring him in with these flashback sequences, like the one we have here."
Here is a portion of the new excerpt, but make sure to head over to CNET to read the entire text:
Kantam already had tears welling up in their eyes when they stepped up to the door of the meditation room. A million scenarios pounded through their head, each more elaborate and ridiculous than the last. A million ways to try to explain. None made any sense — because this didn't make sense. That was all there was to it. Some things were beyond logic and reason. The Force, for instance. And love.

Was that what this was? Kantam had read about it, watched those goofy holos about people falling in love, sometimes even Jedi. It had always seemed like a big joke—something other people did. Not that Kantam judged love, or people who fell in love. It just wasn't for them.

Until, very suddenly, it seemed to consume Kantam's every movement and breath.

Didn't matter. This was the moment they existed in, the reality they had to face. No amount of logic, or even poetry about the lack of logic, would change that.

The door slid open.

Master Yoda stood inside, back straight, facing the far wall.

For a flickering moment, Kantam wondered absurdly if Yoda was going to challenge them to a duel, as punishment for tarnishing the image of the Jedi Order and throwing all that training out the window.

Then Yoda extended his lightsaber.

Kantam let out an audible gasp.

Yoda chuckled in that Yoda way: raspy, high-pitched, relentlessly endearing. "Many times, have we dueled in this very room, Padawan Sy. No?"

"I . . ."

"One last session," Yoda said solemnly, then turned and looked up, meeting Kantam's gaze. "Perhaps?"

Kantam extended their saber. You didn't say no to a duel with Master Yoda. Even in these fraught circumstances. It just wasn't done. "Of course, Master. But . . . you know?"

Yoda whipped up into the air in a swirling cartwheel, that bright green blade flashing in fierce spirals around him. He landed in a crouch, one hand out, lightsaber poised above his head.

From any other master, that may have been intimidating. Paired with the implicit understanding that something very real was up, Kantam would've normally understood this to be a veiled threat of some kind.

But this was exactly how Kantam and Master Yoda had always found understanding, ever since Kantam was just a tiny youngling. They would spar, and spar, and spar some more, and somehow in that grapple of stick against stick — then later, saber against saber—whatever was troubling Kantam would start to untangle itself; the world would slip back into harmony. Even if the problem wasn't resolved, Kantam would leave sweat-soaked and invigorated and feeling like somehow there was an answer out there, and if there was an answer, Kantam would find it.

They had no such expectations of this duel, but it didn't matter. Sparring with Yoda was the answer, in this moment, the only moment that truly mattered. So they leapt forward, unleashing a controlled downward slice that Yoda easily parried, then followed up with a straight sweep across their shoulders. Yoda ducked, then sprang straight up, lightsaber needling directly at Kantam, who swatted each stab away while backstepping gracefully.
The High Republic: Midnight Horizon will be released on February 1st, but is already available to pre-order at Amazon here.
Miguel Fernández is a Spanish student that has movies as his second passion in life. His favorite movie of all time is The Lord of the Rings, but he is also a huge Star Wars fan. However, fantasy movies are not his only cup of tea, as movies from Scorsese, Fincher, Kubrick or Hitchcock have been an obsession for him since he started to understand the language of filmmaking. He is that guy who will watch a black and white movie, just because it is in black and white.