Temuera Morrison on the Differences Between Playing Jango and Boba Fett, Ming-Na Wen on the Fett/Fennec Relationship, and More
Temuera Morrison and Ming-Na Wen are having the time of their lives with The Book of Boba Fett. In a recent interview with the Rolling Stone magazine, the actors opened up a bit more about their experiences taking on action roles at their age, and Morrison delves into the stark differences between playing Jango and Boba Fett, including the differences in productions between then and now.
Morrison played Jango Fett, Boba's father, in Star Wars: Attack of the Clones, and he points out the differences between playing the father and the son, 20 years later, from both character and production perspectives:
"Well, as Jango, I didn't know what I was doing. We shot that in Sydney in the year 2000. I just remember having so much fun, and I was shooting another kind of Australian low-budget detective story at the same time, so I couldn't change certain things. I still had scenes to shoot, pop over to Star Wars and do some scenes, and then pop back to this other thing that I was working on, which was with Rebecca Gibney, Ihaka. There was just things like my hair, for example, and I had too many curls — Jango looked too soft. And so having this opportunity to come and do Boba Fett, play the son, I just wanted to be so much better."
He then had an amusing story about driving George Lucas mad while filming in the rain in Sydney:
"I think I used to kill George Lucas, because he'd be trying to shoot a scene, and I'm out there and it's raining and someone's got an umbrella. So I start singing that song: [doing his best Gene Kelly] 'I'm singin' in the rain, I'm singin' in the rain, and having a wonderful time on the set of Star Wars!' I think I drove them all nuts, and George was very, very nice to me to say, 'OK, Tem, stop singing now, I'd like to do a mid-shot or a close-up.'"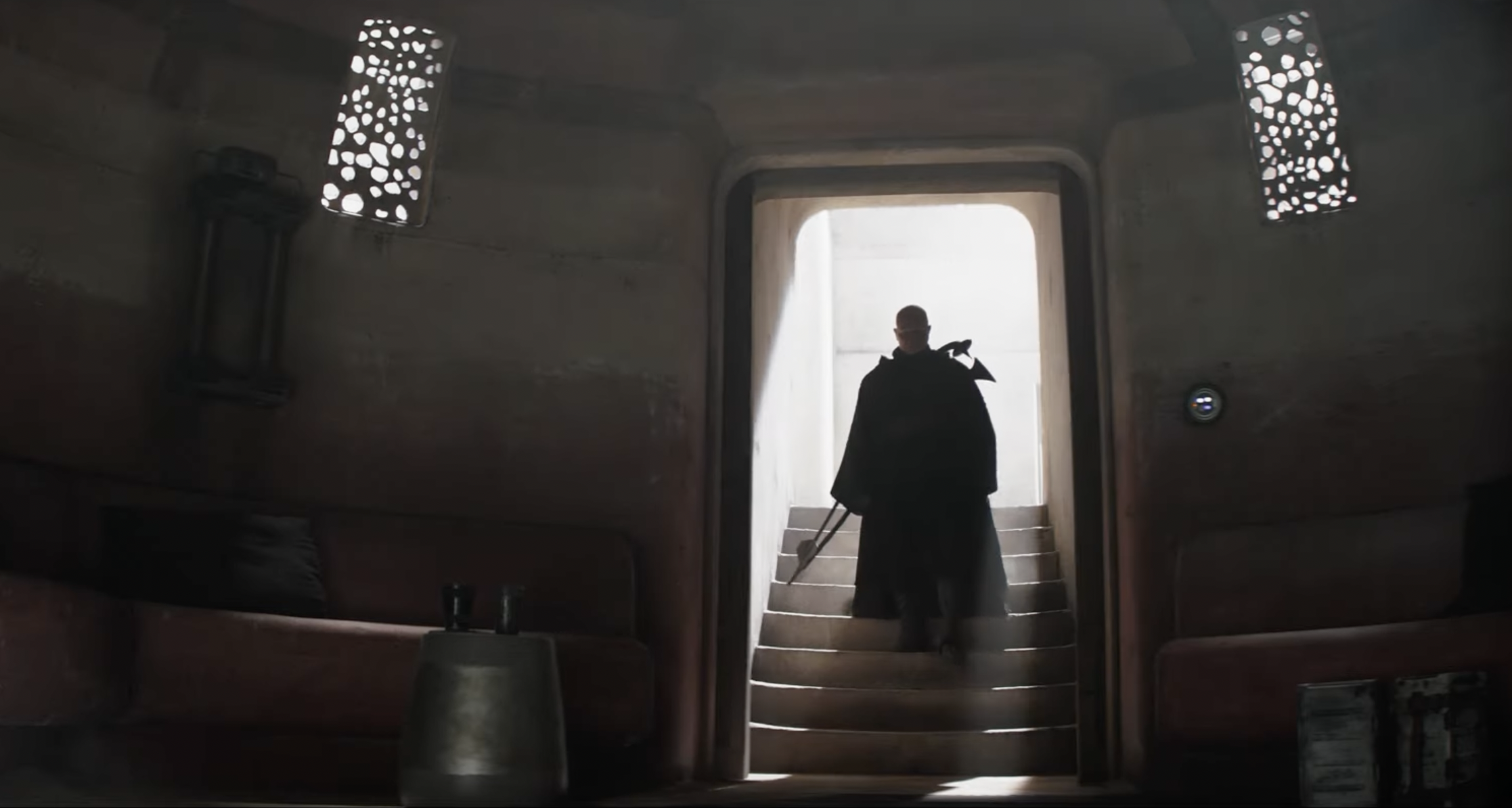 Morrison is now the third credited person to play Boba Fett, following Jeremy Bulloch in the original trilogy and Daniel Logan, who portrayed a young Boba in both Attack of the Clones and The Clone Wars. And that is still surreal to him, especially when it comes to signing autographs, as he's witnessed both actors sign as "Boba Fett" while, until now, he was used to writing "Jango Fett":
"Back in the year 2000, I didn't know I was going to be playing Boba Fett back then. I remember going to all these conventions with Jeremy Bullock, who played the actual, real Boba Fett, and there's Daniel Logan, who played the young Boba Fett. And I always signed 'Jango Fett,' so it still amazes me now that when I sign an autograph, I do 'Boba Fett.'"
The Book of Boba Fett is quite an unusual action series in today's world, as the two leads are 58 and 60 years old. And they are very aware of that, as Morrison said:
"You know how you look at some fruit or some food at the supermarket and it's got a 'use by' date on it? Well, that was very much my career. So thank Christ someone had a meeting and said, 'Well, Boba's gotta look like Jango. He's a cloned son!' Thank Christ I played the father, that's all I want to say. Yeah, it's been great."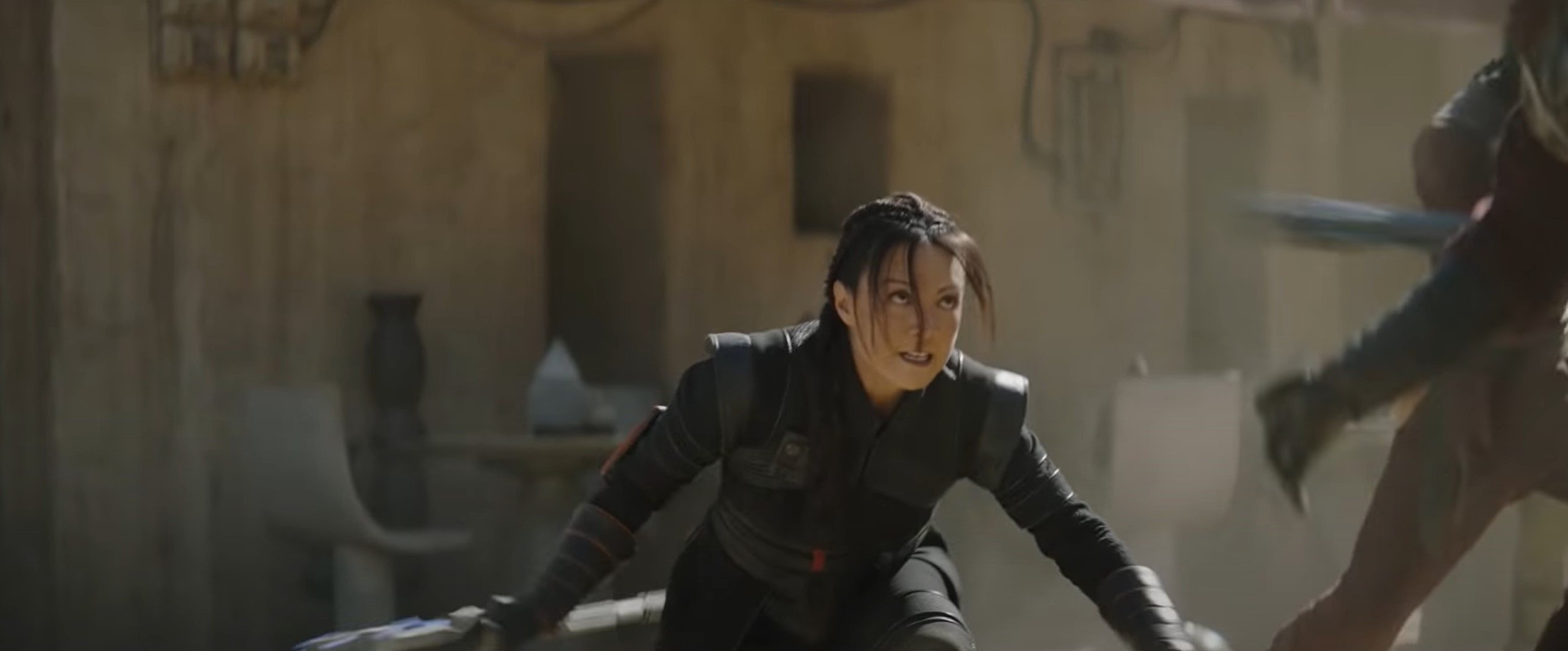 But as Ming-Na Wen added, they are very aware of their responsibilities and take them very seriously:
"Tem and I both come from that old school in a way, which is a good thing, because we work our butts off. We know that we have this responsibility to the show, to Jon [Favreau], to the Star Wars fans, to Dave [Filoni] and Robert, to really bring our A-game. [Tem] was like training on set. I'm training with my trainer all the time, and we're showing that there's no expiration date."

"I'm just so happy that Boba came back. Because Boba took care of Fennec. If it wasn't for him, I wouldn't have been back. And he hogs all the Bacta tanks. Every so often, I need it, because my muscles get sore, too."
Morrison, as he said, was very excited when he met with Jon Favreau, as he knew they were doing The Mandalorian:
"I was so buzzing when I did the meeting with Jon Favreau. I knew they were doing The Mandalorian and all this, and I'm some guy who may be coming in. But I didn't want to take anything too seriously. And it wasn't until I went on the meeting and I saw these conceptual drawings and I thought, 'Bald-headed guy. I mean, that's me!' And I buzzed like for two days just from the drawing!"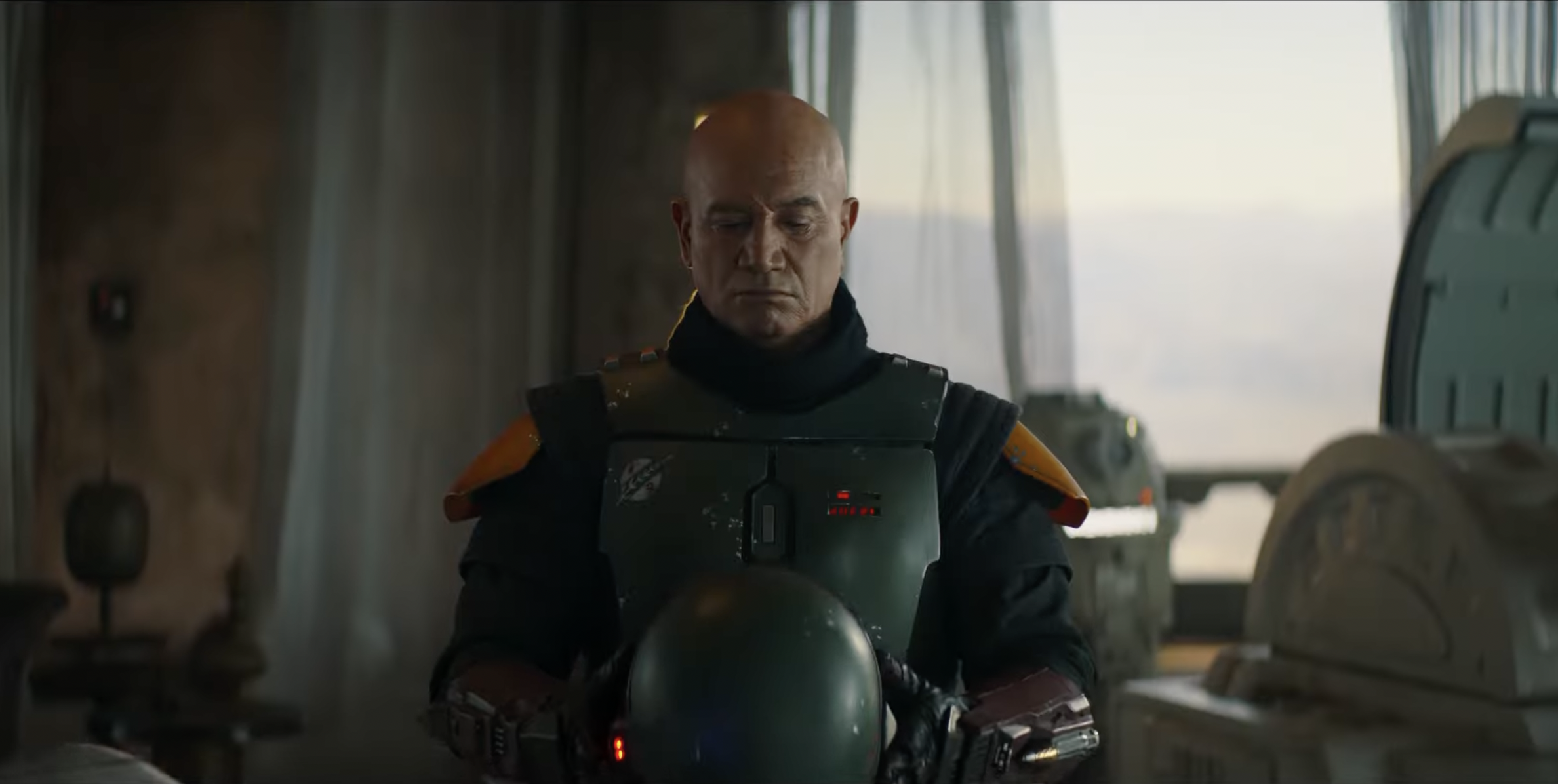 While filming action sequences, according to Morrison, one of the biggest challenges for them was the sands of Tatooine.
"We both have to physically get ready. Even though the fight scene you see onscreen is only about 30 seconds or one minute, it took 12 hours to film. In the heat, and the sand. My god, am I done with sand."
Wen added:
"I keep asking Jon, 'When do we get off Tatooine?!?!'"
And that led to an interesting question: when are they getting off Tatooine? Morrison prefers to leave that to Jon Favreau and company:
"That's a very good question. We're going to start somewhere, I guess. We're going to be branching out and looking at other things to do. But yeah, we'll start small and then we'll venture out. If you focus on the job, you'd better ask the writer that."
An interesting question the show will answer in the episodes to come is the relationship between Fennec Shand and Boba Fett. What is the exact nature of their bond? Wen gave her take on it:
"I think them being bounty hunters, they do have certain issues with having to partner up with someone. They're very much loners. But under these circumstances, both of them have gone through this sort of near-death experience on Tatooine. And I think that that really creates this new vulnerability, this new need that perhaps it's better to partner up — safety in numbers. And I think Fennec is smart enough. Her motto is, 'Always find the best deal for yourself,' right? I think she's seen this as the best deal right now."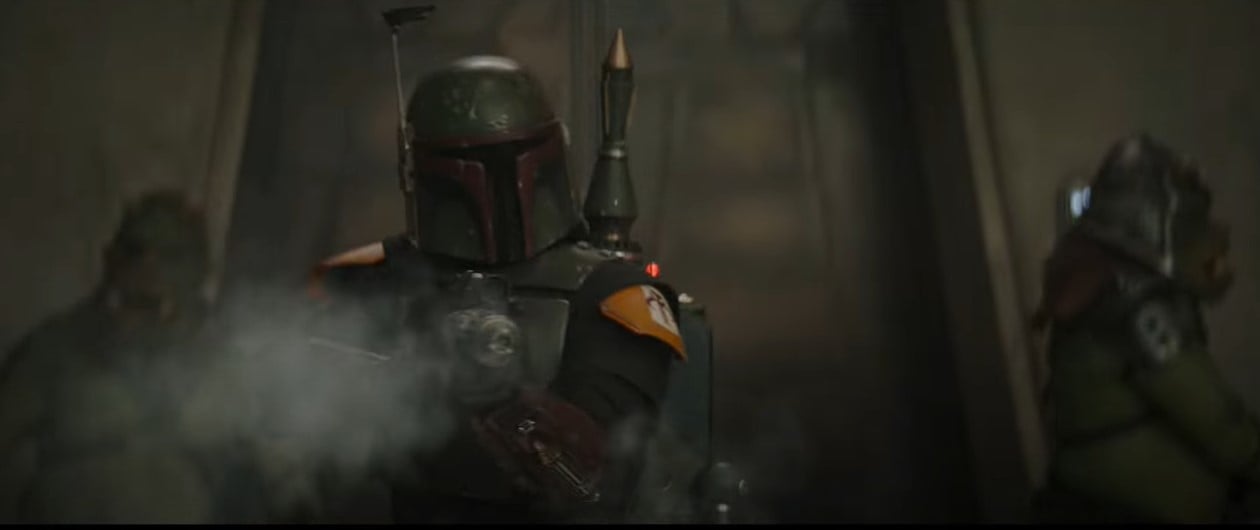 But it's not just about opportunity, but also respect, as she added:
"And there's a great deal of respect that she has for him, too. They both go by this honor code that might not exist as much, but that they believe in. And I think that level of understanding and respect between the two of them really helps to create this bond that they have with each other. To be able to run the syndicate, it's not going to be easy."
Another question that has surrounded the show ever since the first trailer is why Boba Fett has his helmet off so much of the time. As Morrison said, this has a practical reason behind it, and also the fact that he wanted people to see his face while he is acting:
"It actually came by chance [in The Mandalorian]. I think I was on the spacecraft, and I said, 'Well, I'm not flying the thing, I'm not fighting. Can I take my helmet off?' And I remember there was a bit of discussion. That's that scene when I was giving [Wen] all my dialogue because I wanted to be the quiet kind. And then [director] Rick [Famuywia] goes, 'Yeah, I think it'll be OK. Take his helmet off.' I would have been disappointed if someone said to me, 'Leave the helmet on for the whole series.' So thank Christ, they said, 'Yes, you can take it off for the scene.' So that's how it started. And honestly, I think they need to see my face here. But you know, funnily enough, I think [on Mandalorian] they could tell if it wasn't me. [If it was a stunt person,] Robert Rodriguez would say, 'Oh, I can tell it's not you if you're not under that helmet.' My face would act through the helmet! I don't know how that goes, but if there's an Oscar for best performance under a helmet, I'm going to win it."
While it might have been jarring at first seeing so much of helmet-less Boba Fett (especially after going through two seasons of The Mandalorian, in which we barely saw Pedro Pascal's face), we are starting to get used to it.
Chapter 2 of The Book of Boba Fett is already out, so we'll have to wait until next Wednesday for the next chapter in his adventure. Check out our review here, and the latest episode of The Mando Fan Show here.
Miguel Fernández is a Spanish student that has movies as his second passion in life. His favorite movie of all time is The Lord of the Rings, but he is also a huge Star Wars fan. However, fantasy movies are not his only cup of tea, as movies from Scorsese, Fincher, Kubrick or Hitchcock have been an obsession for him since he started to understand the language of filmmaking. He is that guy who will watch a black and white movie, just because it is in black and white.