Temuera Morrison, Ming-Na Wen Talk Filming in Jabba's Palace, Stunt Choreography, and More
Entertainment Weekly is the next in the many media outlets interviewing The Book of Boba Fett stars Temuera Morrison (Boba Fett) and Ming-Na Wen (Fennec Shand) as hype around the show continues to grow.
The interview sets the stage introducing Morrison and Wen and giving a bit of background on how each has already been involved in Star Wars projects — Morrison as Jango Fett in Attack of the Clones, and Wen as the voice of Fennec Shand in The Bad Batch. After joking about being like the Grandma and Grandpa of the show's production family (Morrison is 61 while Wen is 58), the two got into the most interesting bits of their time filming.
To kick things off, they shared their awe in filming scenes within the iconic Jabba's Palace set:
Wen: First of all, the details were impeccable. There are just these little Easter eggs they put in. Suddenly your imagination in your bedroom as a kid, playing with your toys, is now the real deal. The throne room moves like it's supposed to. There is a trapdoor. There are all these creatures and characters that have come back from the past.

Morrison: That was cool when [the platform we were on] got dragged forward.

Wen: I loved pushing that button. I would constantly push that little button that opens the trapdoor. It was so cool.
Morrison jumped in to add how impressed he was with the dynamic set pieces, which led to this fun back and forth:
Wen: And animatronics. Like the mayor. The mayor was ridiculous, right?

Morrison: He was a poor guy from props, remember? He had to sit in that outfit and remember the lines.

Wen: For hours!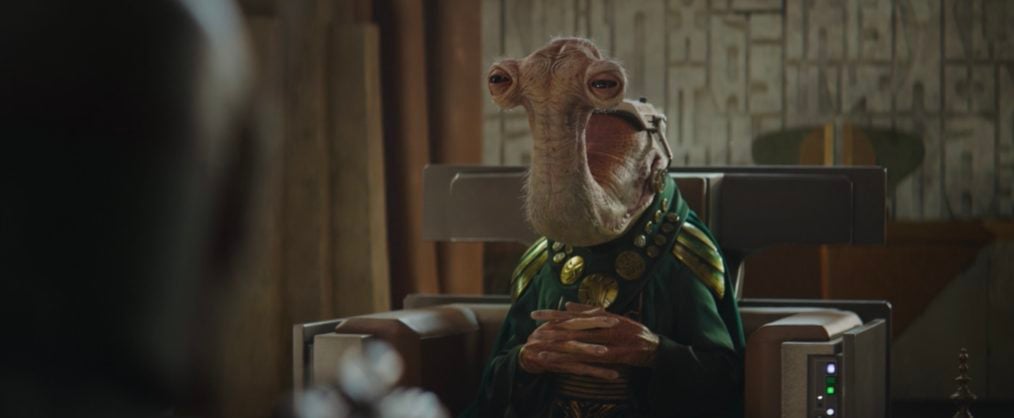 Then, the pair went on to discuss a bit about the inclusion of the Tusken Raiders and the key role stunt choreography plays in the show:
Wen: One of the most impressive things, I think, is that people don't realize that stunt fighting is an art form in and of itself. For it to look good and work, you have to know camera angles. You have to know rhythm, how to punch, where to punch. I had an incredible stunt double, Ming Qiu. She's a wushu master, and I've been with her for over 10 years now. She's been my trainer, my confidante, my ball-buster… I love her death. She's my incredible mentor.

Morrison: I work closely with the stunt boys. I was blessed that growing up, we have our traditional Maori dances. We have one of our weapons, which is a staff, and we call it the taiaha. I was blessed that I was able to utilize some of those skills. But again, our stunt team did a great job. If there's anything too dangerous, we had a double on hand just to do the dangerous stuff. But in the end, they couldn't find anyone quite good-looking enough [to double for me], so I had to do all my own stunts. [Laughs] I'm still recovering.
You can tell just from their interviews the joy they both experienced filming this show, and the natural chemistry they had in bringing these two characters to life. It' also always fun to be reminded that the actors are often huge Star Wars fans themselves, and are simply excited to be part of the galaxy far, far away. I for one know I'd be pushing that trap door button in Jabba's Palace constantly, too.
Check out the full interview for more of their banter and insight, and don't miss The Book of Boba Fett streaming on Disney Plus each Wednesday.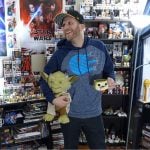 Tony Gorick is a self-proclaimed candy connoisseur with a passion for Star Wars and roller coasters. Whether he's working at his friend's arcade or watching classic Saturday morning cartoons, he does so with unsettling enthusiasm.