Review – Avar Kriss Fights Her Inner Darkness in Marvel's The High Republic #13
This 13th issue from Cavan Scott takes us to the Great Hall of the Nihil in a place they call No Space. As Jedi Master Avar Kriss has relentlessly pursued Lourna Dee, we have seen the toll it has taken on her. She has watched fellow Jedi fall in battle, seen others struggle with their inner darkness, all while fighting the darkness inside her that seeks to twist the beautiful melody of the Force into a vengeful tune.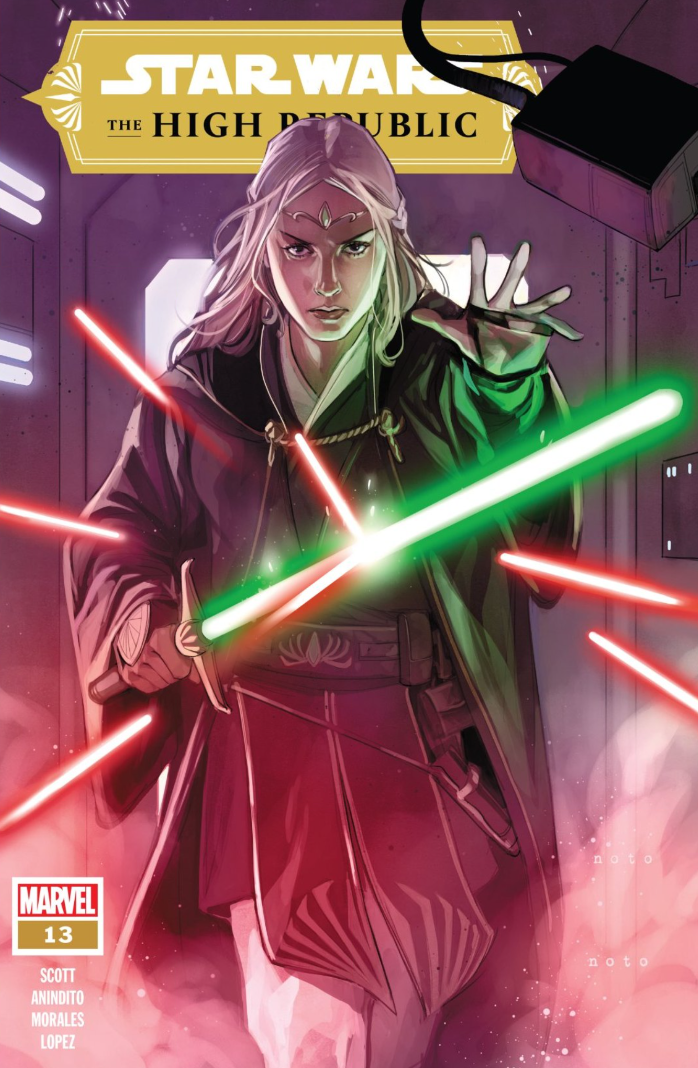 Spoilers Ahead….
A good look here at the Great Hall of the Nihil in No Space as the pirates are looking to regroup after the relentless pursuit of the Jedi. They've dealt many blows themselves, unleashing The Leveler on the Twins Terec and Cerec as well as bolstering up the Nihil's ranks once again.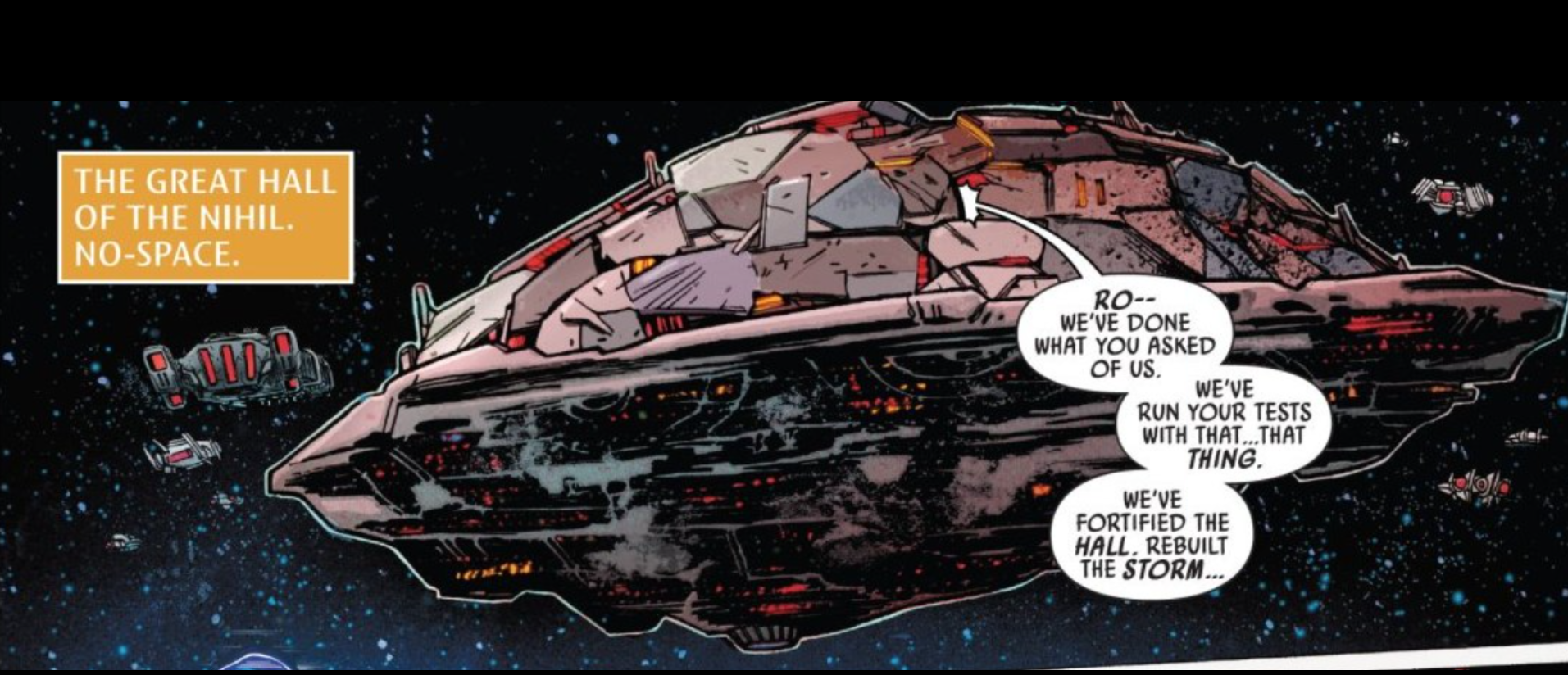 Tempest Runners Lourna Dee and Zeetar clearly have different understandings of the sinister Marchion Ro. Dee actually has a much clearer view than Zeetar, as she realizes Ro is only going to aid them if it's in his own self interest, while Zeetar seems to be a few steps behind. I have always wanted a bit more of Dee and Ro's rivalry to come to a head. I'm not sure we are going to get it, but one can dream.
The Ataraxia catches the Nihil by surprise and immediately opens fire. We know the ship is commanded by Avar, and seeing her just open fire right away on the Nihil lets us know she isn't messing around one bit. It immediately feels personal.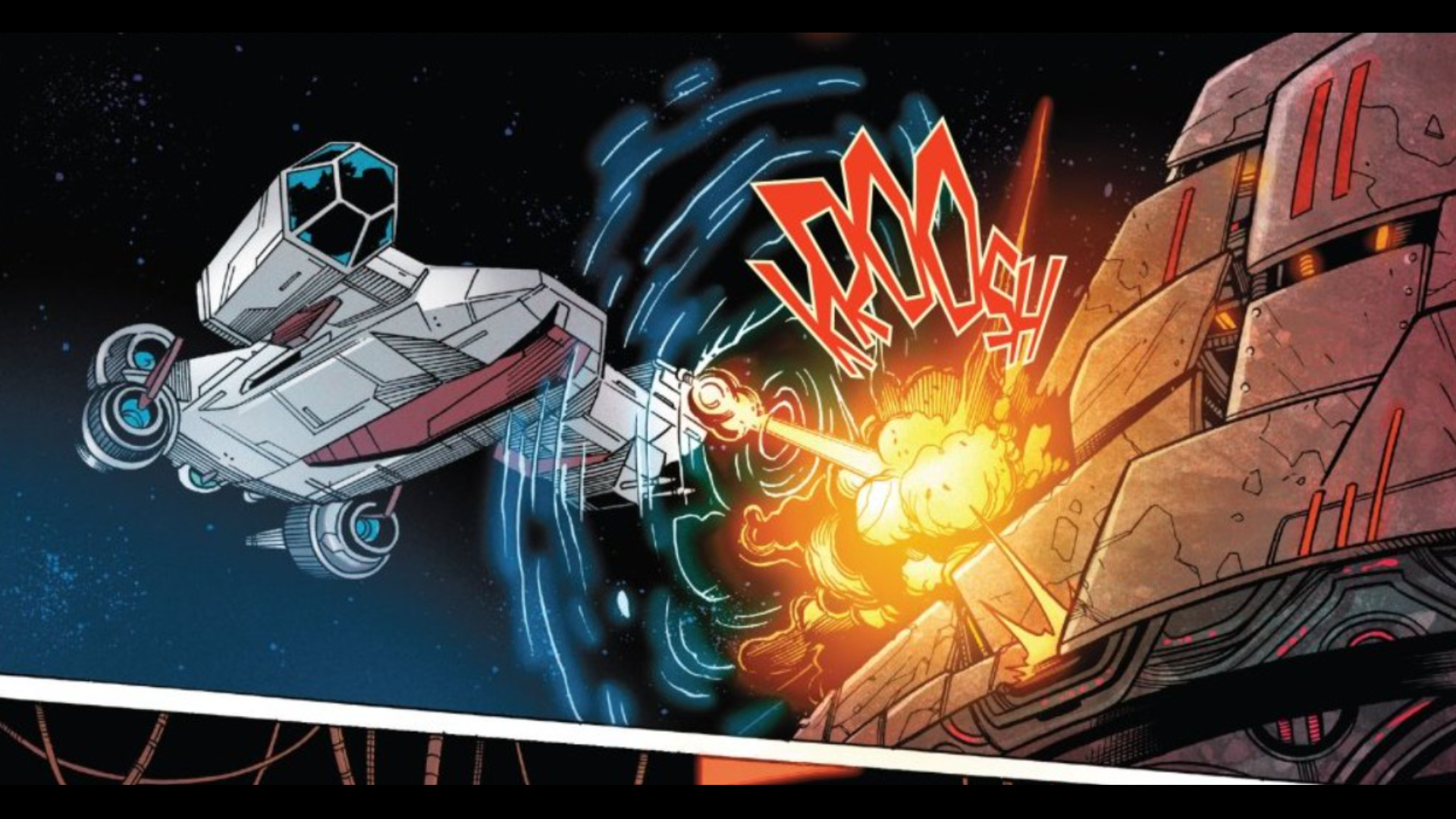 This is just a beautiful page. The Jedi burst through the door with Avar leading the way. There is definitely no doubting the look in Avar's eyes. She is here for the destruction of the Nihil, and if it's not abundantly clear to her fellow Jedi yet, it's about to be.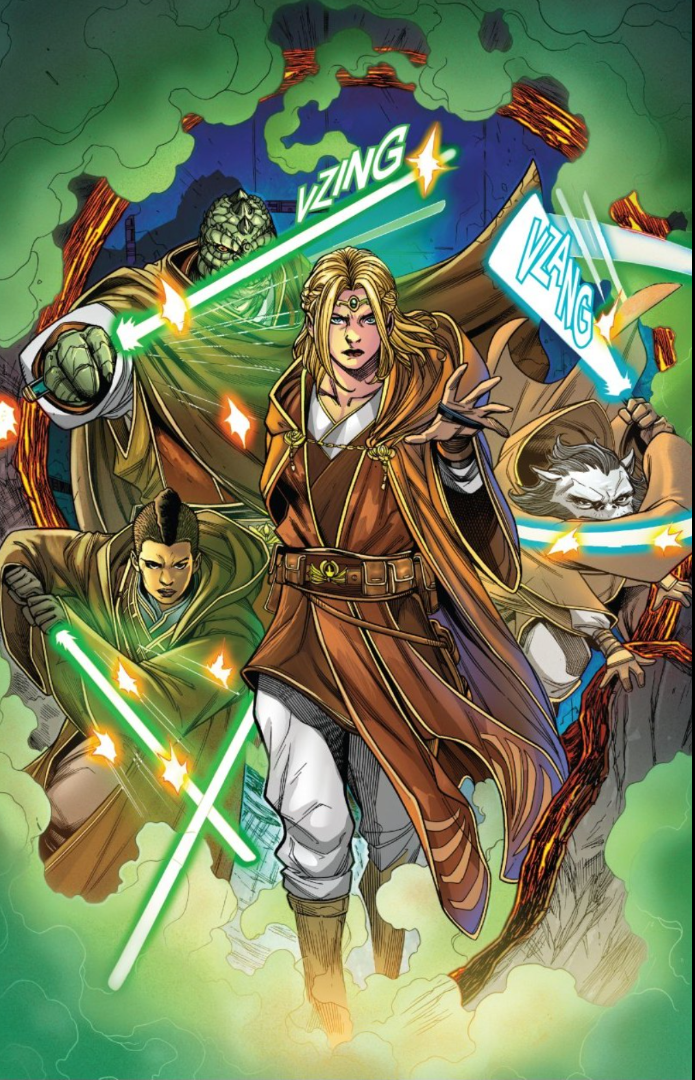 Avar quickly dispatches the Nihil standing in her way, including a merciless death blow to Tempest Runner Zeetar. This sudden dark turn sends Jedi Keeve Trennis after Avar in an attempt to pull her back to the light. They exchange blows in a soul-crushing duel ultimately ending in pain for both parties. This page took me straight back to the opening issue, when Avar knighted Keeve, and left me a little breathless.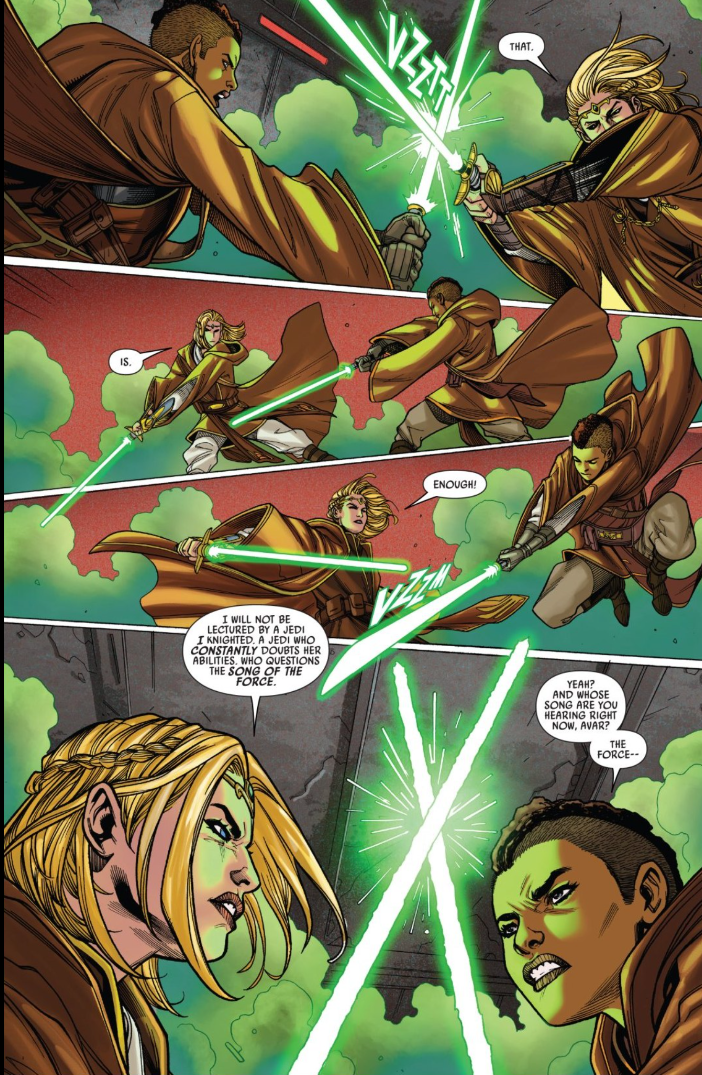 Barging into the corridor is none other than Lourna Dee in a massive suit of armor. Her entrance nearly kills Keeve and pushes Avar's anger to boiling point. These two have been physically and psychologically battling for a while now.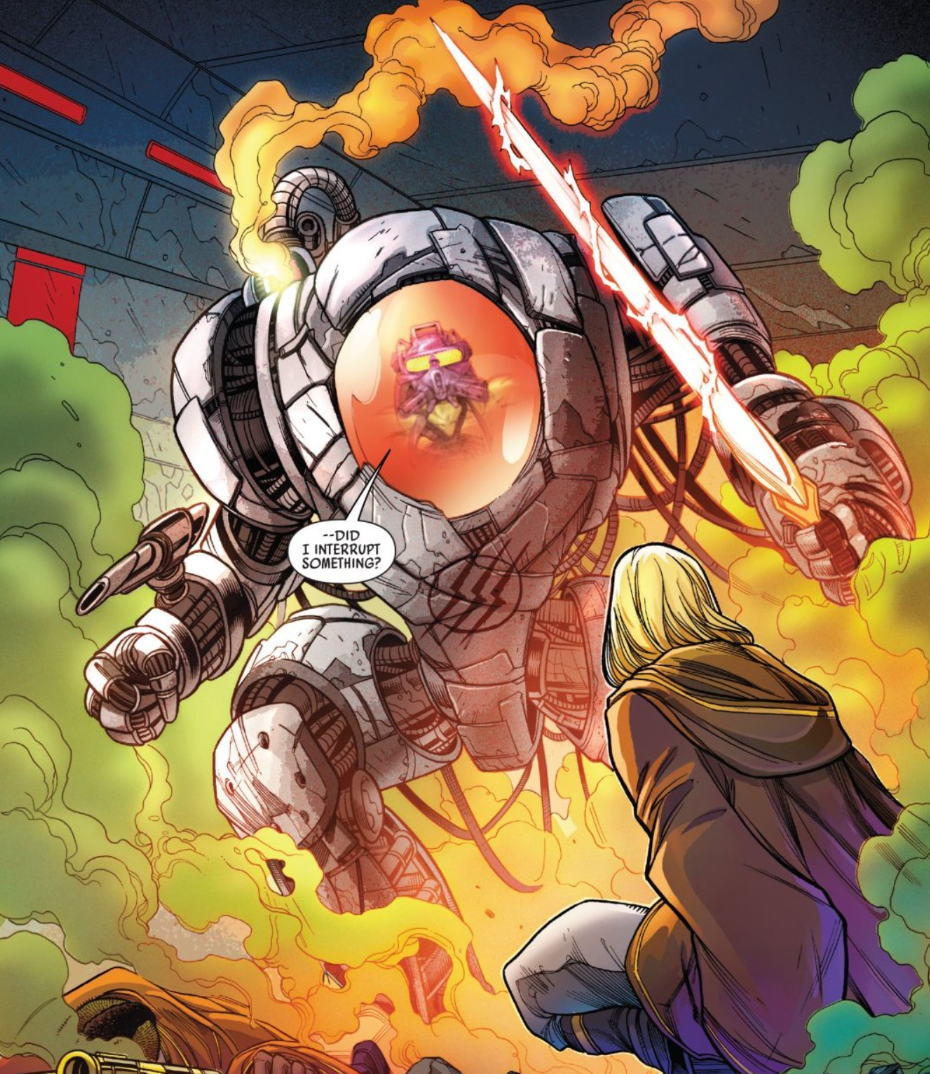 In this moment I felt Avar might've rediscovered a semblance of balance and fallen back into harmony with the song of the Force; earnestly whispering to Keeve she is sorry before mounting an impressive usage of the Force to crush Dee's suit of armor. The feeling of hope and sheer awe I had with this page is incredible. I could almost hear tunes of the Force theme blaring at me through this image.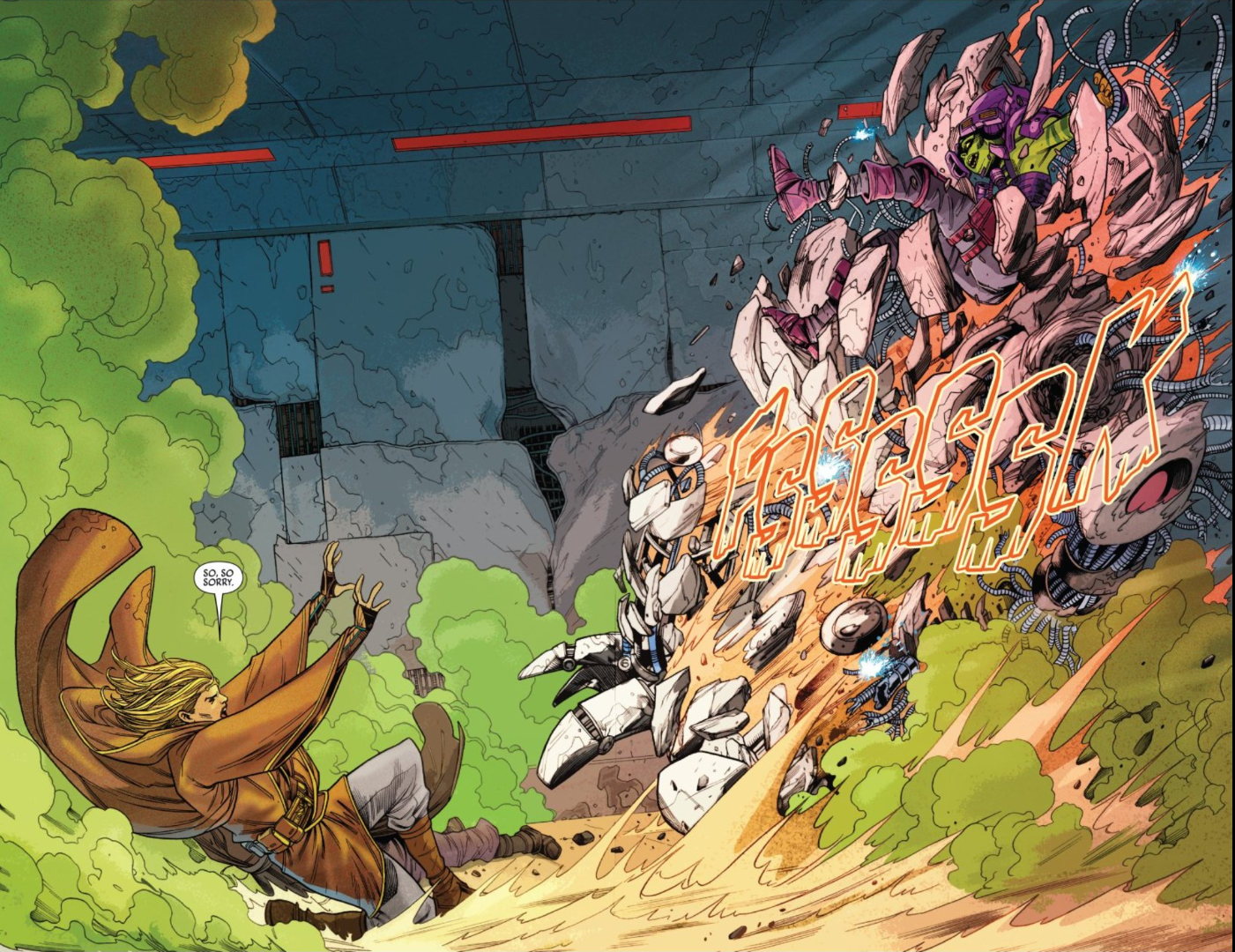 That hope I had was not to last though. In her final stand, Dee pulls out Terec's lightsaber that she acquired after they were husked. This seemingly pushes Avar past a breaking point. Lashing out in anger and rage, she slices right through Dee's wrist, severing the lightsaber from her grasp. 
The last thing we see is Keeve Trennis regain consciousness only to see Avar Kriss having won the battle, only to possibly lose the war. The dark shroud over Avar says it all.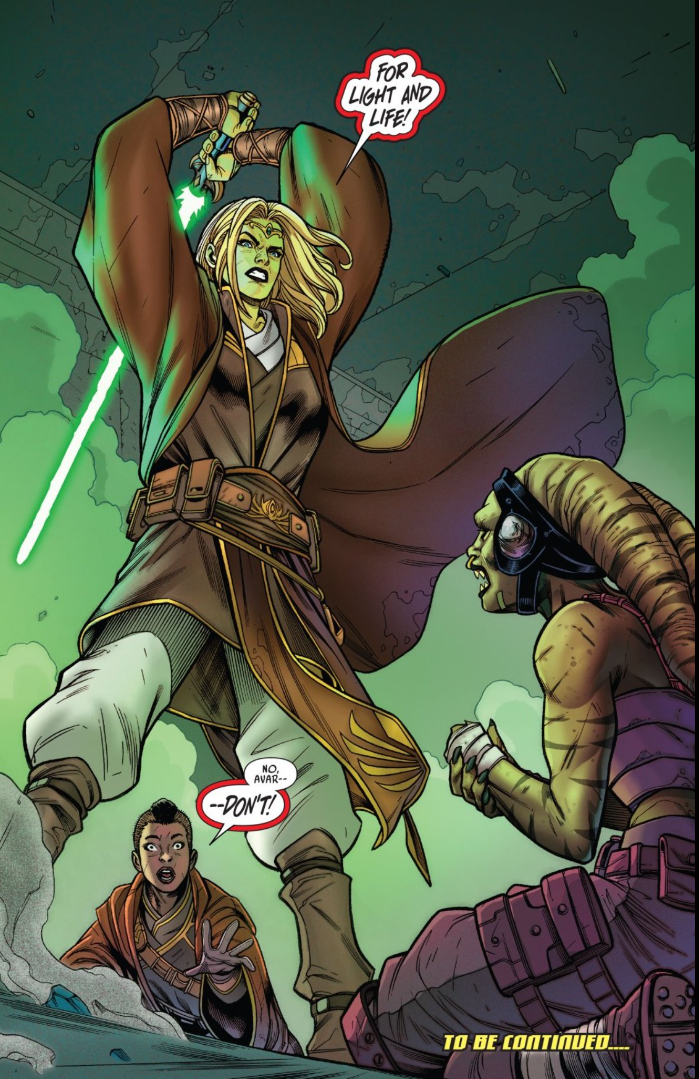 This is another win from Cavan Scott. He is quickly becoming my favorite Star Wars writer, and this issue captivated me from the beginning. Avar might be my favorite character in this era, and seeing her at her worst was difficult, but Scott portrays it with excellence. The artwork from Ario Anindito was simply stunning and carried the necessary weight to complement Scott's writing. I can't wait to see what happens to the Jedi and Dee before the Ataraxia returns to Starlight Beacon. 
Final Rating: 8/10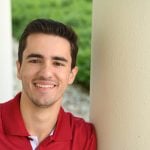 Finding ways to nonchalantly incorporate Star Wars quotes into his daily meetings at work, Tyler lives and breathes Star Wars. His morning tradition is sending the latest number in the countdown for different Star Wars projects and loves engaging in uplifting Star Wars dialogue. If you are passionate about  Star Wars you can follow him on Twitter at TyBrad5.