'LEGO Star Wars: The Skywalker Saga' Arrives in April, Gameplay Overview Released
Right after new rumors and leaks about LEGO Star Wars: The Skywalker Saga surfaced online, Lucasfilm and Warner Bros. Games have stepped out of the shadows to announce the long-anticipated game is finally launching on April 5th.
Moreover, they've released a hefty gameplay overview trailer that details everything we wanted to know about the massive title:
This simply looks like the definitive Star Wars video game, at least if we're talking about the blocky ones. All three trilogies are extensively represented in the game, from The Phantom Menace to The Rise of Skywalker. Furthermore, players will get to explore in detail every corner of the LEGO Star Wars galaxy visited throughout the Skywalker Saga; open-world elements were already present in 2016's LEGO Star Wars: The Force Awakens, but veteran LEGO developer TT Games has taken that structure to the next level. On top of that, space exploration (featuring side missions and massive battles) will also be part of the many adventures included in the game, and the number of playable characters has ballooned all the way to more than 300 stubby Star Wars figures!
Those who were worried these games maybe hadn't aged too well needn't worry, as all Star Wars entries have been rebuilt from the ground up — special attention was given in this gameplay overview to the new combat systems for both melee and ranged encounters. And veteran LEGO Star Wars players might notice quite a few changes to the level design and puzzles in locales we had already visited in other installments. It seems like this will be the perfect entry point to Star Wars gaming for fans of all ages and levels of expertise. And of course, it fully supports co-op across all the offered content. Plus, it appears that old-school cheat codes and alternative visualization/audio modes, bonuses that modern games don't do anymore, are making a comeback as well.
The final seconds of the meaty preview showcase the contents of the (likely limited) Deluxe Edition of the game, which includes the "Character Collection" DLC we mentioned earlier today, an extra cover featuring Darth Vader in all his blocky glory, and a "Luke Skywalker with blue milk" minifigure (included in physical copies only). Check it out below: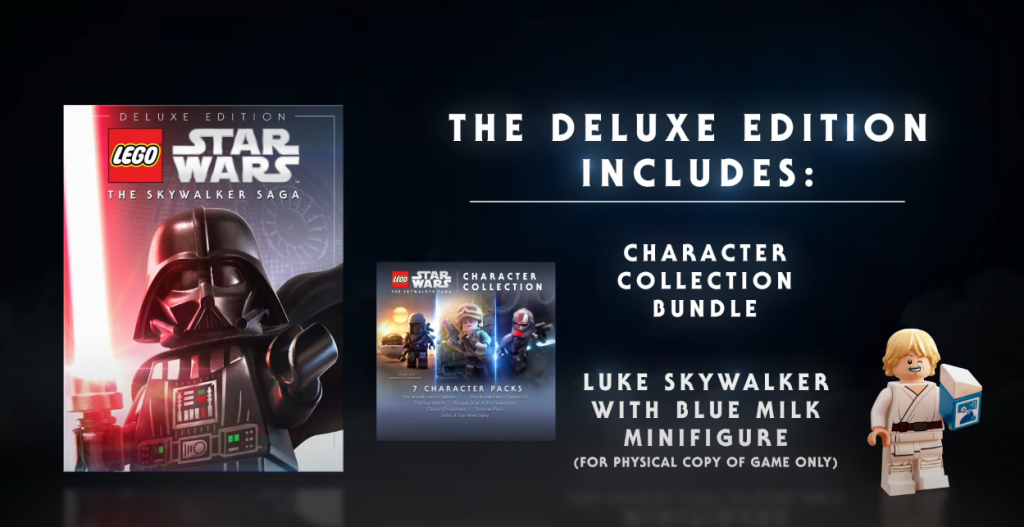 LEGO Star Wars: The Skywalker Saga will be released on April 5th on Nintendo Switch, Xbox One, Xbox Series X/S, and PlayStation consoles, along with Microsoft Windows.
Francisco J. Ruiz is that guy who has watched Jurassic Park a thousand times and loves Star Wars. His hunger for movies is only matched by his love for video games. He graduated in English Studies from the University of Malaga, in Spain. As he keeps writing about what he enjoys (and doesn't) for websites all over, he's continuing his studies.