Danny Trejo Thanks 'The Book of Boba Fett' Team for His New 'Star Wars' Role
"Is that Danny Trejo?" That was the question that likely left many couches as people watched Chapter 3 of The Book of Boba Fett this past Wednesday. Danny Trejo was introduced as the Rancor Keeper, adding to the legendary actor's astonishing 419 acting credits, according to IMDb. Trejo has since taken to Twitter to thank the team for finally bringing him into Star Wars.
Machete finally made it into space, Star Wars! It was great working with Temuera Morrison and others on #TheBookOfBobaFett! pic.twitter.com/xtDCivdm68

— Danny Trejo (@officialDannyT) January 15, 2022
First of all, if you haven't seen Robert Rodriguez's Machete, what are you doing? Not for the faint of heart, the 2010 action movie and its sequel Machete Kills star Trejo as a former special agent who uses a machete and whatever else he can get his hands on to hunt down his enemies in a quest for vengeance. Trejo's character was originally from another of Rodriguez's franchises, Spy Kids, before getting the spinoff movies.
The reference to space in Trejo's tweet is a little play on words for fans of the character, who are patiently hoping for a third movie where Machete would go into space, as teased in Machete Kills. Because where else would a B-movie action hero go? Whether that happens or not, it's cool to see Rodriguez and Trejo teaming back up.
It's also cool to see just how many practical elements are in The Book of Boba Fett. Of course the original rancor used in 1983's Return of the Jedi was a puppet created by ILM. You can read more facts about the wizardry they performed in shooting Luke's fight with the rancor here. Whether this new rancor will stay practical when Boba Fett learns to ride the beast, time will tell. I'd suspect not given our exclusive report on the matter which you can read here. But beware of spoilers if you're trying to avoid them.
For more on Trejo and a deep dive on the rest of Chapter 3, check out our review as well as this week's edition of The Mando Fan Show.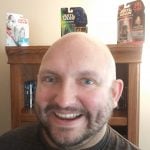 Nate uses his love for Star Wars and movies in general as a way to cope with the pain of being a Minnesota sports fan. When he's not at the theater, you can usually find Nate reading a comic, listening to an audiobook, or playing a Mario video game for the 1,000th time.