Week In Review: 'Boba Fett' Recap, Return Of 'Mando Fan Show', 'Ahsoka' Feature, And More
What a week! The Book of Boba Fett finally debuted on Disney Plus and created quite the social media stir with reveals, scenes, and a promise for more action as more chapters of this bounty hunter "book" release.
Unsurprisingly, most of our news focused on Boba Fett — with the return of The Mando Fan Show, special featurettes, our first episode review, and a spotlight on the music behind the series. But this week also featured a cool Rogue One interview, a teasing excerpt from an upcoming High Republic novel, and a unique introspective exploration of characters that could appear in the Ahsoka series.
Here's your quick and easy guide to what you may have missed from this past week (Saturday, Dec. 25 – Friday, Dec. 31). Browse the teasers below and click each story to read more. Happy New Year — we can't wait to see what 2022 brings in one of the biggest Star Wars years yet!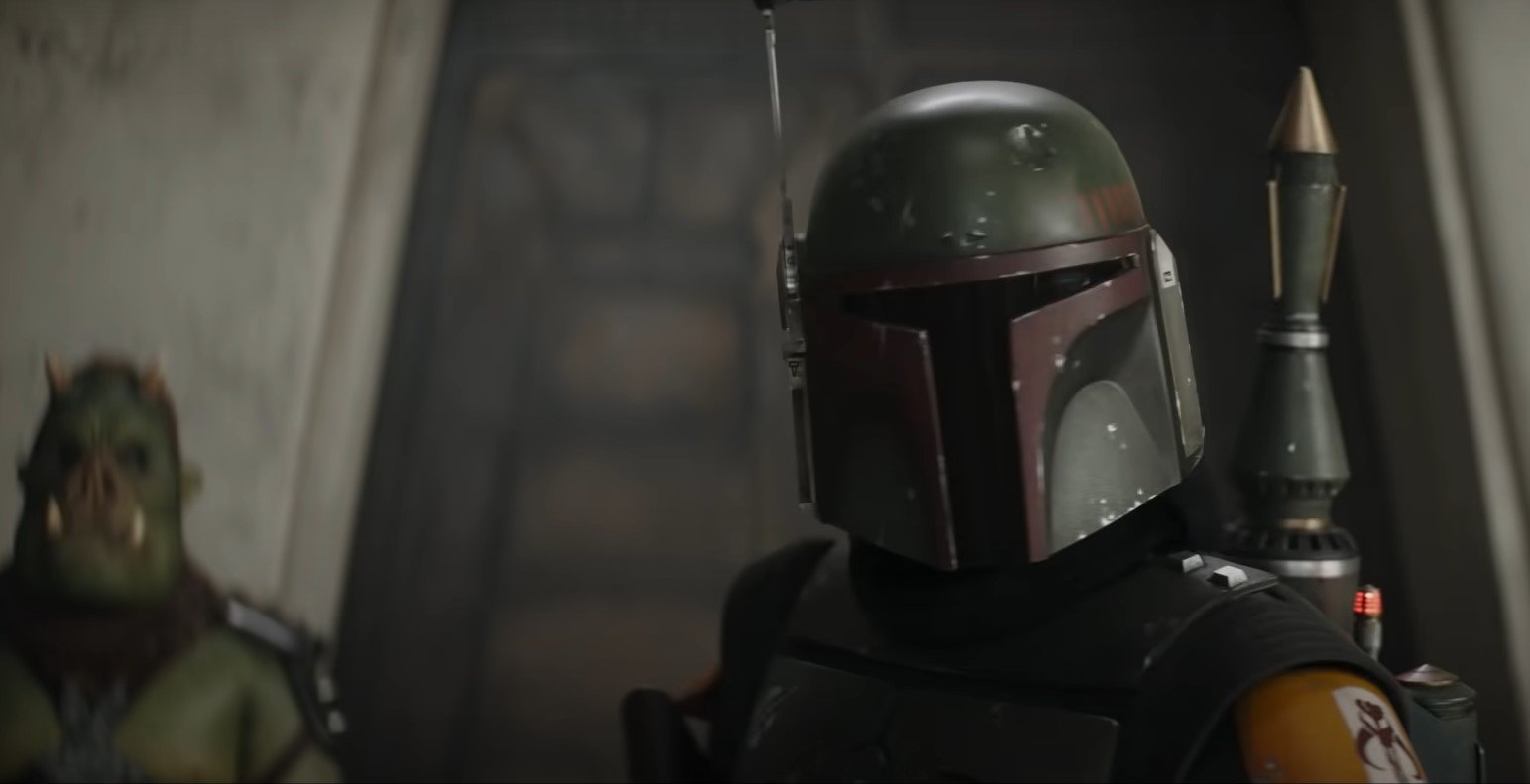 Movies / TV
Dec. 29 – 'The Book of Boba Fett' Was Composed by Joseph Shirley; Main Theme by Ludwig Göransson
As the first episode of The Book of Boba Fett arrived on Disney Plus Wednesday morning, Oscar-winning composer Ludwig Göransson announced on his Instagram account that, while he composed the main theme, it is Joseph Shirley who composed the rest of the series' original soundtrack.
Dec. 29 – Dave Filoni and Robert Rodriguez Praise Temuera Morrison's Performance in New 'The Book of Boba Fett' Featurette
The Star Wars YouTube account has released another short featurette about Boba Fett while promoting The Book of Boba Fett, this time focusing on what it's like for Temuera Morrison to play the iconic bounty hunter. Watch the feature with brief snippets of actor Temuera Morrison, Dave Filoni, and director Robert Rodriguez.
Dec. 29 – Review: 'The Book of Boba Fett' Chapter 1 "Stranger in a Strange Land" Is More of a Prologue Than a Chapter
"Temuera Morrison has come full circle in his Star Wars journey, first playing Jango Fett, and now his unaltered clone and son, Boba. The actor had previously revealed the show would present us with flashbacks, and this first chapter spent most of its time doing just that…" Read our full review of episode one! Beware of spoilers.
Dec. 29 – Newsy's Clayton Sandell Hypes the History and Return of Boba Fett in New Feature
Friend of the Star Wars News Net, world news correspondent, Star Wars nerd, and frequent guest of The Mando Fan Show Clayton Sandell has joined the party, as he produced a dynamic four-minute feature in which he spoke with several Boba Fett super-fans about the character. Sandell is joined by Vanity Fair's Anthony Breznican, Gustavo Pérez, from The Boba Fett Fan Club, and Matt Jordan from the 501st Legion, for an informal chat about the galaxy's coolest bounty hunter!
Dec. 28 – 'The Book of Boba Fett' Releases Last Batch of Promo Videos and Clips Before Series Debut Tomorrow [Dec. 29]
Two fascinating videos were released prior to The Book Of Boba Fett debut, including an interesting "cliff notes" version of Boba Fett's history to catch audiences up to speed as to where his journey began and where he finds himself now.
Dec. 28 – Lucasfilm Enlists 'Monsters at Work' and 'The Rocketeer' Animation Studio for Unannounced CG Series
What could it be? A job listing has revealed that CGI animation group ICON Creative Studio, the animation group which has done work on Disney shows Elena of Avalor, The Rocketeer, and Monsters at Work, has been collaborating with Lucasfilm Animation on a currently unannounced "high-end" CG animated series.
Dec. 27 – Editorial — Ahsoka Series Character Introspection: Diving Deep on Characters We Expect to See
Check out our introspective dive into the potential mental and emotional state of characters we expect to see in the Ahsoka series.
Dec. 26 – Rumor: Mystery Lucasfilm Project Currently Filming at Pinewood Studios
Rumor has it that a new Lucasfilm project has been filming clandestinely at Pinewood Studios. Fantha Tracks has reported that a new project has already started production, beginning filming back in November. At this time, it is not clear if this Lucasfilm project is also a Star Wars project, but the possibility of it being one seems likely if the report is true…
Dec. 26 – Five Years Later, Felicity Jones Talks About Playing Jyn Erso in Rogue One: A Star Wars Story
Hard as it may be to believe, Rogue One: A Star Wars Story, the first film spinoff of the Skywalker Saga, recently had its five-year anniversary. We've already seen interviews with director Gareth Edwards, and crew members John Knoll and Hal Hickel as part of the celebration, and now the movie's leading lady has spoken about her experience with the project as well.
Dec. 25 – New 'The Book of Boba Fett' Spot 'Arrival' Lands on Christmas
In this exciting Christmas promo, we get a glimpse of some new brief scenes and dialogue. As we've seen in previous spots, Fett has the clear intention to take over what appears to be the Crime Syndicate of Tatooine.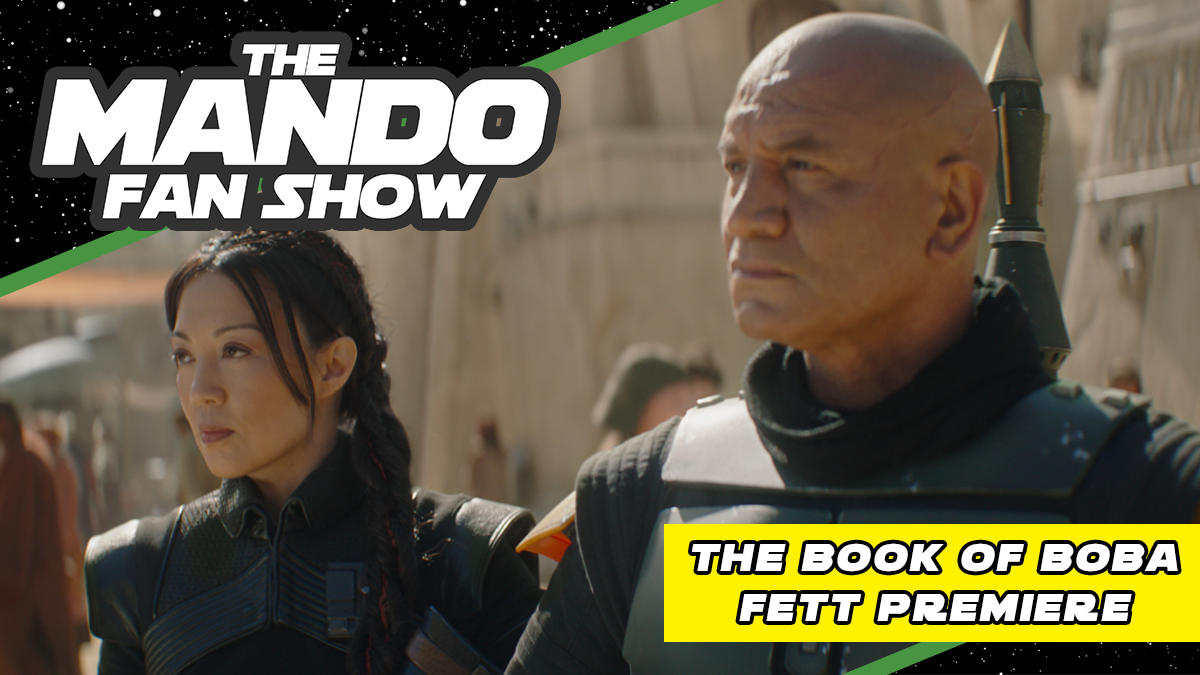 Podcasts / Videos
Dec. 30 – The Mando Fan Show: 'The Book of Boba Fett' Chapter 1 Review (Video and Audio)
It's back! The popular Mando Fan Show has returned to cover to cover Chapter 1 of The Book of Boba Fett "Stranger in a Strange Land". We rate the chapter using Temuera Morrison Faces on a scale from 0 to 10 "Tems", point our Easter eggs and references, have an open discussion about the episode, and speculate on what will happen next week! We also give you the first number in the "Mando Code" giveaway contest!
Dec. 30 – Sith Council — Spoiler Review of 'The Book of Boba Fett' Chapter 1
Kristian Harloff is back this week with his Star Wars show "Sith Council," where he discusses in great detail the opening episode of The Book of Boba Fett, "Stranger in a Strange Land," which sees the return of the title character played by Temuera Morrison, along with Fennec Shand (Ming-Na Wen).
Dec. 27 – The Resistance Broadcast – How Long Will Boba Fett and Fennec Shand's Relationship Last?
Boba Fett and Fennec Shand have teamed up, but with The Book of Boba Fett being heavily influenced by crime/gangster movies, just how long with that relationship last? We discuss that and give our takes on all the latest Star Wars news, including this mysterious Tales of the Jedi project, the potential reveal of more Star Wars Visions, the latest on Obi-Wan Kenobi, and more!  We also feature your tweets!


Toys / Video Games / Books / Comics
Dec. 28 – Review – Embrace Mindfulness With 'Inner Jedi: A Guided Journal for Training in the Light Side of the Force'
If the last few years can teach us anything, it's that sometimes it's good to slow your mind down. Mindfulness through meditation and self-reflection are tenets of the Jedi Star Wars often hints at. Sometimes it's difficult to put down your phone or close your laptop, and even the most disciplined practitioners of mindfulness can use some help. For Star Wars fans looking to look inward while documenting those reflections, Insight Editions offers Inner Jedi: A Guided Journal for Training in the Light Side of the Force.
Dec. 28 – 'Star Wars: The High Republic – The Fallen Star': New Excerpt Teases Jedi Casualties
The end of "Phase I" of the High Republic is right around the corner, and the adult novel narrating the events is Claudia Gray's The Fallen Star, which will hit shelves on January 4th. io9 released a brand-new excerpt from the new book, as well as a few quotes from author Claudia Gray, revealing that her dreams have come true: readers are suffering alongside the characters.
Dec. 27 – Review – Making Plans for Crimson Dawn in Marvel's Darth Vader #19
Crimson Dawn continues to rattle the Empire – all the way to the top! Despite the Emperor dispatching Darth Vader to deal with the crime syndicate, Qi'ra and her agents are always one step ahead. Writer Greg Pak wastes no time throwing the Dark Lord of the Sith as a wrench into her plans. Vader can take his time when he needs to, but there is urgency in his pursuit this time. While following a fresh lead, he learns the Empire may already be too late.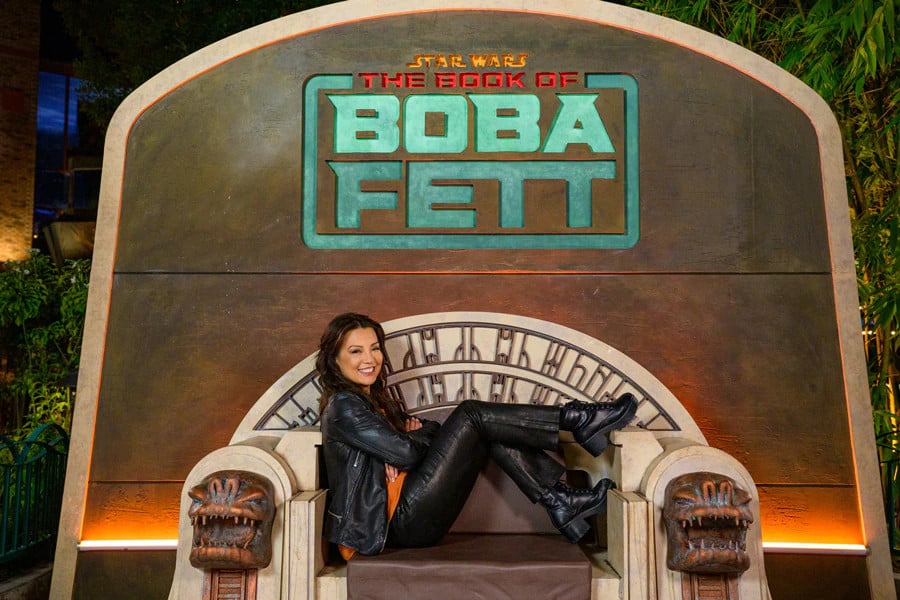 Destinations / Celebrations
Dec. 30 – Ming-Na Wen Promotes 'Star Wars: Galaxy's Edge' in New Video
Ming-Na Wen (Fennec Shand), recently stopped by the Disneyland Resort and paid a visit to Star Wars: Galaxy's Edge. She recorded a video preview of the destination!
Dec. 25 – Merry Christmas and a Happy New Year from Star Wars News Net
This year has been just as tough as the last one, but we continue to enjoy writing about Star Wars and keeping you up to date with what's new in the galaxy far, far away. Here's our holiday greeting to our dedicated readers and fans!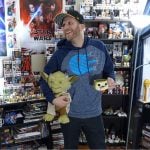 Tony Gorick is a self-proclaimed candy connoisseur with a passion for Star Wars and roller coasters. Whether he's working at his friend's arcade or watching classic Saturday morning cartoons, he does so with unsettling enthusiasm.