The War Begins in New 'The Book of Boba Fett' TV Spot
The marketing train rolls on as we approach two weeks from the premiere of The Book of Boba Fett on Disney Plus on December 29th. The past few weeks have seen several new looks in the form of short TV spots and longer teasers with incredibly familiar seismic sound design. Today is another one of those short TV spot days, but the new preview features some new dialogue as our title character prepares for war. Check it out below!
The spot features new shots from various fights with mysterious masked men in red. They are probably just your average grunts for the larger baddie in the show, but it should still be a lot of fun seeing Fett and Fennec Shand go to war with them and whoever is pulling their strings.
We are definitely "ready" here at Star Wars News Net. Stay tuned for more coverage as we get closer to the debut of The Book of Boba Fett on December 29th.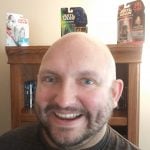 Nate uses his love for Star Wars and movies in general as a way to cope with the pain of being a Minnesota sports fan. When he's not at the theater, you can usually find Nate reading a comic, listening to an audiobook, or playing a Mario video game for the 1,000th time.