Rumor: Mystery Lucasfilm Project Currently Filming at Pinewood Studios
Rumor has it that a new Lucasfilm project has been filming clandestinely at Pinewood Studios.
Fantha Tracks has reported that a new project has already started production, beginning filming back in November. At this time, it is not clear if this Lucasfilm project is also a Star Wars project, but the possibility of it being one seems likely if the report is true – overall, there are only three non-Star Wars projects that Lucasfilm have announced, between Indiana Jones 5, Willow, and Children of Blood and Bone, and the first two are already filming in the UK while the last one does not yet have a start date. All three projects are not also sci-fi projects, so it seems likely that, based on what little knowledge is available, that this is going to be for a Star Wars project of some kind.
Details on what this Lucasfilm production are scarce, but it is said that the project has practical sets that are visually distinct from previous live-action productions, possibly suggesting that the new project could be set in a different era of Star Wars than anything previously explored in live-action. With that in mind, it seems most likely that the project in question may be The Acolyte, which will shoot in the UK starting in May, and has recently found its lead actor. We also recently learned of the possible title of a show in the form of Tales of the Jedi, and it's possible that this mystery production could be tied to that, but many have assumed that the title is going to be animated based on a bit of circumstantial evidence. There's also the possibility that the project may be the Lando miniseries, as it's likely that if Billy Dee Williams is involved with that show, they would want to film his scenes before anything else, although a lack of updates makes that similarly unlikely.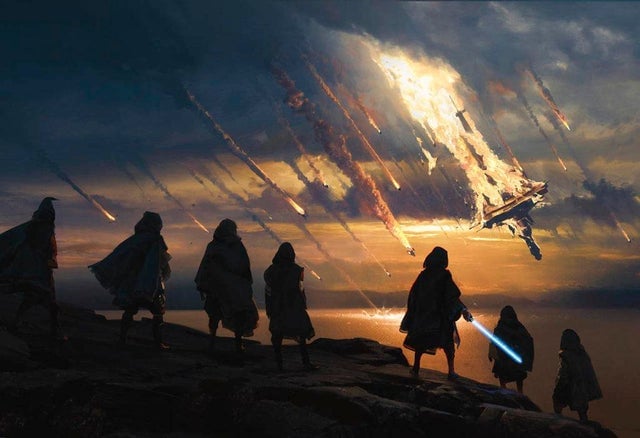 While it's likely that the upcoming Lucasfilm project that's said to be filming at Pinewood will be a Disney Plus production, there's also the possibility that the groundwork for the alleged 2023 film that is believed to be taking the release window planned for Star Wars: Rogue Squadron could be doing a bit of early work. (Rogue Squadron and Wonder Woman 3 remain priorities for director Patty Jenkins, who stepped down from directing the upcoming Cleopatra movie to focus her efforts on those two blockbuster film projects.) It was said that Lucasfilm had a back-up project that may be ready for 2023 while Rogue Squadron gets more time in pre-production, with word suggesting that it would be set in either the High Republic or Old Republic eras.
As it stands, there are very few clear answers for what this new project may be, but that won't stop us from speculating. We'll be sure to keep you updated as we learn more about the future of the various productions happening under Lucasfilm.
Grant has been a fan of Star Wars for as long as he can remember, having seen every movie on the big screen. When he's not hard at work with his college studies, he keeps himself busy by reporting on all kinds of Star Wars news for SWNN and general movie news on the sister site, Movie News Net. He served as a frequent commentator on SWNN's The Resistance Broadcast.