Review – Making Plans for Crimson Dawn in Marvel's Darth Vader #19
Crimson Dawn continues to rattle the Empire – all the way to the top! Despite the Emperor dispatching Darth Vader to deal with the crime syndicate, Qi'ra and her agents are always one step ahead. Writer Greg Pak wastes no time throwing the Dark Lord of the Sith as a wrench into her plans. Vader can take his time when he needs to, but there is urgency in his pursuit this time. While following a fresh lead, he learns the Empire may already be too late. SPOILERS AHEAD….

Pak continues to tug at our heartstrings by returning to the signs of Anakin's descent. These flashbacks feel more effective when used sparingly. They've been tossed into several issues now and feel a bit randomized. It's well established Padmé and Shmi still haunt him. If these are to suggest there is some morality stirring inside of Vader, this is telling and not showing, as his actions in the story don't align.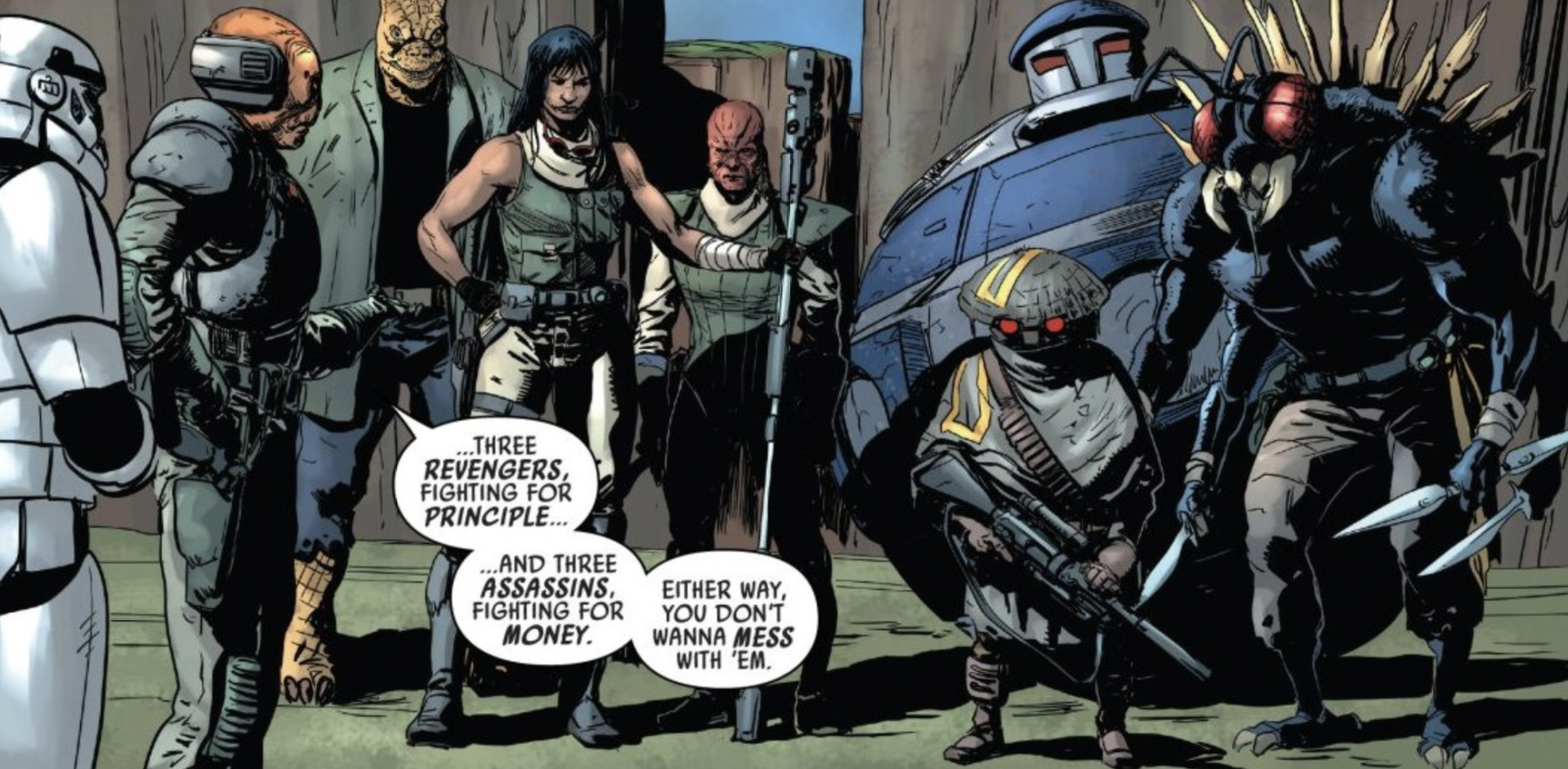 On the planet Laecor, Vader assembles a motley group to take on Crimson Dawn. Now working with a newly restored Beilert Valance (Bounty Hunters), Vader and Ochi corral a group of three Revengers and three assassins. Revengers seek to right the wrongs done to them by Crimson Dawn. There will be some interesting parallels between the Revengers and the Orphans – a group working with Crimson Dawn, made up of those orphaned by the Empire. They investigate a recent Crimson Dawn attack on a village unwilling to pay its tribute. When the Stormtroopers assigned to the detail begin taking matters into their own hands, Vader suspects something is up.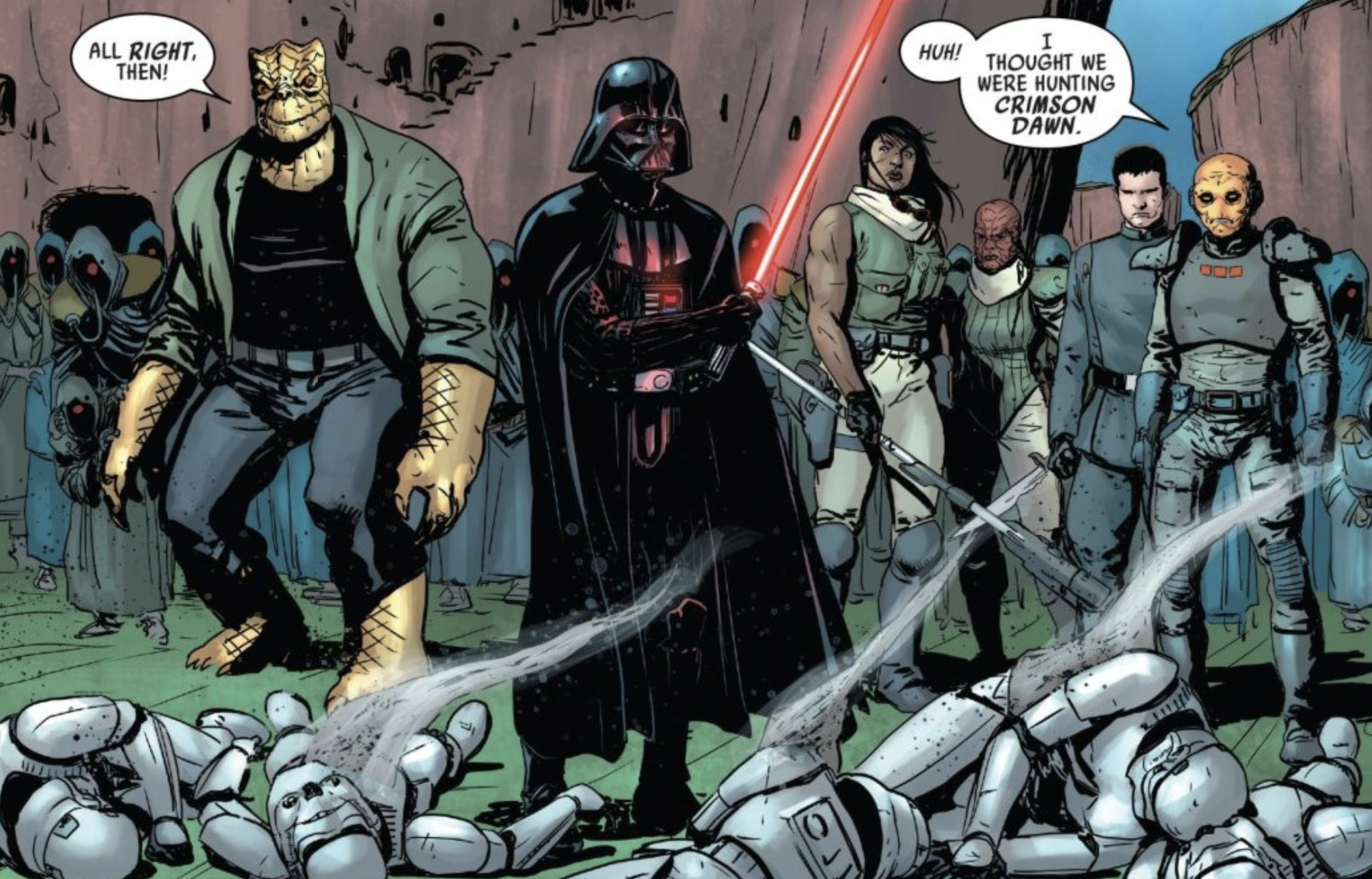 When Vader realizes the Stormtroopers ignored Crimson Dawn's attack (and that's never explained), he kills them all. Perhaps Pak is suggesting this is some kind of demonstration by Vader to warn his recruits. Ochi makes it clear Vader isn't much for explanations. Upon closer inspection, they learn Vader's instinct was right and that the bucket heads were indeed Crimson Dawn. After Beilert confirms his reluctance to work with Vader, he confides in the new recruits they are all just bait to lure Crimson Dawn.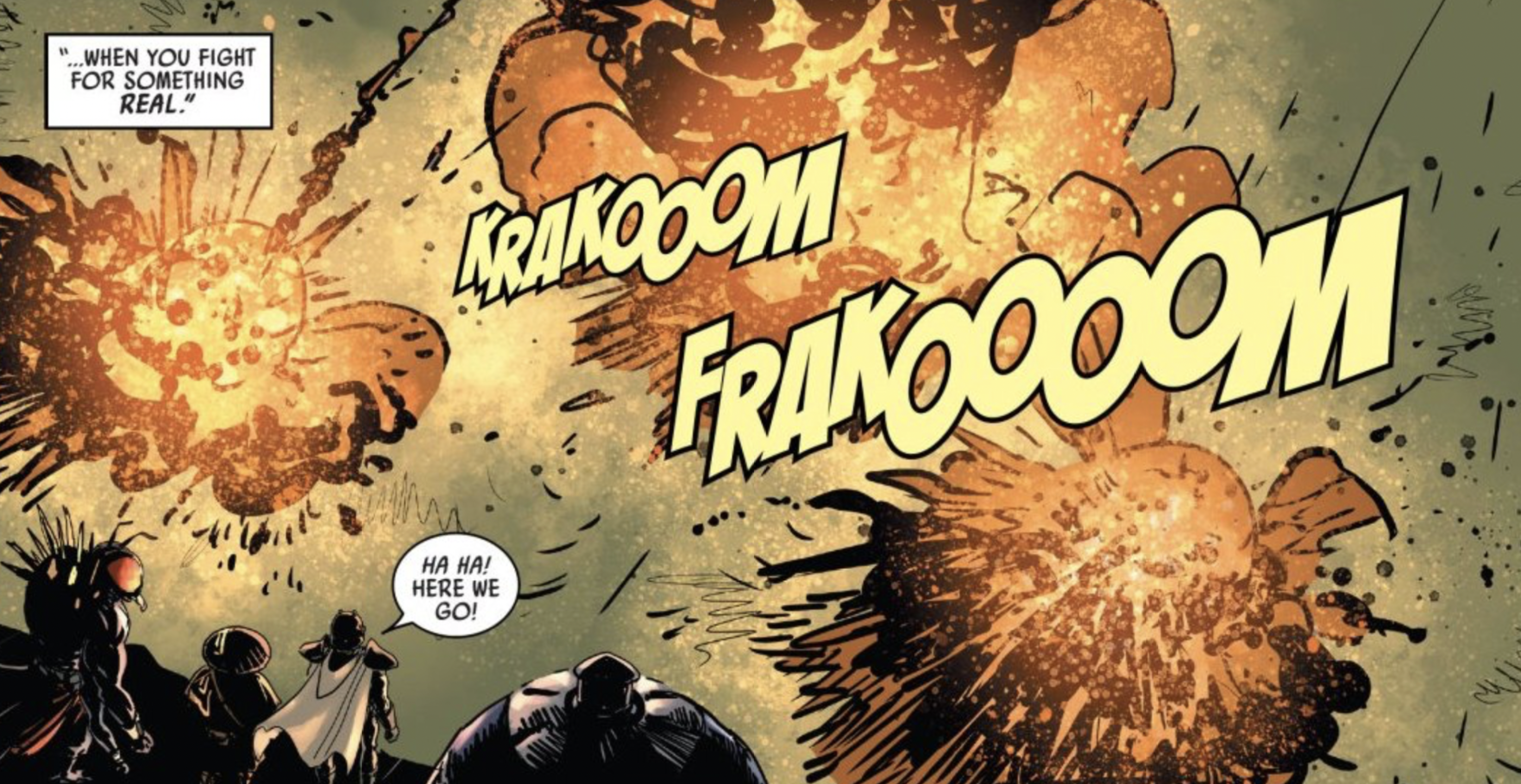 Crimson Dawn can't resist the bait. Vader throws Ochi into the mix. My guess is Vader knows Ochi is working with Crimson Dawn at this point and is toying with him. Ochi falls into the battle when the shooting starts. It's complete chaos as blasters light up the canyon Valance and the crew hide in. Then, Vader decides to join the fight.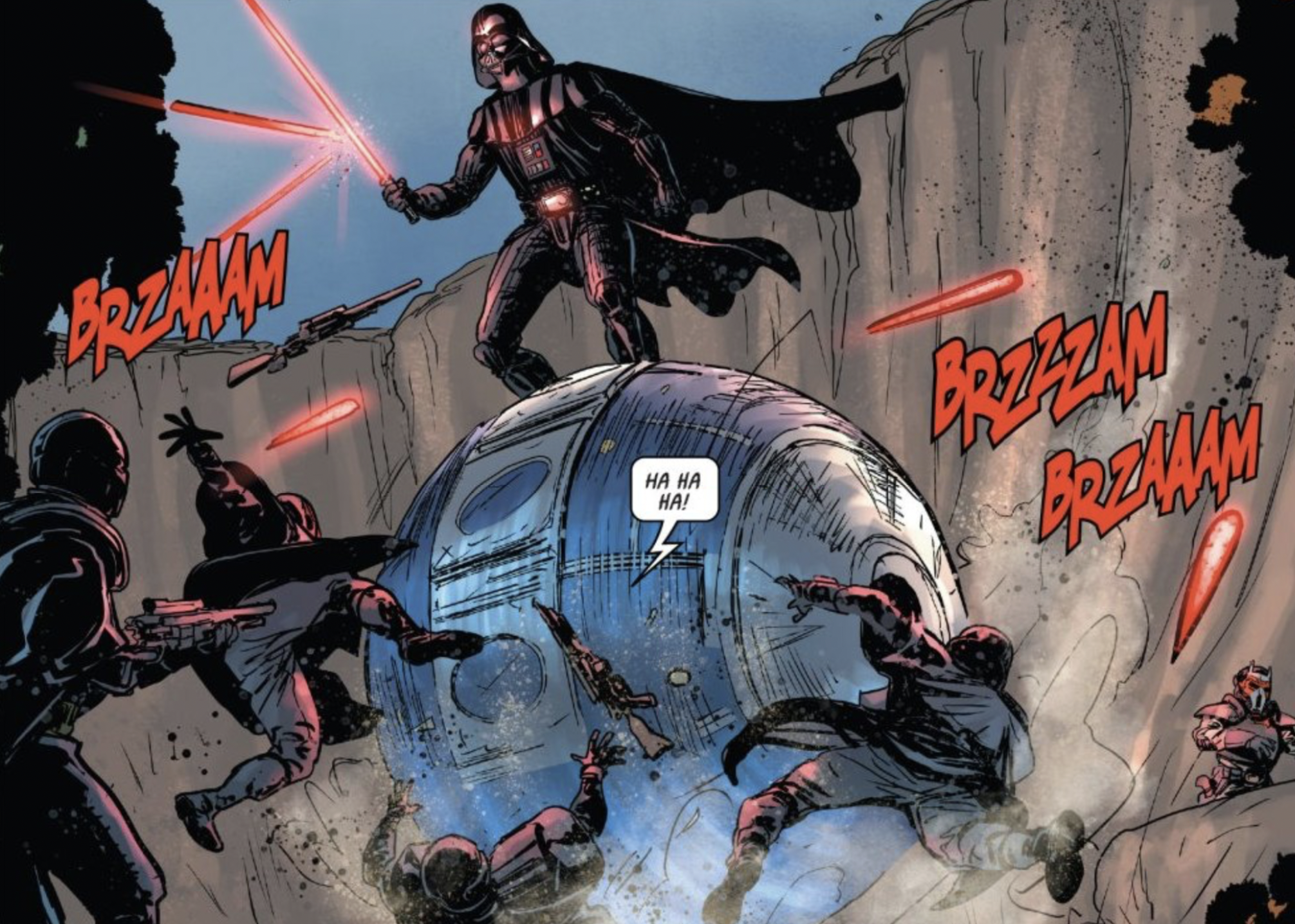 Vader goes surfing on his trusty new droid, Gee-Ninety. I'm happy Vader's found a new droid friend who enjoys killing Crimson Dawn agents as much as he does. Vader's plan becomes clear when a Crimson Dawn base reveals itself. Valance, Ochi, and Vader make their way inside. Ochi is desperate to kill every Crimson Dawn agent in their path to ensure he's not identified. When they reach the main communication hub, Vader learns what we've known all along.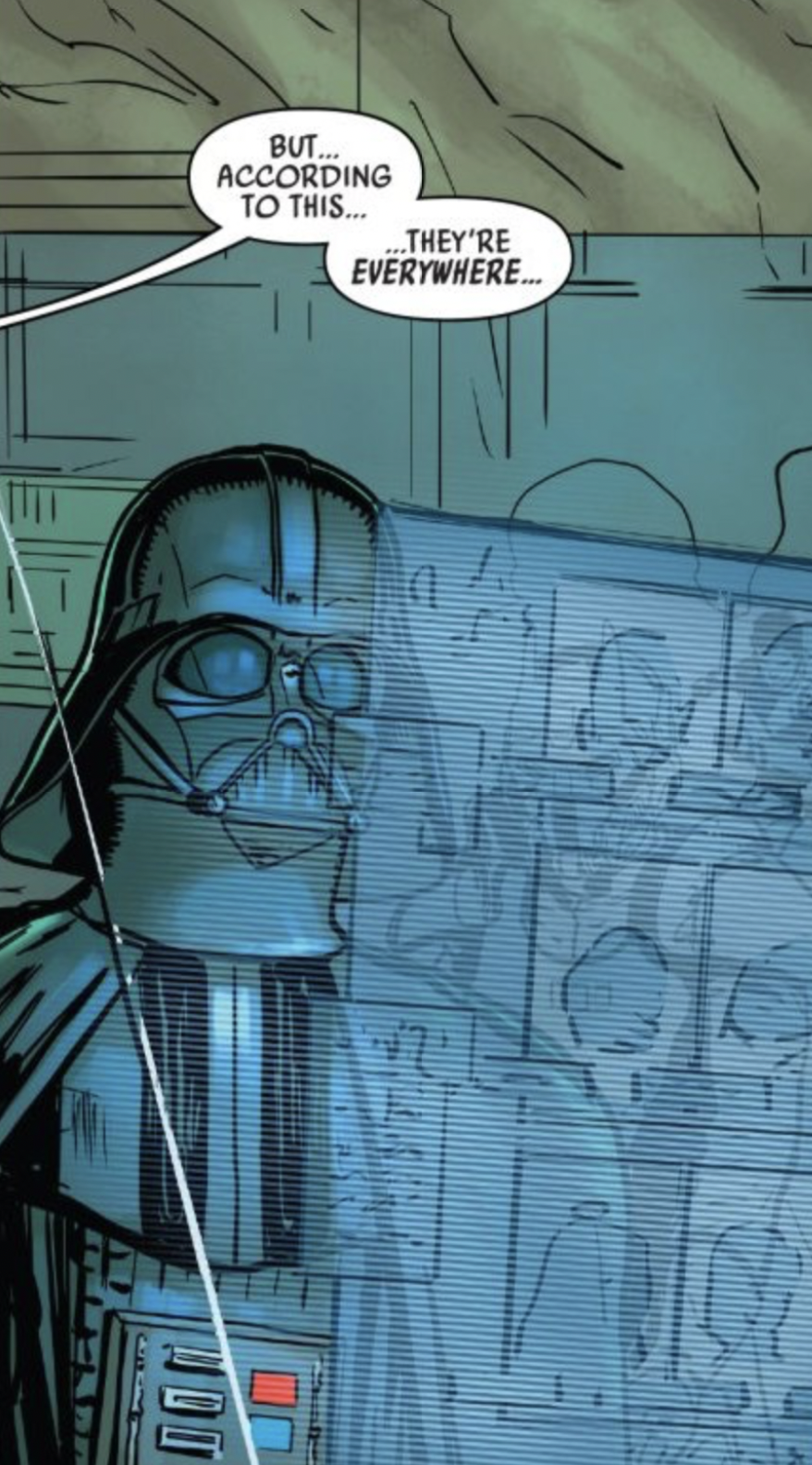 Ochi does a good job of being shocked, and Beilert is genuinely so. Vader accepts the challenge. Crimson Dawn is everywhere.
This issue feels very thin. Pak throws a lot into the kitchen sink, but little of it serves the story. I appreciate the prequel love and the ambition, but less is always more when it comes to Vader, in my opinion. The more action in this issue distracts more from the story, failing to add any tension or intrigue. The art by Guiu Vilanova is great, but ultimately does more heavy lifting for the story than it should. This new contribution to the Crimson Dawn arcs across all Marvel Star Wars titles doesn't promise a lot of new ground for the dark lord, so we'll have to keep our fingers crossed that Vader is taken to more interesting places.
RATING: 5/10
Kyle Larson lives in Portland, Oregon. When he's not running trails, he's reading and writing.