Review – Jedi on the Edge in Marvel's The High Republic #12
Writer Cavan Scott is warning us things are about to get very rough in the galaxy far, far away. The High Republic began with hopeful sentiment which is on the verge of crumbling. On Starlight Beacon, no one escapes the wear of Nihil and Drengir assaults over the course of these stories. As the Jedi plan their next move, Master Avar Kriss must face some uncomfortable truths, about those in her order and, most importantly, herself. SPOILERS AHEAD….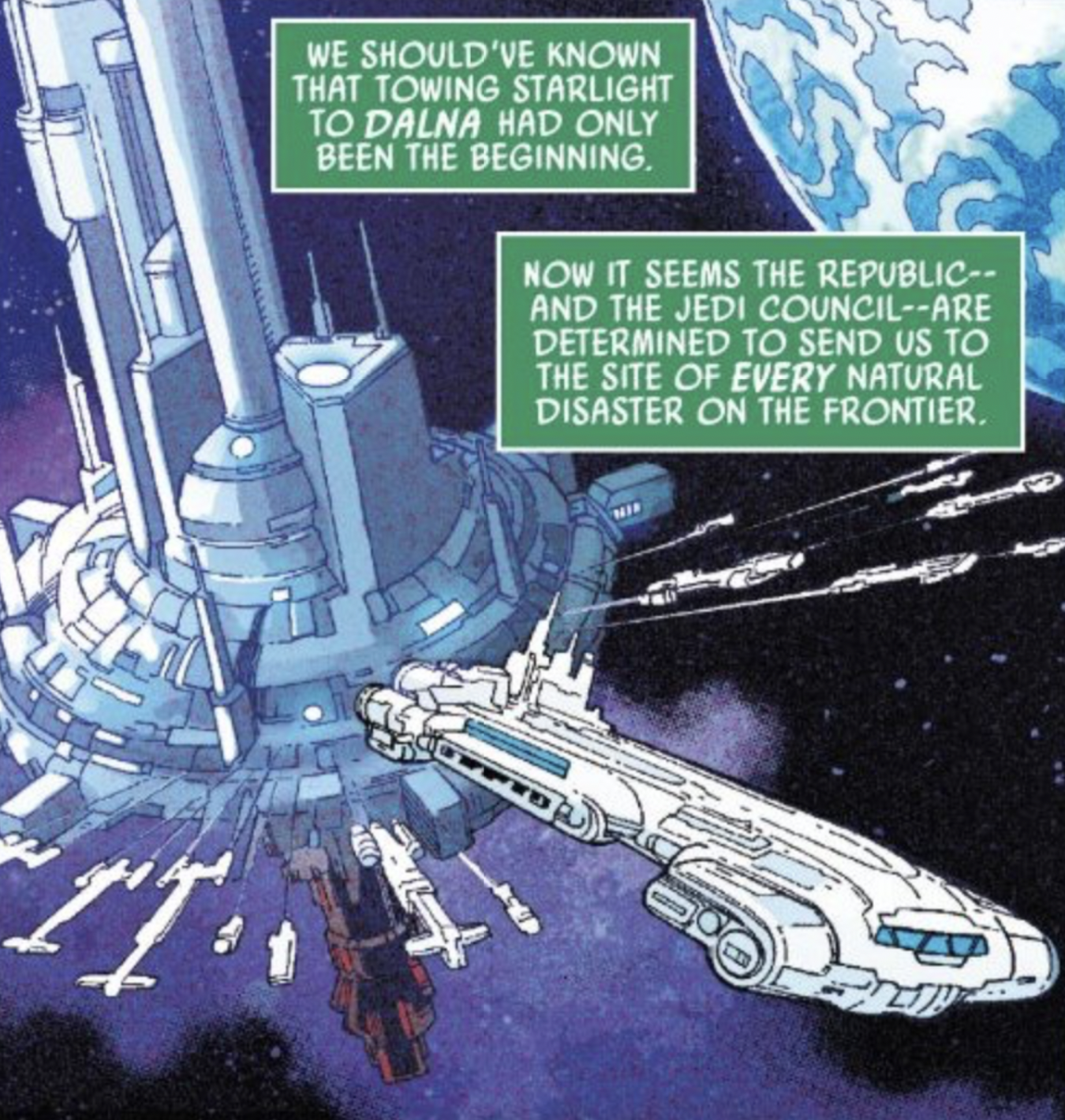 The plan for Starlight Beacon has always been outreach in the nature of symbolism. So far, it's been forced to act as a battle station. First fending off a drengir attack, and now operating as a crisis center for various disasters. It's a good thing the Jedi and the Republic have their best aboard. As Master Kriss, Maru, and Keeve Trennis receive a briefing from Stellan Gios on their next mission, we learn what happened at the battle of Xais and why Sskeer isn't standing with them.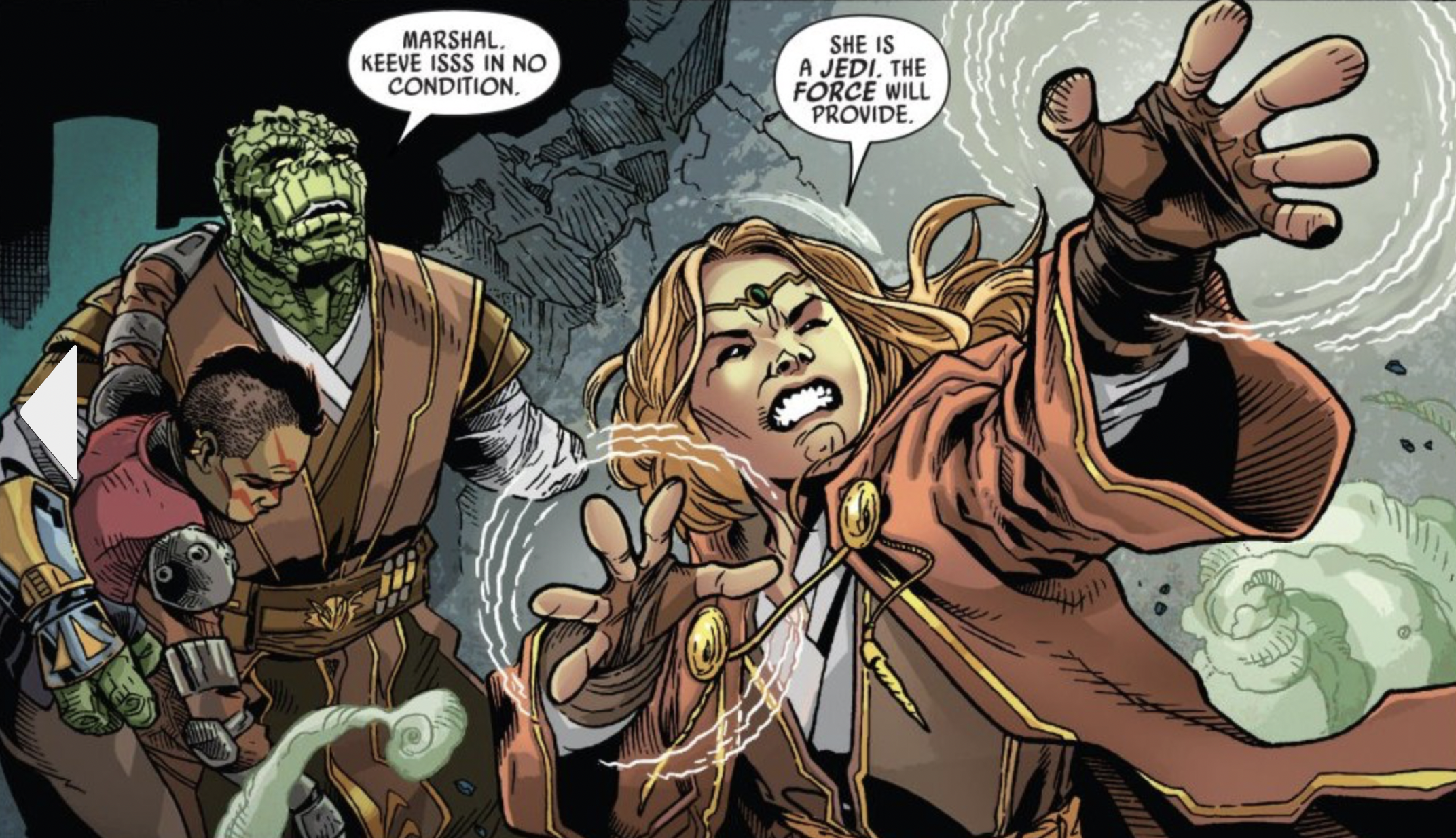 Lourna Dee's escape was almost hindered by Avar Kriss, but the only Jedi who were with her couldn't help. Dee escaped and the upset it caused Avar still ripples through this issue. Cavan Scott and all the writers in High Republic have done a great job allowing each Jedi to feel their feelings. The display of humanity takes away Avar's stoicism. She's been through hell in this series, and Scott acknowledges the toll on her state. The art by Georges Jeanty also highlights Avar's anger at the state of everything out of her control. Important reminder: Avar's primary ability is forging Force connections between Jedi and strengthening them. The collective trauma the Jedi feel no doubt weighs more heavily on Avar than any other.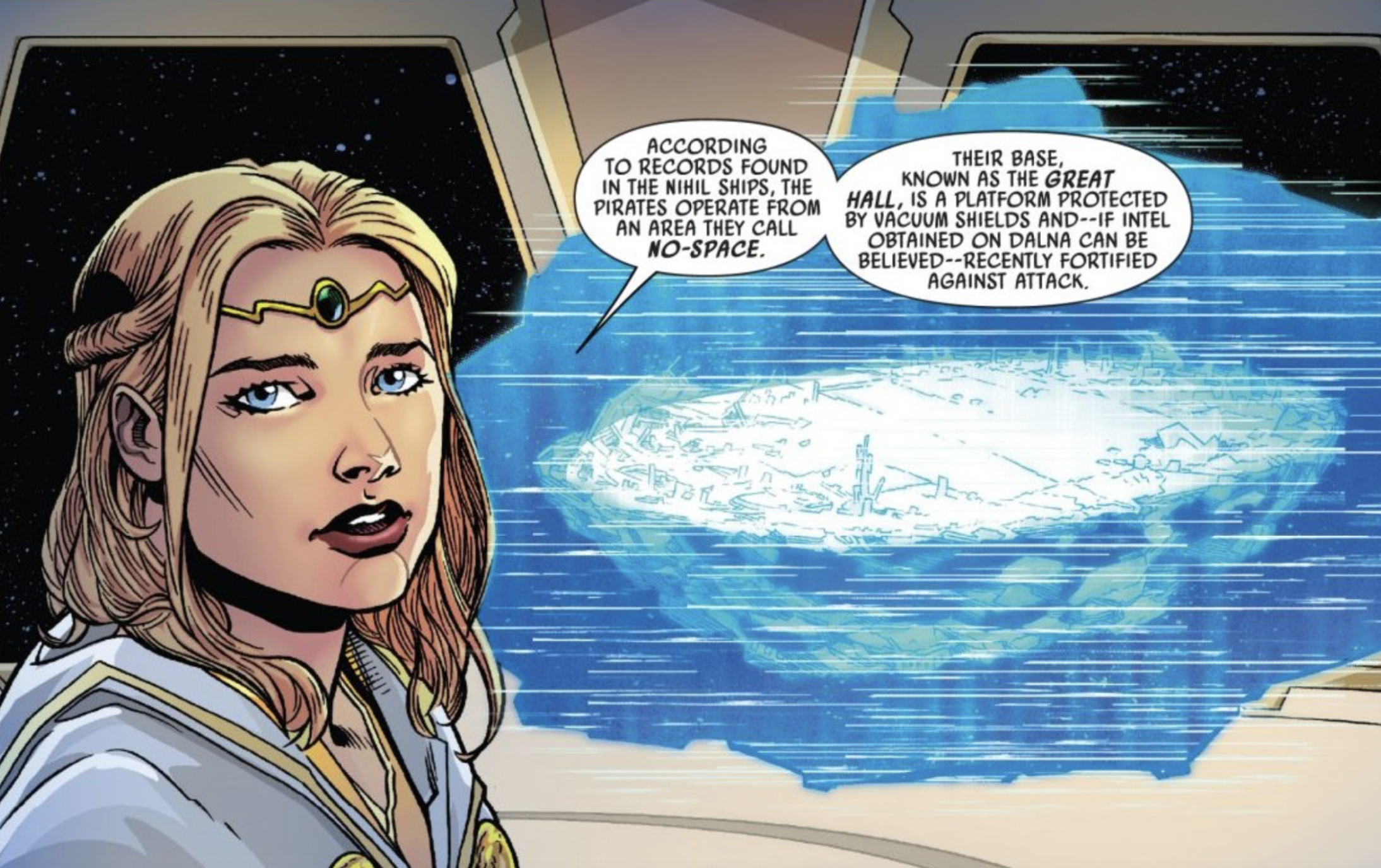 The Jedi are ready to utilize Starlight Beacon in a new way – an attack! Though they skirt around using that term, there's no mistaking what they plan to do. Utilizing a captured Nihil engine with pre-programmed coordinates, they plan to confront the Nihil on their own turf. Avar is ready to take the fight to the Nihil before they can strike again. Knowing the Nihil's history and Marchion Ro's penchant for contingencies, no matter what the cost to the Nihil, this seems like a really bad idea. Avar and the other Jedi feel they have no choice, but I don't see this ending well for the Jedi.
Keeve pays a visit to Ceret and Terec, who are still catatonic from their encounter with the Leveler. We get another glimpse of what all Jedi who encounter this weapon see. I'm not sure what you see, but beyond the distortion I see some semblance of a face. Perhaps whatever this weapon channels will be something of a phantom menace for Jedi of this era. I don't want to speculate too much, but I'm expecting the next phase of stories will reveal more.
Master Maru expresses his concerns about Avar's state and asks Keeve to observe the Jedi Master. Maru feels the toll and worries what happened on Xais could get worse. Keeve takes us back to what happened.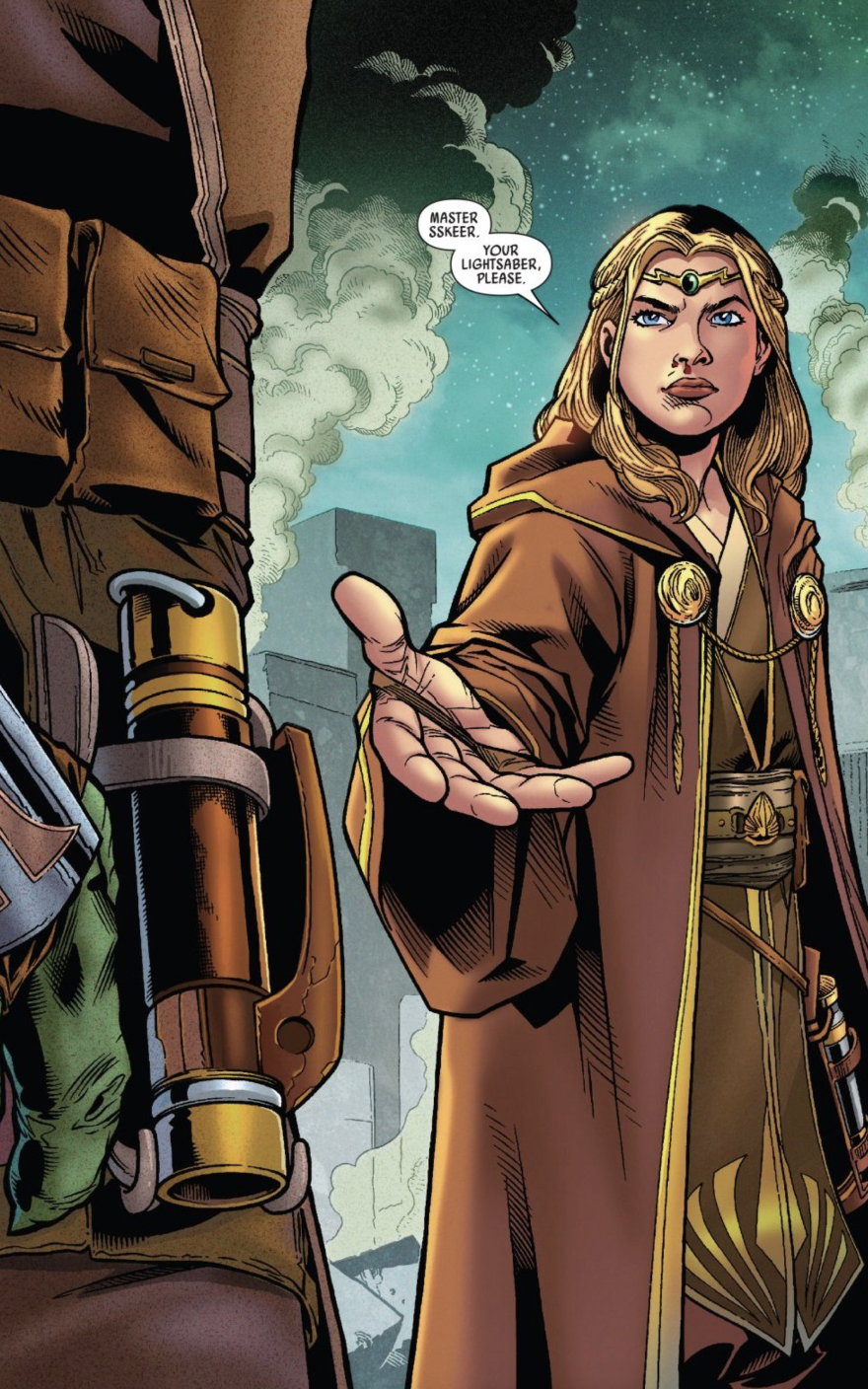 After Sskeer's aggression on Xais, Avar's not taking any chances. She takes his lightsaber and walks the line of expelling him from the Jedi. Witnessing this devastates Keeve. She knows her master and how badly the galaxy needs him.
Keeve going to Sskeer, their exchange, and the selflessness they both exude is one of the finer moments of the High Republic stories so far. This shared vulnerability and the strength drawn from their bond is Cavan Scott's writing at its best. Sskeer shares he's living with a neurological condition which hinders his ability to connect with the Force. He's pretty down and determined to isolate himself, but Keeve reminds him that's not an option. The galaxy needs him, and she encourages him to find strength by looking beyond his own challenges.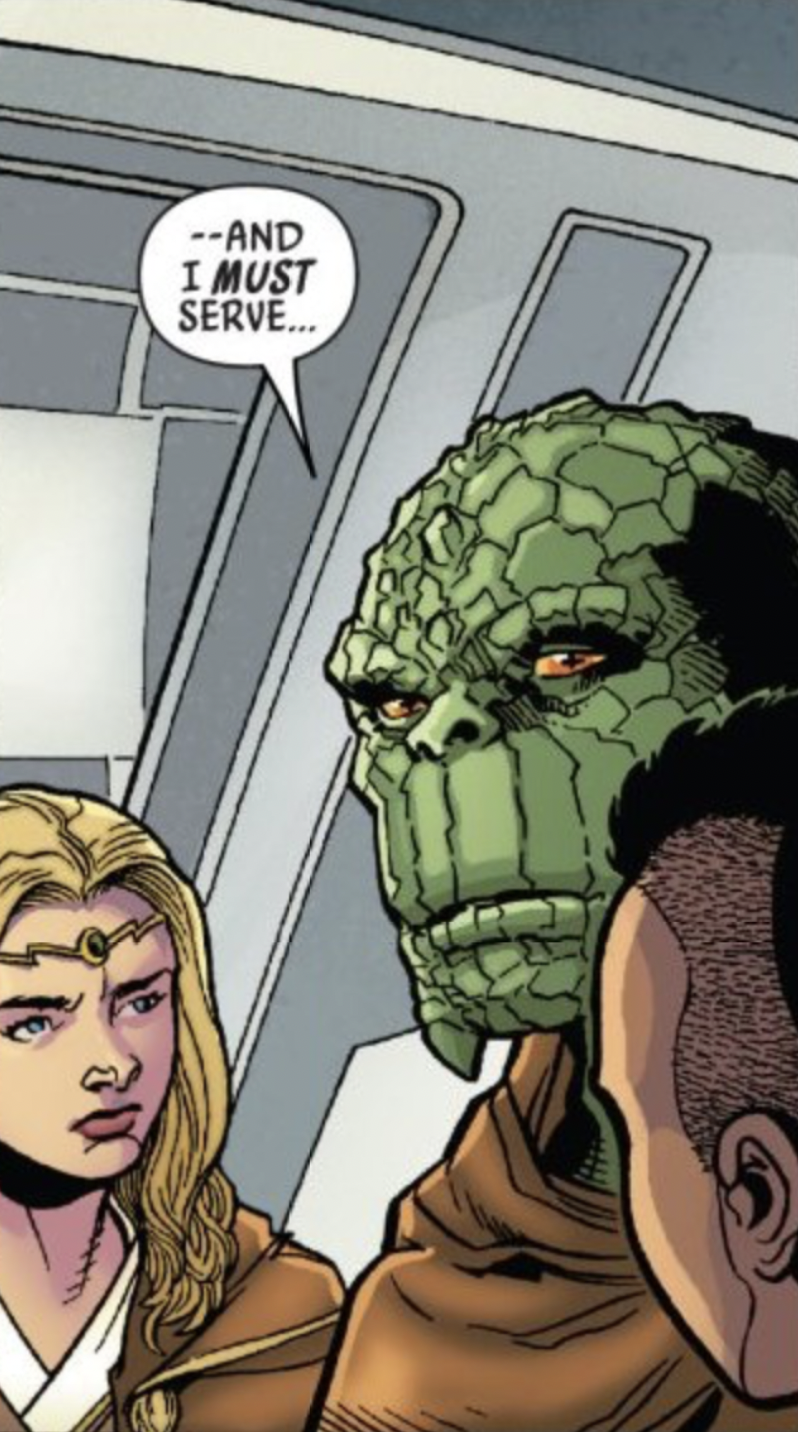 Sskeer returns to the fight, finding his own inner strength. His return inspires Avar to reach beyond her own concerns and to look to the greater good they must do. Together, Starlight Beacon and the Jedi race to confront the Nihil!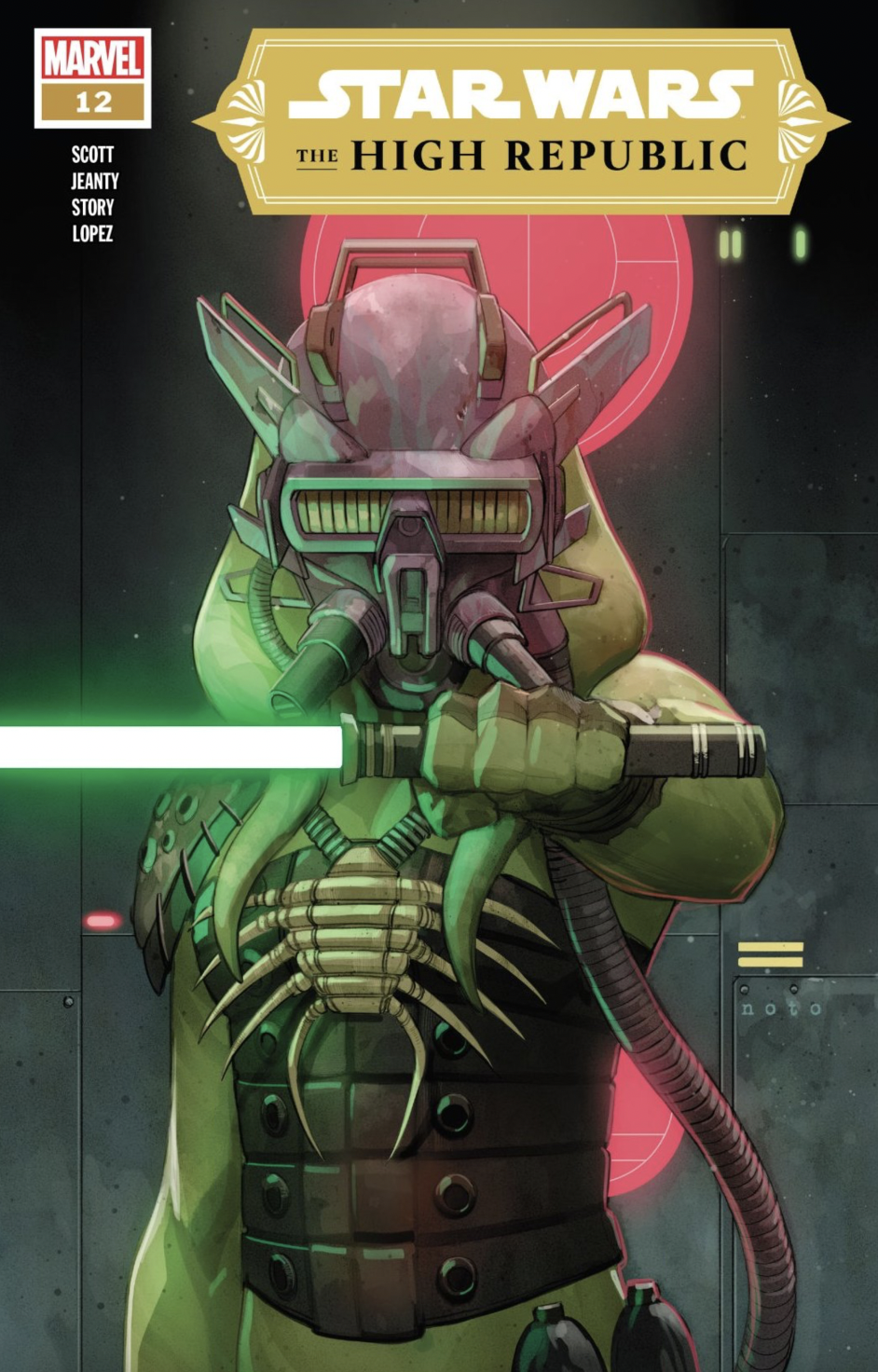 Cavan Scott's writing continues to shine in The High Republic. This issue touches on so many essential Star Wars and life lessons. The selflessness and self-forgiveness these Jedi experience in the pages are lessons we all need. In addition to some touching moments, Scott sets up an exciting conclusion to this story. There is darkness on the horizon, but today we are allowed to hope.
RATING: 8/10
Kyle Larson lives in Portland, Oregon. When he's not running trails, he's reading and writing.