'The Book of Boba Fett' Empire Magazine Covers Revealed
Empire magazine revealed two covers for their January 2022 issue (see below), which will have Boba Fett front and center. According to the story on their website, the new issue will feature exclusive images from the series, as well as interviews with executive producers Jon Favreau, Robert Rodriguez, Dave Filoni, as well as Lucasfilm President Kathleen Kennedy and stars Ming-Na Wen and Temuera Morrison.
Among the topics discussed in the interviews, they will address "the show's old-school mobster influences, that teaser at the end of The Mandalorian Season 2, the Boba projects that never came to be, the process of creating a fleshed-out character to match that iconic armor, and much more." But that is not it — in the new issue, Kathleen Kennedy and Dave Filoni will also talk about future projects, including Obi-Wan Kenobi and Ahsoka, among others.
Obi-Wan Kenobi is currently targeting a 2022 release, while Ahsoka is planning to shoot next year, possibly beginning in March. The former released a sizzle reel last week that is currently available to all Disney Plus subscribers on the platform.
Here is the main cover of the January 2022 issue of Empire magazine:
In addition, the magazine has also revealed the subscriber exclusive cover, illustrated by Max Löffler: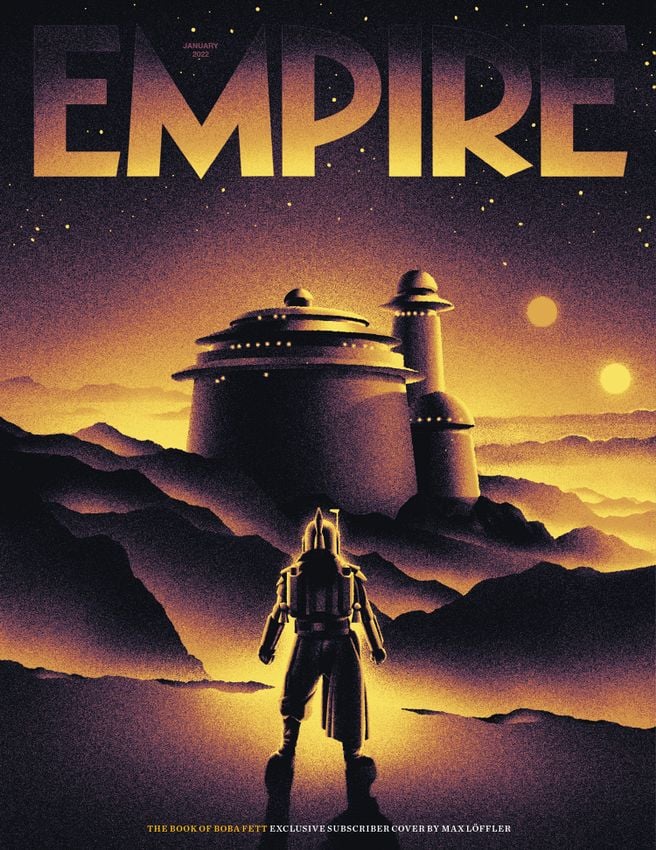 The January issue will come out next Thursday, November 25, but is already available to pre-order. Stay tuned for more news, as the interviews and images are set to be revealed next week.
The Book of Boba Fett will debut on December 29, exclusively on Disney Plus. You can check out the trailer here, and our breakdown/speculation piece on the trailer here. Last month, we also revealed the wild description of a scene that will happen in the show, plus some small tidbits about what to expect in the series in this other article. The show is almost one month away!
Miguel Fernández is a Spanish student that has movies as his second passion in life. His favorite movie of all time is The Lord of the Rings, but he is also a huge Star Wars fan. However, fantasy movies are not his only cup of tea, as movies from Scorsese, Fincher, Kubrick or Hitchcock have been an obsession for him since he started to understand the language of filmmaking. He is that guy who will watch a black and white movie, just because it is in black and white.