'Star Wars: Ahsoka' Casts Ivanna Sakhno in Undisclosed Role
Casting news for the upcoming Ahsoka Disney Plus series are ramping up. Deadline is reporting that Ivanna Sakhno has been cast in the limited series, set to join Rosario Dawson in the title role, Hayden Christensen, and Natasha Liu Bordizzo as Sabine Wren. Deadline also reports that Sakhno is playing a brand-new character, but wasn't able to confirm with Lucasfilm.
Sakhno is most known for her work in Pacific Rim: Uprising, The Spy Who Dumped Me, and the Hulu series High Fidelity. The Ukrainian actress was nominated for Best Actress in this year's Ukrainian Film Academy Awards for 2020's Let it Snow.
Ahsoka is being written by Dave Filoni, with him sharing executive producing duties with Jon Favreau. This month's edition of Empire magazine included Dave Filoni talking about the writing process for the show. You can check out our coverage of that piece here.
Production on Ahsoka is set to begin in March 2022.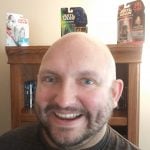 Nate uses his love for Star Wars and movies in general as a way to cope with the pain of being a Minnesota sports fan. When he's not at the theater, you can usually find Nate reading a comic, listening to an audiobook, or playing a Mario video game for the 1,000th time.